Capt: Nothing to do with ex-AG's statement in HC
Chandigarh, September 2
Punjab Pradesh Congress Committee president Capt Amarinder Singh today said that Chief Minister Parkash Singh Badal and his son Deputy Chief Minister Sukhbir Badal seemed to have lost their mental balance ."They seem to be so afraid that they see my hand in everything that befalls them".
CM smells a plot
New Delhi, September 2
An angered Shiromani Akali Dal today questioned the Union Government over yesterday's faux pas in the Punjab and Haryana High Court over elections to the Shiromani Gurdwara Parbandhak Committee (SGPC) asking if it was "a callous approach or deliberate mischief".
Sarna calls it a friendly match between Centre, Badal
Ludhiana, September 2
Terming the turn of events as a "friendly one-day match" between the Shiromani Akali Dal and the Centre, Delhi Sikh Gurdwara Management Committee (DSGMC) president Paramjit Singh
Schoolboy kept in 'solitary confinement' for over a week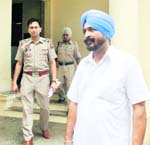 Nabha, September 2
The parents of a Class X student had to approach the Punjab and Haryana High Court to meet their son. Reads weird but the strange route had to be actually taken by Gurnek Singh whose 16-year-old son Sukhwinder, a hosteller, was allegedly kept in solitary confinement by the Punjab Public School (PPS), Nabha, for the past over a week.


Nabha SHO GS Sikand and complainant Gurnek Singh (in white kurta pyjama) come out of the office of PPS, Nabha, on Friday. Tribune photo: Rajesh Sachar

Mann: Rise above caste divide
Fatehgarh, September 2
Claiming that parties like the Congress, the Shiromani Akali Dal and the BJP were bent on controlling the functioning of the Shiromani Gurdwara Parbandhak Committee (SGPC), Shiromani Akali Dal (Amritsar) chief Simranjit Singh Mann said the intrusion would spell doom for the Sikh community. Addressing SGPC poll functions, Mann urged the Sikhs to rise above caste divisions and vote for the right candidates.
Sehajdhari issue as old as Gurdwara Act
Chandigarh, September 2
Even after 86 years of legislation to administer historic gurdwaras, the debate over recognition of Sehajdharis as Sikhs continues. Though the term Sehajdhari Sikh finds no mention in the more recent Acts, including the Delhi Sikh Gurdwara Act or the Acts that govern Takhts at Hazur Sahib (Nanded) or Patna Sahib, it was incorporated in the original Gurdwara Act: 1925 in 1959 by including Section 2(10-A).
Who qualifies as a Sikh?
A Sikh is supposed to follow the path laid down by the Gurus, believe in the teachings of Guru Granth Sahib, keep the five k's…all this is widely known. However, when it comes to defining who a Sikh is, there is a degree of ambiguity that crops up from time to time, often fuelled by vested political interests.
Sehajdhari term does not exist in Sikhism, claims Sant Samaj
Chandigarh, September 2

The SAD, the Sant Samaj as well as the SGPC today claimed the term Sehajdhari did not exist in Sikhism and that Sikhs were either 'puran' or 'patit', meaning those that followed the 'rehat maryada' (Sikh code of conduct) and those who did not, but believed in the Sikh tenets.


Sant Samaj leaders at a press meet in Chandigarh on Friday. Tribune photo: Manoj Mahajan

Amend Gurdwara Act, says Makkar
Chandigarh, September 2
The president of the Shiromani Gurdwara Parbandhak Committee (SGPC), Avtar Singh Makkar, has lashed out at the Union Government for playing with the religious sentiments of the Sikhs by making an attempt to postpone the SGPC elections.
Separate Marriage Act
High priests: Resolve issue by Sept 26
Amritsar, September 2
The five Sikh high priests today asked Prime Minister Manmohan Singh to re-acquaint himself with Sikh principles and code of conduct so that he " did not fall prey to the conspiracies of anti-Sikh forces".
Moga sex scandal an extraordinary case, CBI probe necessary, rules apex court
New Delhi, September 2
Describing the Moga sex scandal as an "extraordinary" case, the Supreme Court today upheld the CBI probe ordered by the Punjab and Haryana Court and rejected the appeal filed by the Punjab Government.
College, university teachers to observe Sept 5 as 'Black Day'
Patiala, September 2
Following a call by the Punjab Federation of University and College Teachers Organisation (PFUCTO), the faculty members of various universities and government and aided colleges of the state would be observing the Teachers Day on September 5 as "Black Day". They would also stage a massive protest rally in Sector 25, Chandigarh.
Protest against fresh violence at medical college
Faridkot, September 2
Students of the Guru Gobind Singh Medical College and Hospital held a protest rally here today, following a fresh incident of forcible entry and violence by three masked and unidentified youths on the college campus last night.
Pak grants funds for maintenance of Rai Bular Khan's graveyard
Patiala, September 2
In the wake of letter written by Punjabi University Prof Harpal Singh Pannu, Head of the Department of Religious Studies, to Prime Minister Manmohan Singh regarding the pitiable condition of the grave of Rai Bular Khan in Pakistan, the PM has sent a letter to Dr Pannu, assuring him that his request had been accepted.
Prime accused in Rulda Singh murder case questioned
Patiala, September 2
Moving ahead in the investigation of the infamous Rulda Singh murder case, the Patiala police has completed questioning of one of the prime conspirators in the case, following his transit remand from Jagraon.
I-T raids on realty developers
Chandigarh, September 2
In a major operation to uncover undeclared wealth, the Income Tax officials today raided nearly 12 premises of two top builders - Bajwa Developers and Gillco Developers and Builders, spread in tri-city and neighbouring areas.
Demolition of nursing college
Patiala, September 2
On the direction of the college administration, the PWD workers yesterday went to the Government Nursing College to demolish a portion of the building where the nurses lived. The nurses, however, resented their actions and did not allow them to begin the demolition work.
Consumer panel asks SBoP to pay Rs 2,600
Sangrur, September 2
The District Consumer Disputes Redressal Forum has held the branch manager of the State Bank of Patiala (SBoP) and clerk Manorma after finding them guilty of declaring a currency note of Rs 500 denomination as a counterfeit.
Blood donation camp
Dera Bassi, September 2 The Shiromani Akali Dal celebrated birthday of former Finance Minister of Punjab late Captain Kanwaljeet Singh at Lalru yesterday. A blood donation camp was also organised to mark the birthday where 150 units of blood were collected.
Ludhiana resident held with revolver
Lalru, September 2
The Lalru police has recovered a .32 bore revolver and five live cartridges from a Ludhiana resident who was moving in the Lalru area for the past few days. As per information, the police has arrested Gamdoor Singh, son of Bhajan Singh of Madnipur village, district Ludhiana, near Toaganpur village today.