Tell Centre to enact Right to Service Act, Sukhbir to Amarinder
Jalandhar, September 12
Targeting his bête-noire Captain Amarinder Singh and the Congress, Deputy Chief Minister Sukhbir Singh Badal has advised Capt to suggest the Congress-led UPA Government to follow the footsteps of the SAD-BJP Government by implementing the people-oriented Right to Service Act to curb corruption at the national level. The SAD chief made a whirlwind tour of most parts of the Doaba region and held a couple of rallies in favour of the SAD-Sant Samaj candidates at Sultanpur Lodhi, Nadala, Kapurthala and in Jalandhar cantonment today.
3 school kids die as train hits van in Nakodar

Nakodar, September 12
Three schoolchildren, including two siblings of Malawi Devi School in Nakodar, were killed when the van they were travelling in was hit by the DMU train heading from Lohian to Ludhiana at an unmanned railway crossing at Mouwal village near here.


Family members of the schoolchildren who sustained injuries in the mishap wait in the lobby of the Jalandhar Civil Hospital. Photos: Sarabjit Singh/Nikhil Bhardwaj

Village cleric loses both his children
Jalandhar, September 12
Assistant Pastor in a church, Joel Johan Bhatti, of Mauwal village in Nakodar had never thought that God could be so unkind to him. The middle-aged cleric lost both his kids in an accident that took place this afternoon at an unmanned crossing in the village.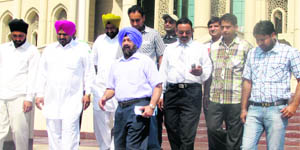 17 youths jailed in Sharjah to return home next week
Chandigarh/Dubai, September 12
After a Sharjah Appeal Court today waived their death sentence in the Mishri Khan murder case, 17 Indian boys, 16 from Punjab and one from Haryana, are set to reunite with their families back home early next week.
Relatives of the convicted youths outside Sharjah's Appeal Court on Monday.

Funds for MCs
Ignored, BJP to take up issue with SAD
Chandigarh, September 12
The BJP has decided to take up with its alliance partner the issue of keeping out BJP strongholds from a Rs 317 crore urban development grant. Punjab's BJP president Ashwani Sharma said the BJP would shortly discuss the issue within the party and then take up the matter with the SAD leadership. "The pace of development will not be allowed to slow down and the BJP will ensure development of all areas, urban and rural," he emphasised.


Patil okays names of 6 advocates for elevation as judges
Chandigarh, September 12
Almost a year after the names of six advocates were recommended for elevation as Punjab and Haryana High Court Judges, the President of India has cleared the list. A fax message to this effect was received by the High Court this afternoon.
Govind Singh trying to encash links with Longowal into votes
Longowal (Sangrur), September 12
Seeking to encash into votes his association with the late Sant Harchand Singh Longowal who enjoys considerable respect in the area, Govind Singh Longowal, former minister and three-time MLA from Dhanuala (of which this area used to be a part), is testing the SGPC waters for the first time.



'Disqualify candidates who are not baptised'
Manpreet factor likely to count in Gidderbaha

Gidderbaha, September 12
Having contested successfully the last two elections from the Gidderbaha SGPC constituency in 1996 and 2004, Gurpal Singh Gora is trying his luck for the third time. But unlike the earlier elections, Manpreet Badal, People's Party of Punjab president who used to represent the constituency in the assembly, is no longer associated with the SAD (B).
Naushehra Dhala heritage sites cry for attention
Naushehra Dhala, Sept 12
Located along the Indo-Pak border, this village boasts of a number of significant heritage sites having a great historic and cultural value. However, they all are in a shambles and if the state government didn't wake up to the importance of these sites and steps in to preserve them, they would soon become a part of history.

A mosque in a dilapidated condition. A Tribune photograph

Three die of malaria in Patiala village
Patiala, September 12
Three persons have died due to malaria in Chailaila village, 15 km from here, in the past one week. The deceased include 35-year-old Karamjit Singh and her 9-year-old daughter and a woman, whose identity could not be confirmed till the filing of the report.


Budding Soldiers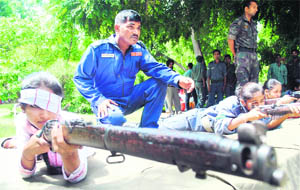 Girls practise for selection to the All-India Vayu Sainik Camp, to be held in Bangalore in November, at the Government College for Girls, Patiala, on Monday. Tribune photo: Rajesh Sachar
ESI dispensaries in Punjab to go online by November
Ludhiana, September 12
Earlier scheduled to start from August 15 last year, the "Panjdeep" project will start functioning from November this year. Under the project, all the dispensaries covered under the ESI Corporation will be computerised.
Retrenched PSEB clerks resume stir
Mohali, September 12
After withdrawing agitation on the assurance of Punjab Education Minister Sewa Singh Sekhwan, members of the 134 retrenched clerks of the Punjab School Education Board (PSEB) today again sat on a relay fast outside the office of the Board in Phase 8 here. "Irritated over the promise given by the Education Minister that the issue of their reinstatement would be cleared in the Cabinet, we have again sat on dharna," said Yuvrak Krishan, who was made to end his fast last time by the Education Minister.
900 masters await promotion as headmasters
Patiala, September 12
Even after one month of Departmental Promotion Committee (DPC) meeting for the promotion of masters as headmasters, the Education Department is yet to promote them. The teachers are clueless as to when the promotions would actually be done. These teachers have been waiting since years and this further delay is a cause of concern for them.
Seminar on cancer held
Chandigarh, September 12
The number of cancer cases is less in Punjab as compared to most of the other states in the country. This was asserted by various speakers at a seminar organised by the Punjab Pollution Control Board (PPCB) here today.


HC upholds appointment of SEPOs by Beant govt
Chandigarh, September 12
Nearly 17 years after the Beant Singh government in Punjab appointed Social Education and Panchayat Officers (SEPOs), the Punjab and Haryana High Court has upheld the selections.


One more held in NRI murder case
Batala, September 12
The police has arrested one more accused, Rajbir Singh Bajwa (alias Raju), in the infamous murder case of Canada-based NRI Gurinder Singh Gill.