SAD rebel challenges Akali might from Mohali segment
Mohali, September 13
A rebel with a cause and a sitting SGPC member, Hardeep Singh is taking on the might of the establishment in Mohali constituency, a stronghold of the Akalis.
In Anandpur Sahib, PPSC ex-member faces acid test
Anandpur Sahib, September 13
Born on July 7, 1958, in Raikot (Ludhiana), Amarjit Singh Chawla, a former member of the Punjab Public Service Commission (PPSC), is trying his luck in the SGPC election for the first time from Anandpur Sahib (general) constituency.
Case to be heard post-SGPC elections
Chandigarh, September 13
For the second time, Sehajdhari Sikhs may find themselves out of the polling booths on September 18 when the Shiromani Gurdwara Parbandhak Committee (SGPC) goes to the polls.
SAD fighting dissidence in 40 seats
Chandigarh, September 13
At least six SAD legislators have withdrawn themselves from the SGPC poll, expressing resentment over certain issues. This is for the first time that the SAD is facing the challenge of curbing dissidence.

Capt meets Khursheed on Anand Karaj Act
Chandigarh, September 13
After meeting Prime Minister Manmohan Singh for the introduction of the Anand Karaj (Marriage) Act, Punjab Pradesh Congress Committee President Capt Amarinder Singh met the Union Law Minister Salman Khursheed in New Delhi last evening.
SAD smells conspiracy behind Cong letter to EC
Chandigarh, September 13
The Shiromani Akali Dal has condemned the letter written by the Congress to the Election Commission complaining against the Punjab Government on development loans. The SAD described the move as a political conspiracy to stall the development process in the state.
No fiscal crisis: Sukhbir
Jalandhar September 13
Deputy CM Sukhbir Singh Badal today claimed that the Punjab Government had collected a whopping Rs 30,000 crore more revenue than the previous Congress regime and that the PPCC chief, Capt Amarinder Singh, was "befooling" the people on the issue of state debt.
Give account of SGPC funds: Capt
Chandigarh, September 13
Punjab Pradesh Congress Committee President Capt Amarinder Singh today asserted that the Akalis would have to account for each and every rupee of the SGPC funds they squandered away without any accountability.


Patiala stinks, civic authorities sleep
Patiala, September 13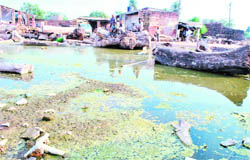 Despite the tall claims by the Patiala Municipal Corporation pertaining to preventive steps being taken to ensure that there is no outbreak of any epidemic, malaria has claimed three lives in Chailaila village in the past few days. Despite the fact that Patiala has been witnessing numerous cases of malaria and dengue every monsoon season, the civic body as well as the Department of Health and Family Welfare have failed to take preventive measures in this regard.
A view of Lakker Mandi area in Patiala on Tuesday. Tribune photo: Rajesh Sachar
PU scientists rebut theory linking uranium to cancer cases in Malwa
Chandigarh, September 13
Rebutting all existing theories and perceptions with regard to the source of uranium in groundwater in the Malwa region, a team of scientists from the Panjab University has questioned the linking of uranium to cancer cases in that region.
Students flee school, walk 32 km to reach railway station
Faridkot, September 13
Two days after a Class X student of Kauni Jawahar Navodaya Vidyalaya in Faridkot was sent on 'forced leave', 31 classmates of the boy fled the school on Monday night and took shelter in a gurudwara at Sultanpur Lodhi in Kapurthala.
Sikh officer takes command of Canadian unit
Chandigarh, September 13
After joining Canadian army as a trooper in 1989, Harjit Singh Sajjan, now a Lieutenant-Colonel, has became the first Indo-Canadian to take command of a Canadian regiment. He took over as Commanding Officer of the British Columbia Regiment yesterday at a glittering ceremony held at Beatty Street Armoury in Vancouver.
Rashtriya Gaurav Award for Khalsa College Prof
Patiala, September 13


Prof Sukhmeen Kaur Hanjraw, Head of Department of Computer Sciences, Khalsa College, Patiala, has made the city proud after she was selected for this year's prestigious "Rashtriya Gaurav Award" along with a Certificate of Excellence by India International Friendship Society. The award will be delivered during a seminar on "Economic Growth and National Integration" at New Delhi on September 16.
Sukhmeen Kaur
Bose's aide passes away
Ferozepur, September 13


Veteran freedom fighter and a close aide of Netaji Subhash Chander Bose, Ram Parkash Sharma died at his residence here yesterday. He was 98. Ram Parkash Sharma was cremated with full state honours today. Hundreds of people, including family members, politicians, district officials, paid tributes as the contingent drawn from the Punjab Police reversed their weapons as a mark of respect to the freedom fighter.
Ram Parkash
It's time to rejoice for Jagraon family
Jagraon, September 13
It was festivity time at the house of 26-year-old Kulwinder Singh after his family at Bansipura village near Jagraon got to know about the release of their son by Sharjah Appeal Court. He was among the 17 Indian youths convicted in the murder case of Pak resident Mishri Khan.
SC uphelds death for Ludhiana man
New Delhi, September 13
The Supreme Court today upheld the death sentence awarded to a Ludhiana man convicted for killing his wife, two daughters and a son by setting them ablaze after pouring petrol on them in April 2003.