40 unemployed linemen arrested
Mandi Ahmedgarh, September 13
At least 40 activists of the Unemployed Linemen Union were arrested on Monday evening for allegedly interfering in the official duties of cops, assaulting them and disrupting the movement of vehicles and hurling abuses at government officials on Monday. About six cops, including DSP Raekot Pirthipal Singh and DSP Ranbir Singh, were reportedly injured in the assault by the suspects booked under Sections 353, 283, 332, 148 and 149 of the IPC.
Wooden bridge on Buddda Nullah poses threat
Ludhiana, September 13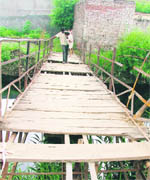 A bridge, which is otherwise used as a mode to join two areas, seems to have lost its meaning when it comes to New Chander Nagar near Haibowal. Here, a bridge on Budda Nullah, which is under construction in the area for the past 10 months, remains incomplete for reasons best known to the Municipal Corporation (MC), which boasts of being the richest in the state. Due to this, area residents are forced to use another "temporary" wooden bridge, which is in a poor condition, and can collapse anytime.


Pedestrians walk over the dilapidated bridge at New Chander Nagar, Haibowal, in Ludhiana. Photo: Inderjeet Verma
CCTVs at AC Market removed, dumped in store
Ludhiana, September 13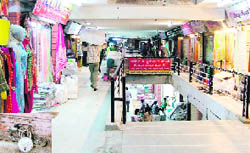 About 45 closed circuit television cameras installed inside the AC Market at Calibre Plaza for surveillance have been discarded and are gathering dust inside a store after shopkeepers did not make any move to reclaim the cameras from the municipal corporation. On the other hand, civic officials have maintained the cameras were stored away since no applications for claiming them were filed.
The AC Market sans CCTV cameras; and (inset) a sealed shop at the AC Market, where CCTV cameras have been dumped. Photos: Inderjeet Verma
City may get daily train to Chandigarh
Ludhiana, September 13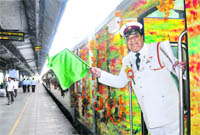 If the proposal mooted by the divisional headquarters of the northern railway at Ferozepur finds favour with the zonal authorities, the city might soon have a daily train to Chandigarh. In view of the poor response of public on the Amritsar-Chandigarh section, the railways is toying with the idea of converting the recently launched Duronto express into an intercity express with stoppages at several stations on the route, including Ludhiana.


Dengue, malaria cases on rise
Jagraon, September 13
There has been a considerable rise in the cases of dengue and malaria in Jagraon and surrounding areas for the last one month. A large number of patients with symptoms of malaria and dengue are visiting the Civil Hospital, private hospitals and clinics for treatment.
Road markings in narrow streets!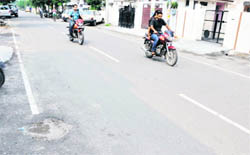 Ludhiana, September 13
Officials of the municipal corporation and the traffic police need to take lessons in traffic signs and road markings afresh, considering faulty markings on city streets, that have left traffic experts scoffing.



A view of the highway road markings in a narrow street of the Sant Isher Singh Nagar in Ludhiana. tribune photo: himanshu mahajan
Show-cause notices to ATP, BDPO
Ludhiana, September 13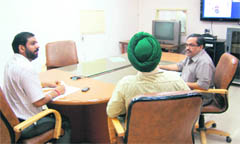 Chief Information Commissioner (CIC) Ramesh Inder Singh has issued show-cause notices to the Assistant Town Planner (ATP) of Zone A and the BDPO of Machhiwara for not providing information under the Right to Information (RTI) Act in two separate cases.

Officials hear cases related to the RTI Act through video conferencing at the mini- secretariat in Ludhiana on Tuesday. a tribune photograph
ATP accused of providing incomplete information
Ludhiana, September 13
An RTI activist has charged an Assistant Town Planner (ATP) with providing him incomplete information under the Right to Information (RTI) Act.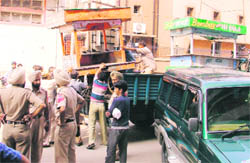 Illegal vehicles, rehris removed
Ludhiana, September 13
The tehbazaari wing of the Ludhiana Municipal Corporation confiscated vehicles and rehris from the Bhadaur House area this afternoon. The wrongly parked vehicles lead to snarl-ups on the road passing under the incomplete Lakkar Bridge flyover.

An MC team removes illegal rehris in the Bhadaur House area on Tuesday. Photo: Inderjeet Verma
Unhygienic Food At Mela
Mandi Ahmedgarh, September 13
Taking cognisance of a report published in these columns on preparing and serving eatables in unhygienic conditions at Mela Chhappar, the administration has initiated steps to ensure that only germ-free food items were sold during the fair.
HT wires or death trap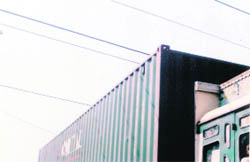 Ludhiana, September 13
Even after mishaps at regular intervals and unsuspecting persons falling victims to the virtual death traps on the busy road in Bhai Himmat Singh Nagar in Dugri here, the Punjab State Power Corporation Limited (PSPCL) has not come out of its deep slumber to mend the loose hanging high-tension (HT) lines in the middle of the road for past over six years.
A container truck passes at a sniffing distance from the 66 KV high-tension cables at Bhai Himmat Singh Nagar in Ludhiana. A Tribune photograph
Pen-down strike enters second day
Ludhiana, September 13
The pen-down strike by the Medical Laboratory Technicians' Association today entered the second day and none worked in the laboratories and blood banks of government hospitals and dispensaries.
Gate rally to voice demands
Ludhiana, September 13
Non-teaching employees of Punjab Agricultural University (PAU) will hold a gate rally between 9.30 am to 11.30 am tomorrow to protest against the state government's callous attitude in releasing the pending 40 per cent arrears to PAU employees.
Gurmit is UCPMA president
Ludhiana, September 13
Gurmit Singh Kular of Kular International has been unanimously elected as the president of the United Cycle and Parts Manufacturers' Association (UCPMA) here today.
Winner in every sphere — Touch wood
Ludhiana, September 13
You cannot be a super woman always. And there's no point in trying to be one. That's the basic premise on which city-based businesswoman Harpreet Brar works.


Powercom JE ends life
Jagraon, September 13
A junior engineer (JE) deployed with the Punjab State Power Corporation Limited (Powercom) reportedly committed suicide by consuming some poisonous substance at his residence last evening.


Ex-SHO, 4 others get 3-yr term
Ludhiana, September 13
Judicial Magistrate Monica Sharma has convicted former SHO Gurchetan Singh of Partapura, Phillaur, and four others on the charges of trespassing into the property of a person, wrongfully confining him with common object for the purpose of inflicting injuries.
Man gets life term for killing son
Ludhiana, September 13
The court of additional sessions judge Mandeep Pannu has convicted Dalip Singh of Sarabarpur village, Machhiwara, on the charges of killing his son, Harinder Singh by mixing poisonous substance in the liquor.