| | | |
| --- | --- | --- |
| | OPED — FILMS | |
Hello, Female Bonding!
Whereas scores of films are made on male bonding in India, there is hardly any on female bonding. The success of Bridesmaids in the US might change the way women are treated in popular cinema.
Kishwar Desai
Even before the chick flick has had time to grow up, it is getting formidable opposition from an older rival, who is kicking it into the long grass with a well-aimed stiletto. Hollywood managers are looking with amazement at the zooming box office figures of Bridesmaids, a film about six middle aged women who get together for a wedding and almost wreck the occasion with their squabbles and misunderstandings. This is not a film about men, or even about a search for love (as in the Bridget Jones series)—but rather a tale of female bonding and friendship. It is a comedy which sometimes teeters on being rather unbearably vulgar—but it has been largely well received even by critics because it shatters the glass ceiling.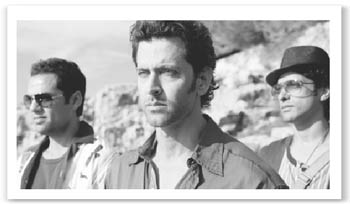 Hindi cinema: Testosterone bonding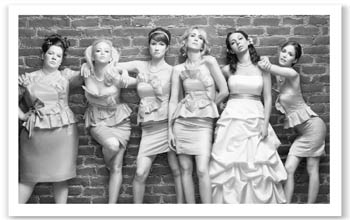 Women films: Its not all about pretty, pastel, girly material
Bridesmaids, made without any well known stars, is a $ 30 million budget film which has already earned that many times over. It has outpaced the success of Sex and the City (SATC), or even Mama Mia! which first brought the idea of female friendship amongst an older age group onto the screen. But there are key differences between the films—which is why Bridesmaids is now being discussed as a breakthrough of sorts. Unlike the actresses one sees in films like SATC, the women in Bridesmaids are refreshingly normal looking ( even overweight!) and not plastered with make-up to hide all the blemishes. SATC has always been a fashionista parade, but Bridesmaids is charmingly bereft of Jimmy Choos and Gucci handbags. Another key difference is that while in SATC the women spent a lot of time moaning about their relationships with men, in Bridesmaids, the focus remains on the relationship between the women. Bridesmaids is by no means (despite the rave reviews it has been getting) a great film —but it is a bright and often very funny film about a subject that gets very little attention on screen: how do older women relate to each other —and what makes them good friends?
Why no all-women ensemble in India?
This is such an obvious subject to explore, one would imagine the profit oriented Hollywood production houses would have discovered the magic formula earlier. After all tapping into the large movie-going female population would set the cash registers ringing, wouldn't it ? And if you can make films with an all-male cast—why not an all- women ensemble? But perhaps female dominant films with marginalised men are still anathema for most production and distribution houses. It took a brave producer to stick his neck out—-and the gamble has paid off.
Even in India the subject of friendship between women is very rarely explored on screen. Older women, if at all they are depicted, are shown as lonely, isolated figures, objects of suffering and despair , unless some man comes along and rescues them . Or they are matriarchal figures venerated by their husbands and sons. Rarely do these women have female friends, on an equal, meaningful footing.. If they do have a relationship with other women –it is usually antagonistic ( the saas bahu syndrome). There have been a few films where younger women are occasionally shown as being friendly towards each other , but this is usually connected to a romantic entanglement. The fact that women have deep, strong and lasting friendships which do not involve men is a concept that still needs to be explored in detail. A film like Dil Chahta Hai or even Rock On is basically about male bonding——and a gender makeover of these films is still not being contemplated. The surprising thing is that even a young female director like Zoya Akhtar has made a sequel to Dil Chahta Hai and not a female equivalent of it. Zindagi Na Milegi Dobara seems to push the same theme forward but perhaps wouldn't it have been more exciting to make a film about a group of girls or women in a similar situation?
Yet, Bridesmaids is doing well supported by a strong audience—- 70 per cent female. Even when I saw it at Harvard Square, in Boston, the small theatre was full mostly with women –who shrieked with happy laughter watching the feel-good film with no violence and the proverbial happy ending. Indeed, male reviewers have been writing about how even they rolled in the aisles while watching Bridesmaids. Can it be that its robust, Hangover-type gross humour has managed to bridge the gender divide ?
Women films make better business sense
Of course, Bridesmaids is not completely original. Those of us who have seen Hangover will spot similarities in the plot—in which much of the action takes place just before the wedding. However, whereas Hangover was all about men behaving badly during the stag party —Bridesmaids uses the pre-wedding bridal shower and bachelorette party to create the tension. Naturally, as things spiral out of control and go crazier and crazier , anxiety is built up whether the growing stress between the friends will destroy the entire wedding plans—and it is into this slightly predictable plot that the producer Judd Apatow who had earlier taken a humorous look at other rites of passage in Knocked Up and Forty Year Old Virgin, has decided to set Bridesmaids.
It tells the story of Annie ( played by Kristen Wiig, a stand up comedian who is known for her imitation of Nancy Pelosi, the former Speaker of the United States House of Representatives) who has recently shut down her bakery and is working, unhappily, in a jewellery shop. Apart from her financial woes, she is also in a rather hopeless relationship with a very good looking man who is happy to sleep with her so long as she does not want any commitments from him. In the middle of this gloomy scenario which is handled with humour and excellent acting, her best friend Lillian, decides to get married. Lillian, played by Maya Rudolph, asks Annie to be her maid of honour, organise the rest of the bridesmaids as well her bridal shower and bachelorette party. (I have now been authoritatively told that these wonderfully all- American customs are also invading the Indian wedding scene, and are becoming important pre-wedding rituals!) The problem for Annie occurs when Lillian includes a new best friend, Helen ( brilliantly acted by Rose Byrne). Helen is everything that Annie is not . She is beautiful , rich and an organizer par excellence. It is the rivalry between Annie and Helen which leads to some really hilarious and a few completely crass encounters.
Time for aggressive comedies
This is , thus, not a film for delicate stomachs. It is a new kind of aggressive comedy which pushes everything—even the remains of a meal –onto the audience to get a laugh. What makes this more unusual is that the film is co-written by Kirsten Wiig, who has been honed on the Saturday Night Live show. It has a raw energy which makes it realistic —-and every effort is made to push everything to the limit. This is not a pretty, pastel, girly film as we know it . Neither is it chick flick when the bulky Melissa McCarthy decides to chase a man around an aircraft because she has fallen in love with him. Nor is it easy to watch as Annie and a young customer in her shop get into an increasingly abusive argument , and it is distinctly uncomfortable when Annie and Helen compete over a speech congratulating Lillian —-and both fight over the microphone to have the last word. But in each case –you do end up laughing. Perhaps the film has a kernel of truth within it.The film director Paul Feig later admitted that the film was often shot quite spontaneously —and the actors were encouraged to improvise –saying and doing things which they thought "rang true".
Bridesmaids has certainly created a sensation —and even though it is not the best film, or even an easy film, it has got a good reception. Another reason could also be the ordinariness of the women on screen —perhaps we want to see films featuring not gorgeous creatures Angelina Jolie –but normal women like ourselves. I must admit I found it slightly over-the-top –but it has established the arrival of the female friendship flick. And that's why it's important.
London based Kishwar Desai is the author of Witness The Night, winner of Costa First Novel