As rebels take over in Libya, fears rise that huge arsenal may have fallen into the hands of terrorists"
When missiles go missing
Kim Sengupta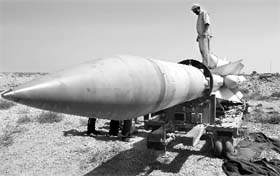 An anti-Gaddafi fighter stands on a SA-5 SAM missile in Burkan air defence military base, which was destroyed by a NATO air strike on September 6, 2011. — Reuters photo
The long metal crates strewn on the grounds of the warehouse were empty. Hundreds of surface-to-air missiles, craved by terrorist groups and "rogue states", had disappeared in the past few days, looted from one of Libya's overflowing arms dumps.
Among the missiles taken away were 480 Russian-built SA-24s, designed for use against modern warplanes, which the US had been attempting to block from falling into Iranian hands, and the older SA-7s and 9s, capable of bringing down commercial airliners, which al-Qa'ida has been striving to obtain.
Abandoned, stripped bare
As Libya's bloody civil war reaches its conclusion, myriad bunkers and barracks containing the regime's weaponry, from Kalashnikovs to missiles, armoured cars and tanks, have been left unguarded, many to be stripped bare by militia fighters and the public.
The numbers involved are far larger than the caches that armed the insurgencies in Iraq and Afghanistan. And in Libya there are even fewer guards at these sites. Unlike those two fronts of the "war on terror", there are no foreign troops present in Libya, and the opposition forming the new government has its resources tied up attempting to subdue the remaining loyalist strongholds and repairing infrastructure to safeguard the arsenals.
The ransacking of the depots containing missiles has set alarms ringing among security agencies in America and Europe. The SA-24 "Grinch" surface-to-air missile targets fighter-bombers, helicopter gunships such as Apaches, and even Cruise missiles, and can strike at as high as 11,000ft. Washington had lobbied the Russians to block sales to Hugo Chavez in Venezuela and to Tehran.
Surface-to-air missiles
The SA-7s and 9s are older but can destroy civilian jets or be used against military targets such as the drones increasingly employed by the US. Peter Bouckaert, emergencies director for Human Rights Watch, charting the arms depots, said: "The problem is pretty huge. There are around 20,000 surface-to-air missiles in Libya and a hell of a lot of them are missing. The Western agencies are obviously pretty concerned. This lot can turn the whole of North Africa into a no-fly zone."
Nato air strikes destroyed an estimated 600 missiles, radar systems and storage facilities in the course of the campaign. In response, regime forces moved some of the weaponry away from military into civilian areas, where they could be accessed once the rebels gained control.
The missiles found to be missing recently had been taken from the Tripoli headquarters of the 32nd Brigade, under the command of Gaddafi's son, Khamis al-Gaddafi, to a commercial storage area. Although the missiles had gone, there were still dozens of cases of mortar rounds, artillery shells, rocket-propelled grenades and rifle ammunition left in the vast room.
Dangerous land mines
Across the road, in an open field, lay piled-up boxes of anti-personnel mines, a weapon which has already caused a series of deaths, many among children, in districts where hostilities have ended. Some 12,000 land mines were reported missing yesterday. Ian Martin, the UN's special adviser on Libya, said: "Proliferation of weapons is a major concern. We are taking this extremely seriously." Unmas (United Nations Mine Action Service) is supposed to be taking the lead on this matter but, due to security concerns, it has only one member of staff in the Libyan capital.
There is increasing evidence of arms from Libya slipping into other countries. Abdelkader Messahel, an Algerian Foreign Minister, claimed al-Qa'ida fighters are "reinforcing themselves with arms coming from Libya". The Chad government has reported that SAM-7s have arrived there from Libya, while the authorities in Niger are trying to track down consignments of Semtex, the plastic explosive once favoured by the IRA, heading for dissident Tuareg tribes.
Tanks for protection
At the town of Tarhuna, near Bani Walid, more than 100 Russian-made tanks and armoured personnel carriers are parked in hangars.
A group of armed local men had come to see whether they could make use of the armour. "These have been here for a long time," said Mahmood Ishmail Zubeidi.
"We thought maybe our villages could have our own tanks to protect the revolution. We have even got two drivers. But all the fuel has been drained. So we are going to Tripoli to get ourselves some other things like AKs (AK-47 assault rifles). Maybe we'll get some machine guns as well."
The British division of an American arms company was upgrading the communications equipment of Muammar Gaddafi's most feared army unit when the revolution against his rule broke out, documents unearthed in Tripoli show.
Radios for communication
General Dynamics UK had a contract to install new radio units for tanks, artillery and armoured troop carriers of the Khamis Brigade, an élite unit led by Colonel Gaddafi's youngest son.
When the popular revolt against the Libyan dictator broke out in February, the Khamis Brigade spearheaded the regime's military crackdown and has since been implicated in human rights abuses, torture and hundreds of extra-judicial killings.
Researchers for Human Rights Watch and the Reuters news agency unearthed letters from General Dynamics UK updating the Libyan military on the progress of its work at the Khamis Brigade headquarters. The latest letter, written by the UK project director Simon Kirkham, was dated 25 January and listed a variety of armoured vehicles in which the radio units would be installed.
General Dynamics pulled its 12 staff out of Tripoli on 19 February, two days after popular revolts were violently suppressed across the country.
Defending the deal
Andrew Boyle, a spokesman for General Dynamics UK, defended the company's role in Libya. "General Dynamics worked with the Libyan government to deliver a communication system to one unit of the Libyan army and was part of a wider deal by the UK Government to bring the Libyan regime in from the cold. We did not provide any weaponry to the Libyan army."
But Peter Bouckaert, emergencies director of Human Rights Watch, said Libya's élite units were able to become so strong thanks in part to procurement from Western countries.
Mr Bouckaert said: "We've documented arms sales from not just the usual suspects but also Western companies. I think the lesson is that if you're going to sell weapons to dictators, at some point down the line you're going to be deeply embarrassed." — The Independent
Latest on Libya
The following are the latest political and military developments in the Libyan crisis:
n More than 1,700 sub-Saharan African migrants have now taken refuge at a southern Libyan desert town and Gaddafi stronghold amid urgent efforts to try to evacuate them to safety, an international aid agency.
n South Africa's refusal to recognize Libya's new rebel rulers has again exposed the bureaucracy that often stymies decision-making in Pretoria.
n Already awash with bandits, ex-rebel nomads and a growing number of al Qaeda-linked gunmen, Niger's desert north is now the main escape route south from the war in Libya-and could yet emerge as Muammar Gaddafi's bolt-hole.
n Rebuilding Libya could be worth at least $200 billion over 10 years, but France's role in ousting Gaddafi will not be enough to seal deals, the chief of France's overseas business federation said.
n Gaddafi was last tracked heading for Libya's southern border, the man leading the hunt told Reuters, though Burkina Faso again denied any plan to offer the deposed leader refuge.
n Haunted by gun-toting loyalists and festooned with faded portraits of Gaddafi, the besieged Libyan town of Bani Walid remains stubbornly in the hands of die-hard gunmen raring to fight for their deposed leader.
n Niger's interior minister denied on Tuesday that hundreds of Libyan vehicles had crossed into the country, saying that, to his knowledge, only the head of Gaddafi's security brigades and his family had been welcomed in the country.
n Gaddafi is still in Libya and is safe and well, his spokesman said, saying he had no idea about a convoy of Libyan army vehicles which are believed to have crossed the desert frontier into Niger.
n NATO said it conducted 118 air sorties Tuesday, 40 of them strike sorties to identify and hit targets.
n It said key targets hit included: one surface-to-air missile container, one multiple rocket launcher, four armed vehicles, one ammunition store, six tanks, six armoured fighting vehicles and one self-propelled artillery piece in the Sirte area
n Since NATO took command of air strikes on March 31, its aircraft have conducted 21,780 sorties including 8,180 strike sorties. NATO members participating in air strikes include France, Britain, Canada, Denmark, Belgium, Italy and the United States.
n Fourteen ships under NATO command are patrolling the central Mediterranean Sea to enforce a U.N. arms embargo. On Tuesday, 13 vessels were hailed to determine destination and cargo. Four were boarded but none diverted.
n A total of 2,514 vessels have been hailed, 262 boarded and 11 diverted since the start of the arms embargo.