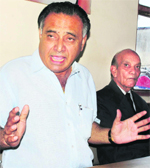 GS Bali, Cong MLA
State of roads pathetic: Bali
Dharamsala, September 9
A nexus of ruling politicians, contractors and officials is responsible for the poor state of roads in the state. Senior Congress leader and MLA from Nagrota Bagwan GS Bali levelled these allegations while addressing a press conference here today. Bali alleged that the state of roads in the state had never been so poor. The poor road network in the state was likely to hit tourism that was the "lifeline of thousands of people".
Rains claim 39 lives
Shimla, September 9
As many as 39 human lives have been lost and 2,274 head of cattle have perished in the state due to heavy rains during the current monsoon season. The total loss on account of damage to property and crops has been assessed at Rs 355.29 crore.
CRPF constable shoots himself
Solan, September 9
CRPF constable S Vijay Kumar (32) shot himself with his service rifle at the CRPF's Dharampur centre around 6 am today.
Irregularities in Purchases
CVC imposes penalty on 3 CRI officials
Kasauli, September 9
The Central Vigilance Commission has imposed major penalties on three officials of Central Research Institute (CRI) after detection of irregularities in cases involving the purchase of machinery by the institute.
Simian sterilisation no monkey business
Shimla, September 9
With the poorly paid monkey-catchers losing interest in their job of trapping simians, the plan of the Forest Department to sterilise over 20,000 monkeys during the current financial year has gone awry. So far, only about 3,000 monkeys have been sterilised and with just six months to go, the target is unlikely to be achieved.
Monkeys are a major irritant to pedestrians in Shimla. Photo: Amit Kanwar

Man jumps into canal to save wife, both die
Sundernagar, September 9
Kamal (34) and his wife Champa (20), residents of Dhamol village here, died after jumping into the BBMB canal this morning.
Judge retired compulsorily
Shimla, September 9
On the recommendations of the HP High Court, the state government has compulsorily retired Rajiv Sood, Civil Judge (Senior Division)-cum-Additional Chief Judicial Magistrate, Chamba, on corruption charges.
Herbal association under VB scanner
Hamirpur, September 9
The Vigilance and Anti-Corruption Bureau (VACB) has registered a criminal case against office-bearers of a herbal association over non-payment of lakhs of rupees of crop insurance to herbal growers of the state.
CD case: HC seeks govt response
Shimla, September 9
The Himachal Pradesh High Court today sought a response from the state government on a petition filed by Union Minister Virbhadra Singh and his wife, seeking quashing of an FIR along with all subsequent proceedings arising therefrom and transfer of the investigation of the CD case to the CBI. The court also directed it to place on record the material relating to the case in the court.
17 lakh enrol for adhar card
Shimla, September 9
Over 17 lakh people in the state have got enrolled for the Adhar card under the enrolment programme whereas seven lakh adhar cards have already been issued to the people.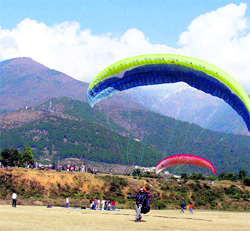 Indrunag gets go-ahead for paragliding
Dharamsala, September 9
The state government has cleared Indrunag as a new paragliding site. It is the second site that has been approved by the state Tourism Department for paragliding in Kangra district. The other site at Bir Billing is now internationally famous and attracts paragliders from across the world.



JOY RIDES: Paragliding in Indrunag will be an added attraction for foreign tourists who come to Dharamsala. Photo: Kamaljeet