M A I N N E W S
In Punjab, it'll pinch harder
Ruchika M Khanna/TNS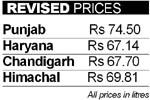 Chandigarh, September 15
With today's price hike of Rs 3.14 per litre and Punjab's unwillingness to reduce state taxes, petrol prices in the state are amongst the highest in the country at Rs 74.5 per litre.
Karnataka is the only place in India, where petrol is costlier than Punjab (at Rs 74.81 per litre). Petrol would now cost approximately Rs 67.14 per litre in Haryana and Rs 67.70 per litre in Chandigarh. In Himachal Pradesh, petrol will now cost Rs 69. 81 litre.
With such high discrepancy in petrol prices in the region, petroleum dealers and oil companies not only see their sales falling in Punjab, but also foresee a huge diversion in sales from districts bordering Haryana and Chandigarh, to neighbouring states where petrol is much cheaper.
As compared to Punjab, petrol is now cheaper by Rs 7.36 per litre in Haryana, by Rs 6.8 a litre in Chandigarh, and by Rs 4.69 in Himachal.
JP Khanna, president of Punjab Petroleum Dealers Association, said that this new hike in petrol prices was uncalled for. "Oil companies had not reduced the prices when crude fell to $85 per barrel, but they have now increased this on the pretext of the fall in rupee. This decision to hike the petrol price would spell death knell for the 800-odd petrol retail outlets located in Mohali, Patiala, Bathinda, Muktsar, Fatehgarh and Mohali. They will lose all business to neighbouring areas," he said.