Children enjoy rain in Civil Lines, Ludhiana, on Thursday.
MC employees open a manhole to drain water in Chaura Bazaar in Ludhiana.Ü


A boy makes his way through a flooded street in the Zone A office of the municipal corporation in Ludhiana.
Tribune photos: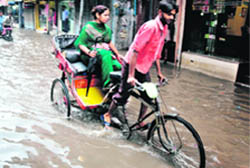 Rain blocks development works
Ludhiana, September 15
The Ludhiana Municipal Corporation seems to be in the grip of rain phobia these days. Various ongoing development projects in the city are hanging fire due to rainfall, which is taking place in city for past few weeks.


A rickshaw-puller wades through a flooded street near Town Hall road in Ludhiana on Thursday. Tribune photo: Himanshu Mahajan
Continuous rain 'dangerous' for paddy
Ludhiana, September 15
The continuous rain that started this morning may prove harmful to the paddy crop. This is the time when farmers are all gearedup to start harvesting their crop from the first week of October. But rain can prove harmful not only to the paddy but also to other vegetable crops like cauliflower, brinjal, raddish and spinach, say farmers.
IELTS training institutes thrive
Ludhiana, September 15
The craze for going abroad is resulting in people making a beeline to institutes coaching for the International English Language Testing System (IELTS).
IT student in police net for drug peddling
Ludhiana, September 15
Paying back for a favour landed an information technology (IT) student in police net, who was caught for peddling 2 kg of opium from Uttar Pradesh.
Rly police nabs impersonator
Ludhiana, September 15
A man who was allegedly committing theft by posing as a solider of the 5 Grenadiers of the Army was caught by the Government Railway Police (GRP) from the city railway station here today.
Day after robbery, police clueless
Ludhiana, September 15
If the lackadaisical approach of the police led to the escape of the highway robbers, the role of bank authorities was no less callous. A day after robbers fled with Rs 20 lakh by waylaying employees of Garg Acrylic at gunpoint from the Kanganwal road, the city police today recreated the crime scene and visited the bank for gathering clues about the robbers.
speaking out
Another hike leaves residents worried
Petrol prices are all set to rise again. Gurvinder Singh finds out what residents in the city feel about yet another hike in fuel prices.


GLADA charged with short-changing riot victims
Ludhiana, September 15
Charging the Greater Ludhiana Area Development Authority (GLADA) with short-changing the victims of 1984 anti-Sikh riots with respect to allotment of residential flats to them as per a Cabinet decision of 1992, the Ludhiana Sikh Migrants Welfare Board today alleged that even a direction of the Punjab and Haryana High Court had failed to move the GLADA authorities into action.
Union Ministry of Urban Development to take final call
Ludhiana, September 15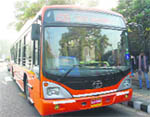 The board of directors of Ludhiana City Bus Service Limited has decided to write a letter to the Union Ministry of Urban Development asking if buses with "master slave" multiplex wiring were to be purchased. Mohinder Pal Gupta, CEO, Ludhiana City Bus Service Limited, said a meeting in this regard was held on Wednesday and it was decided that the matter should be brought to the notice of Ministry of Urban Development for approval.
Quackery thrives despite checks
Jagraon, September 15
Despite the government issuing instructions to the health department and police officials of all districts to check the menace of quackery, nothing concrete has been done so far.
DMCH announces 'Operation Walk 2012'
Ludhiana, September 15
The management of Dayanand Medical College and Hospital (DMCH) today announced the launching of "Operation Walk 2012" for conducting free hip and knee replacements for the poor patients. This follows the success of "Operation Walk 2011" in which 59 free joint replacements were carried out in January this year.
Autonomic laboratory at CMCH
Ludhiana, September 15
The department of neurology at Christian Medical College and Hospital (CMCH) today started a new state-of-the-art autonomic laboratory.
Workers allege exploitation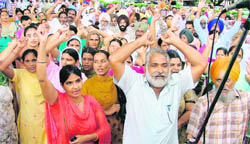 Ludhiana, September 15
The Punjab Mulazam Sangharsh Committee, Punjab, staged a protest against the Punjab government at the Mini Secretariat here. The agitating workers said they would go on a hunger strike if their demands were not met.

Members of the Punjab Mulazam Sangharsh Committee stage a protest at the Mini Secretariat in Ludhiana on Thursday. photo: Inderjeet Verma
Mazdoor body seeks rise in wages
Mullanpur Dakha, September 15
Accusing higher officials in the Punjab Mandi Board, including its chairman Ajmer Singh Lakhowal, of ignoring their genuine demands, activists of the Galla Mazdoor Union have threatened to intensify their stir in case their demands were not met.

Passion for cooking takes her places
Ludhiana, September 15
She's the mistress of spices. She finds cooking, baking and kneading flour almost akin to meditation. The very physicality of these culinary skills keeps Rijuta Jain, the proprietress of Rishika's Sweet Temptations, grounded. "All through my college years, I had known it almost instinctively that if I ever started any business on my own it had to be related to my passion for cooking," she says. Rijuta Jain
Only 50 per cent licenced arms deposited
Mandi Ahmedgarh/ Mullanpur Dakha, September 15
Even as the SGPC elections are nearing, only 50 per cent of the licenced arms have been deposited so far.
Wooing voters: Liquor does it for candidates
Mandi Ahmedgarh, September 15 Despite efforts being made by a few organisations to check distribution of liquor, drugs and narcotics during the SGPC elections, candidates and supporters are all out to appease voters through the 'shortest' route.
'Only if I get more time to finish my paper'


Doraha,September 15
Life is a real struggle for Ramandeep, a BA-I student of Guru Nanak National College, Doraha. Being physically challenged, she is not able to walk, speak or write properly. But Raman is in no way less than many of her classmates in understanding the concepts, grasping and putting them in her own words. "Only if fate had been kind enough to give me the ability to speak or write properly, I could have been at the top of the world," said Raman.
Ramandeep
Teachers attacked with sharp-edged weapons
Jagraon, September 15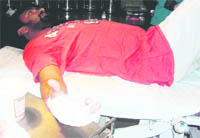 A government school teacher was seriously injured when six youths allegedly attacked him following a minor altercation outside his residence in Shastri Nagar here today. The incident took place when the victim, Tulsi Dass, a teacher at Government Primary School, Sangatpura Dhaipi, was on his way home.

Tulsi Dass, one of the injured teachers, undergoing treatment at the Civil Hospital in Jagraon. — A tribune photograph

Two killed, one hurt in accident
Khamano, September 15
Two persons were killed and another one was injured in a road accident on Ludhiana-Chandigarh road near Khant village, last night. According to information a man and his wife were killed while another person was injured when a speeding truck hit them near Khant bus stand.
Sexual harassment cases on rise: Sessions Judge
Ludhiana, September 15
The number of sexual harassment cases during working hours was on the rise and it was a matter of great concern. Need of the hour is that such incidents should be brought to light and guilty must be punished, said SP Bangarh, Sessions Judge, Ludhiana.