Thriving times
Bhanu P. Lohumi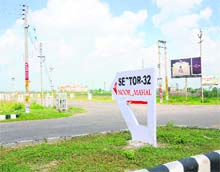 Commercial and residential projects coming up adjoining Noor Mahal are attracting investors in Karnal Photo: Ravi Kumar
The realty scene may not be very heartening in the country but in spite of the recent setbacks to the sector, land and property remain a priority area for investors in Karnal and prices here, too, have not shown any sign of slackening as per the local realtors. The real estate business is thriving in the region as the large number of major players who have launched mega projects here seem to be having no difficulty in finding buyers in spite of the high prices which have increased by 150 to 200 per cent in some cases in the recent past.
Investing in plots
As the "flat culture" is yet to gain momentum in and around Karnal, a large number of buyers are actually purchasing plots as these give good returns within a span of two to three years as the infrastructure facilities are improving at a rapid pace. This sort of demand has pushed up land prices here as only a limited number of plots are available. As per the Collector Rates the land price ranges between Rs 30,000 and Rs 35,000 per sq yard in developed sectors, Rs 25,000 and Rs 30,000 in the developing areas and Rs 15,000 and Rs 18,000 in upcoming sectors. The market price, however, is almost double this price, say real estate consultants.
Though better infrastructure is generally the main factor for price appreciation, plots offered in HUDA sectors remain the first choice of investors despite poor infrastructure. The reason is the price factor in HUDA schemes (Rs 7,800 to Rs 10,000 per sq yd). These plots fetch very high premium for alottees. The premium for four, six and eight marla plots is in the range of Rs 25 lakh, Rs 35 lakh and Rs 45 lakh, respectively. The people's choice is clearly reflected in draw of lots of HUDA plots where 2.87 lakh applications were received for 1,382 plots at a recent draw of lots. The prices of HUDA plots have also been increased significantly but still these are much lower when compared to the current market rates. Plots allotted by HUDA in draw of lots easily fetch a premium of Rs 20,000 per sq. yd, said a local property dealer.
Spate of projects
The response of the people was lukewarm when big names in real estate business had launched housing projects in Karnal about five years ago and attractive offers were made to woo the buyers, but today there is no dearth of buyers in spite of phenomenal increase in prices.
The builders are optimistic about good prospects in the fast developing city of Karnal and feel that it would be bracketed with Gurgaon, Faridabad and Panckula in the next 10 years. Hence they are coming up with new projects after successfully selling the properties developed in earlier projects and some new builders have also forayed into housing projects in the city.
The New World Regency luxury residential apartments are coming up adjoining Noor Mahal over 6.5 acres area and two projects of Sky Height (residential 5.25 acres and commercial 2.25 acres) are also in the pipeline.
Leading realtors like CHD developers, Alfa City, Ansals have not only succeeded in selling the properties but have launched new projects. Narsi, Palm Regency and Parasnath City have been completely sold and premium on sale ranged between Rs 20,000 to Rs 40,000 per sq yd.
Alpha International City where 1,129 plots in sizes 970, 500, 360, 250 sq. yd have already been sold has launched its Phase II, while CHD Developers have launched Phase III of their integrated township project. The new phase is spread over an area of 23 acres and has 215 plots with sale value of Rs 125 crore on offer. CHD also plans to expand the township further and expand its size to 300 acres, says, COO, CHD Developers.
The Alfa Group also plans to set up a mall in Karnal at a cost of Rs 300 crore.
Sturdy appreciation
The prices of two to four bedroom flats which ranged between Rs 20 to 45 lakh in most of the estates offered by reputed builders like Ansals, Alpha International City, Global Spaces, Chandigarh City and DD Cruze, Palms Regency, developing townships or residential and commercial complexes spread over an area of about 1800 acres have doubled in resale and consequently the base prices of new houses coming up in these areas have also been increased substantially. Just two years ago, the per sq yd rates ranged between Rs 10,000 and 13,000 in Alpha city, Rs 9,000 and 13,000 in Ansals apartments and Rs 8,100 and 11,000 in Chandigarh City but the prices have more than doubled within a short span of time.
With the upgradation of Karnal Municipal Council to Municipal Corporation and merger of peripheral villages, the setting up of Kalpana Chawla medical college, a proposal to construct civil airport, comparatively pollution free environment and six-laning of NH-1 with the construction of a dozen flyovers, the prices of land and houses are bound to shoot up and real estate developers see Karnal as the hub of construction activities, opening up new areas for investment in real estate.
Vinay, MD Satyam Estate said the rates of property had almost doubled as compared to the last year. "Karnal being the property hub fetches the maximum rates as compared to the adjoining areas. However, unauthorised market that has come up is the main drawback", he added. In the absence of "regulator' for real estate, there is no check on prices and even a small house has become unaffordable and out of the reach of a common man.