M A I N N E W S
Bribery allegations mar Modi's fast
Mallika Sarabhai accuses Gujarat CM of bribing her lawyers to derail riots PIL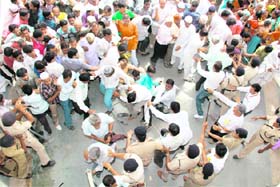 Supporters of Gujarat Chief Minister and police scuffle as large crowds tried to greet Modi on the second day of his fast in Ahmedabad on Sunday. — AFP
Ahmedabad, September 18
Discordant notes and an allegation of bribery against Narendra Modi marked the second day of the three-day fast of the Gujarat Chief Minister Narendra Modi for communal harmony.
Janata Dal (U), a key member of the National Democratic Alliance (NDA), on Sunday distanced itself from the fast and declared, "A person who failed to follow Rajdharma and deliver justice to his people will not be able to do justice to 125 crore people of the country."
The Congress alleged that Rs 100 crore of public money had been spent to organise the "five-star fast" and pointed out that the NDA was divided on the issue.
The war of words was punctuated by the police using force to disperse huge crowds of people who had been mobilised to appear at the venue to express solidarity with the Gujarat CM. While some people suffered injuries, police officers explained that after the crowd thinned out on the first day, instructions had gone out to collect more people for the fast on Sunday.
The police also detained 25 activists, including Mallika Sarabhai and Mukul Sinha of the Jan Sangharsh Manch (JSM), and prevented 2002 riot victims in Naroda area from protesting against Modi's fast. Naroda Patiya had witnessed one of the worst rioting in 2002, when more than 90 people were killed. "The real face of Modi's Sadbhavana is now exposed," said Sinha to reporters before being taken away.
Mallika Sarabhai accused Modi of using public funds to "bribe" her lawyers who were handling the PIL filed in the Supreme Court by her on the post-Godhra 2002 riots case. "Chief Minister Narendra Modi had called the then State Intelligence Bureau (SIB) chief R B Sreekumar and another IPS officer Sanjiv Bhatt, who was his deputy in SIB at that time, and asked them to pay my lawyers Rs 10 lakh to derail the proceedings," she alleged. R.B. Sreekumar, however, told PTI that the copy of the affidavit circulated by Sarabhai to the media was not his. He did not deny filing an affidavit to the Nanavati Commission though. "The long and short of the story is that Gujarat Chief Minister had called a meeting and asked me to hand over Rs 10 lakh to Sanjiv Bhatt, so I handed over the money to him," he said. "The Chief Minister and Sanjiv Bhatt were in direct communication, so I am not aware what happened," he added. A combative Modi accused the media of stretching a lie and pointed out that there was no FIR in any police station against him. He directed the media to his statement yesterday in which he had said that as the Chief Minister, " pain of anybody in the state is my pain." He denied that he was celebrating the Supreme Court order on the Ehsan Jafri murder case. (Agencies)