SGPC Elections
malwa
Gidderbaha, Amritsar see clashes
One hurt as SAD, PPP workers exchange fire
SP Sharma/Tribune News Service
Unholy casting

A sequence of how an ineligible voter with shorn hair ties a headgear before entering a polling station at Alamgir village near Ludhiana on Sunday. Tribune photo: Himanshu Mahajan
Muktsar, September 18
One person was injured in firing during the SGPC polls at Karaiwala village of the most sensitive Gidderbaha segment, the stronghold of People's Party of Punjab chief Manpreet Badal. The election has been cancelled at Karaiwala and two other booths of the government school at Buttarshree where "unidentified" persons captured the booths and indulged in fake polling.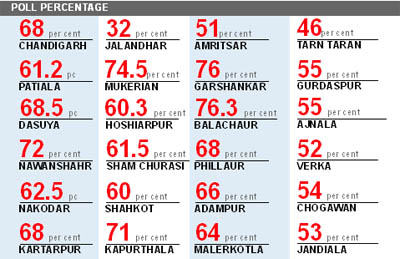 In another incident, SAD candidate from Dodha segment Navtej Singh Kauni was allegedly manhandled by the supporters of Independent candidate Roop Singh Gurisanghar in a polling station in his native Kauni village. Roop Singh was being supported by Manpreet Badal. The SGPC election, particularly in Gidderbaha and Dodha segments, is considered politically significant due to a proxy fight between Deputy CM and SAD chief Sukhbir Singh Badal and Manpreet Singh. Repeated attempts to reach the election observer, Mahabir Prasad, on his mobile phone to enquire about the violence remained futile as his liaison officer every time said he was busy on the other phone.
Gidderbaha SDM Pushpender Singh confirmed that the election at Karaiwala village had been cancelled and the Election Commission would fix the date for repoll. He said the firing incident took place elsewhere in the village and not in the polling station.
The police said the incident was being enquired as supporters of both the ruling SAD and PPP were accusing each other of having fired gun shots due to which a local, Charanjit Singh, suffered bullet wounds on his arm.
An angry mob blocked the Bathinda-Muktsar highway for several hours to protest against capturing of two booths at Buttarshree government school. They raised slogans against Chief Minister Parkash Singh Badal and the SAD candidate Kauni.
Independent candidate Roop Singh alleged that a police squad led by a DSP was involved in booth capturing. His polling agent Gurcharan alleged that some unidentified persons forcibly carried him away in a vehicle and let him free at Bhaliwana.
The returning officer of the segment, Kamal Garg, District Transport Officer, confirmed that the election in the two booths had been cancelled and a FIR has been registered.
Upkar Singh, presiding officer of the Booth No. 23, said about 20 unidentified persons forcibly entered the booth and snatched 116 ballot papers and fled to the other booth after putting these in the ballot box after stamping.
Ram Chand, presiding officer of the Booth No. 24, said the group stormed there and forcibly stamped 117 ballot papers and escaped after putting these in the ballot box.
Both presiding officers denied that any DSP was accompanying the miscreants who stormed the two booths. They said that a police team deployed for security duty was standing outside the booths.
Meanwhile, polling in other areas remained peaceful but reports of booth capturing kept pouring in from different areas. However, most of these proved false when media teams visited there.
It was not only in this village of Chief Minister Parkash Singh Badal but in most places of the Malwa region that electorate with shorn hair (Sehajdharis) turned out today in large numbers to cast their vote for the SGPC elections. Those with shorn hair are not eligible for voting in the SGPC elections.
There were several shorn-haired menfolk standing in queue outside the polling booths to cast their votes in the districts of Muktsar, Bathinda, Moga, Faridkot, Mansa, Fazilka, Barnala, Ferozepur and Sangrur.

majha
SAD activists injured in Jandiala area
Perneet Singh/Tribune News Service
Amritsar/Tarn Taran, September 18
Five SAD activists were injured when supporters of an Independent candidate from the Jandiala constituency, Amarjeet Singh Bandala, allegedly attacked them with sharp-edged weapons and pistols at a polling booth at Talwandi Dogra village in the evening. Balwinder Singh, one of the injured admitted to a private hospital here, said the incident took place when they were standing outside a polling booth at 5.30 pm. "The counting was on. At least 15 men armed with sharp-edged weapons and pistols reached there and started arguing with us without any provocation. Subsequently, they attacked us," he said.
One of the SAD activists, Jeet Singh, received two bullet injuries. Sukhdev Singh and Baljeet Singh were also seriously injured. The other two sustained minor injuries and were discharged after first-aid.
SSP (Rural) Gurmeet Chauhan said they had recording the statements of the injured.
Meanwhile, the voting for the SGPC polls was largely peaceful in Amritsar district with no untoward incident coming to light from any of the constituencies. However, a booth capturing bid and a scuffle was reported from Tarn Taran district.
The average polling percentage was 51 pc in Amritsar. It was 55 pc in Baba Bakala, 55 pc in Ajnala, 54 pc in Chogawan, 54 pc in Guru Ka Bagh, 53 pc in Jandiala, 52 pc in Verka and 33 pc in Amritsar (West). The electorate in the only urban seat which went to polls, Amritsar (West), didn't turn out in large numbers to exercise their franchise. SAD candidates were elected unopposed from two other urban seats -- Amritsar (East) and Amritsar (Central).
A number of 'patits' (apostates) were spotted casting vote at various polling stations. They had simply tied a 'patka' on their head to hide their shorn hair, but there was no way that they could conceal their clean shaven face, which left them exposed.

doaba
Jalandhar city shows little enthusiasm
Varinder Singh/Tribune News Service
Jalandhar, September 18
Doaba region of Punjab remained largely peaceful in respect of SGPC polling in this NRI heartland with Balachaur recording maximum 76.34 per cent voting followed by 76 per cent in Garshankar and voters of Jalandhar city cold-shouldering the polling exercise for the "Mini Parliament" of the Sikhs.
Doaba repeated its electoral history as this NRI belt has largely been a peaceful zone as far as polling to Assembly as well as SGPC polls were concerned. This time also, unlike Malwa and the Majha regions of Punjab, no incident of violence was recorded in the region where disciplined voters started lining up in front of polling booths peacefully right from 8 a.m. in the morning.
Though initially only a few voters turned out in the morning, later on they started swarming the polling booths participating in the poll process with enthusiasm. Women displayed zeal in Banga township in Nawanshahr district which witnessed voting in two constituencies - Nawanshahr and Balachaur (general). Gurbax Singh Khalsa of SAD (Badal) was already declared as elected unopposed from the third Balachaur (reserve) seat as all other three candidates had withdrawn in favour of Khalsa on August 26 - the last date of withdrawal of papers. Fate of as many as seven candidates has been sealed from the Nawanshahr and Balachaur (general) seats, where no untoward incident was reported at these two seats.
"No violence has been reported from any quarter in the Doaba region. Polling has been absolutely peaceful in Doaba region," said officiating Jalandhar I.G. Gaurav Yadav who was also the Jalandhar Police Commissioner.
Voters of Jalandhar city virtually cold-shouldered the voting process for the apex Sikh body. Just about 35 per cent of Sikhs ventured out to exercise their franchise. It was a different matter that the exact reason behind the lukewarm response of voters could not be ascertained. Poll pundits attributed the marginal voting to a growing secular outlook of people in general and of Sikhs in particular.

mohali
'Ineligible' voters have a field day
Rajmeet Singh/Tribune News Service
Mohali, September 18
Contrary to the orders of the Sikh Gurdwara Judicial Commission, a large number of apostate (patit) Sikhs were allowed to cast their ballot at different polling station across Mohali district.This facilitated bogus voting, especially in rural areas, to the advantage of the ruling SAD (Badal).
It rather appeared that the police and the polling staff acted as facilitators. At the Landran and Kumbra polling booths, some clean-shaven youths with their heads covered with a cloth were seen casting their vote. When approached on the matter, musclemen reportedly engaged by the ruling party tried to whisk away the "ineligible" voters. At polling booths, there were complaints of bogus votes having been cast in the morning hours. The polling staff, on noticing mediapersons, stopped some apostate Sikhs from entering the polling booth, only to be allowed inside after the mediapersons had left.
With no objection by the polling staff and polling agents of different candidates in the fray, non-eligible voters had easy access to the polling booths.The policemen posted in and outside the polling booths remained mute spectators to the glaring violation. The District Electoral Officer-cum-Deputy Commissioner Varun Roozam had said the election staff had been categorically instructed not to allow Sehajdhari Sikhs to cast their vote. But those in charge of polling booths at various places said they were allowing all those whose name figured in the voters' list to cast their ballot.
In Chandigarh, over 68 per cent polling was recorded from the lone Chandigarh seat As many as 10,962 voters of the total of about 16,000 voters cast their vote.
Former Mayor Harjinder Kaur of the ruling SAD(B), Gurnam Singh Sidhu and Rajinder Singh Badheri are in the fray.