Realm of the 'green collar'


The recent global economic downturn has given policymakers an opportunity to take a second look at their growth strategies, and many have concluded not only that serious structural change to a low carbon economy is necessary, but that the time to make the investment has arrived. Rapidly evolving job opportunities demand skill sets in environmental sustainability, and traditional jobs need to be re-imagined to support the emerging green economy. This rising need has given way to the concept 'green jobs'
Udit Mittal
Scope


In India green jobs have a vast scope in the unorganised and SME sector where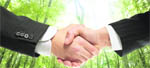 there is immense scope for the creation of such types of employment.
Energy Supply  
Research, construction, and monitoring of power plant industrial efficiency including cogeneration, plant efficiency and carbon sequestration.
Career Hotline
Pervin Malhotra


CareerCature
Sandeep Joshi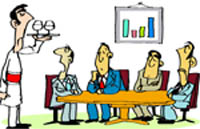 You may be an MBA but you should not participate in higher level discussions and decision-making meetings.
Finding the origin of diseases
Course watch
Visual effects

Maya Academy of Advanced Cinematics (MAAC) has launched a comprehensive programme on Visual Effects to cater the ever-growing requirement of skilled and quality manpower for the booming domestic and international VFX industry. The duration of the course is 17 months. The course will cover latest softwares available in the market making the student a job-ready professional.
Mechanical Engineering
A field of many hues
In today's world, mechanical engineers hold leadership positions in many industries, including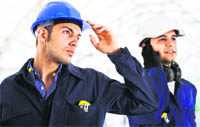 aerospace, biomechanical and biomedical engineering, construction, electronics, national defence, power generation, and transportation. Within these industries, engineers may participate in the design of machinery or fluid handling systems, the analysis of heat transfer from electronics packages or of vibration in mechanical systems, the automation of manufacturing processes, the efficient operation of industrial plants, the marketing of technical products or services, or any number of other activities.
ON MY OWN
Drive to achieve


Atul Khosla, Director, Om Nanotech Pvt. Ltd is a young entrepreneur who ventured in 2006 to set-up manufacturing facility in a very high-tech segment of computer hardware, with an objective of bringing a new technology to India. Om Nanotech's products like computer memory and pen drives are currently sold in 21 countries and also across India. Within a short span of five years, the company is has given employment to more than 450 persons in its day-to-day operations. In an interview with Arupjyoti Gogoi, Atul Khosla talks about his venture
NEWS BOARD
Study centres opened
Lovely Professional University (LPU) has opened two study centres each for distance learning programmes in Chandigarh and Mohali to provide academic as well as administrative support to students. Commenting on this development, Ashok Mittal, Chancellor, LPU said, "By opening the LPU Study Centres for Distance Learning, we are ensuring that an innovative pedagogy is developed to help students get education which is flexible, economical, convenient and effective by all means."
Don't tip the balance


Are you married to your job? Have your family, personal hobbies and social life taken a back-seat? For how long has this state of affairs been going on?
If you do not have a healthy work-life balance, chances are that your stress-levels are on the higher side. You may be able to detect some of the symptoms of stress within yourself - fatigue, recurring headaches, lack of appetite, depression and hopelessness, etc.
Office Mantra
The fine art of complaining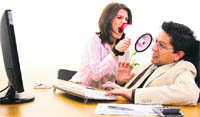 Although almost every employee grumbles and complains at one time or the other in his work life, not everyone knows how and when to present his/her complaint. As most employees fail to present their complaint adequately, all complaints are not adequately redressed. Mastering the art of complaining, however, is not everyone's cup of tea. But with proper practice one can master it to some extent.
Hormones guide career choices
Parents please note: You may want your daughter to be a scientist, doctor or an engineer. But, a new study suggests her career choice largely depends on the hormones she was exposed to as a foetus.
Happiness @ work
Gems of ancient wisdom
Allow for a human angle