STAR TRACK

In the same league

In a not-so-smart move, the makers of Tell Me Oh Khuda starring Esha Deol and others are releasing the movie alongside Shah Rukh Khan's Ra.One this Diwali. Even Himesh Reshammiya is releasing his film on that day. Hema Malini, who is directing the film, feels people tend to watch more movies in Diwali than on regular days.



Diwali dhamaka:

Hema Malini


Family man

Russell Peters is in Mumbai to promote his movie Speedy Singhs. He says he is bored of the same old racist jokes and will take inspiration from his wife and daughter to do something new and funny. He does not want to sing and dance in a Bollywood movie.

Ice-maiden

Chitrangda Singh shot a scene in freezing temperatures. She shot for Desi Boyz and it was very cold but she wore only a short skirt with a sleeveless top. She was chattering as she delivered her dialogues and didn't even wear a jacket on her director's insistence.

Walking that extra mile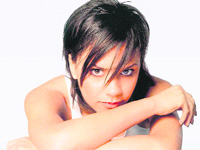 Singer-turned-fashion designer Victoria Beckham, who recently gave birth to her fourth child Harper Seven is walking seven miles a day to shed her baby weight.
"Her exercise regime would put us all to shame. She's walking seven miles a day on the treadmill," a source as saying.
"She's had to take it easy, but her definition of easy is different," he added.
The 37-year-old is believed to rise at 7 am and then walk three miles with hubby David. Later in the afternoon, it is yoga followed by another treadmill session. — IANS
Learning the ropes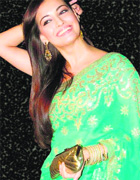 She has been in Bollywood for almost a decade and has done over 30 films but Dia Mirza says she is yet to do a movie that proves her as an actress.
The 29-year-old, who started her career with Rehna Hai Tere Dil Mein opposite Madhavan, says she hasn't had success as an actress but doesn't regret the choices she made.
"I have hardly been part of the cinema that could get me my due in Bollywood. I haven't done any film that proves me as an actress. Although, I am happy to have been part of all the films I have done because they have taught me a lot.
"Luck plays an important role. I have worked with some filmmakers who are very honest and had good stories to tell but unfortunately they didn't click at the box office," Dia said.
The actress who later starred in Dus, Cash and Dum, says there was a time when it got frustrating sitting at home and not getting any calls for new projects.
"It gets frustrating when your film flops and you are not getting any calls for work and just sitting at home. I have been through that phase and it breaks your heart. There comes a point where you don't know what to do next and that's the reason I always kept my options open and wanted to learn everything," she added. — PTI
Cheryl's new venture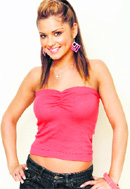 Singer Cheryl Cole is considering to start her own fashion line.
Cole recently launched a shoe collection with website Stylistpick.com and says she enjoyed it so much that she would be happy to create her own range of clothes.
When asked if she would like a launch a fashion range, the 28-year-old told Britain's Guardian newspaper: "Do you know what? I wouldn't rule it out, actually. I have loved designing these shoes. I haven't enjoyed a project so much in a long time. So, yes, it might be the start of something." — IANS
Cupid strikes again!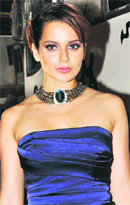 Kangna Ranaut has admitted that she has been in a long distance relationship with an English scientist for 18 months now. He is also a musician and is very romantic. They met through common friends in India and were friends before they started dating. She is in love and is very happy.
Reel reunion
Deepika Padukone and Ranbir Kapoor are coming together for Ayan Mukerji's romantic film for Dharma Production. The film is titled Yeh Jawani Hai Deewani and will go on the floors next year.
Deepika gets her wish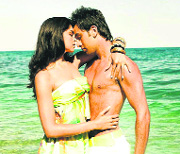 Farah Khan is making her next film with Salman Khan and Deepika Padukone. Farah and Deepika have mended their relationship and Deepika gets her wish of working with Salman Khan.
Mujra gets hotter
Kareena Kapoor has a hot-and-happening mujra song in Agent Vinod. Saroj Khan has choreographed it. Initially, Kareena had a problem doing the Indian dance but later she did it perfectly. We are looking forward to it.
Great moves
Saroj Khan recently worked with Priyanka Chopra for a song in Agneepath. PC did not have time to rehearse for the peppy song but picked up the moves very fast. Saroj was impressed.
Bodyguard roars
The star power of Salman Khan just doesn't cease to amaze. As if the stupendous opening and success of Wanted, Dabangg and Ready was not enough to rave about, the actor's latest blockbuster Bodyguard just set another record of a different kind.
Thanks to an innovative contest, with lucky winners getting free Bodyguard T-shirts, ticket sales at a chain of theatres belonging to the Rathi Group of Cinemas peaked again, with shows starting to run houseful once more in its third week.
Nobody wants Paris
Neither Karan Johar nor Simi Garewal wants to have America's notorious celebrity Paris Hilton on their chat shows. She will be in India soon. It is heard that Gauri Khan is hosting a grand bash for her.
Pammy likes confident men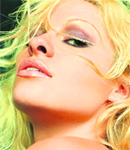 Actress Pamela Anderson admits she had a crush on Michael Jackson when she was growing up and even dreamt of marrying the King of Pop.
"I was star-struck by Michael Jackson. I dreamt of marrying him when I was little, and when he met me he didn't ask me, I was crushed," Anderson told a magazine.
Pamela, who has two sons, Brandon, 15, and 12-year-old Dylan, with ex-husband Tommy Lee, no longer has a celebrity crush and likes men who are confident within themselves and their career.
"I'm attracted to people who are confident. They are who they are and don't bed for the media. They have added an element of caring to their careers. A handful of solid spirits in this industry," she said. — IANS
The true Heroine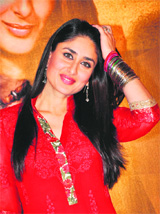 Kareena Kapoor's recent release Bodyguard has shattered all box office records to become the biggest hit of all time. She is working with the Khans consecutively. Here are her upcoming films.
Ra.One: The biggest family film of the year will see the light of day on Diwali. Kareena is only too pleased to play the female lead opposite SRK. She is paired with SRK and plays a glamourous mother. Chammak Challo and her desi look in it have become a rage.
Agent Vinod: We know that Kareena looks spectacularly gorgeous in the film and she plays a spy opposite Saif Ali Khan. Their characters are almost rivals. She has done some slick stunts in the stylish movie. Aki Narula has styled the movie which has been shot in exotic locales in Eastern Europe. The action thriller releases on December 9.
Ek Main Eur Ekk Tu: Shakun Batra's directorial debut for Dharma Productions brings Imran Khan and Kareena Kapoor together for the first time. It is a romantic comedy, slice-of-life film in which Kareena plays a spirited hairstylist and Imran plays an uptight businessman. Kareena changes his life and he falls in love with her. The movie shot in Las Vegas, will release in February.
Reema Kagti's untitled film with Aamir Khan: This film has been kept under wraps. We know that Aamir Khan plays a cop, Rani is the mother of his child, and Kareena plays a gorgeous streetwalker or escort. Of course, there is a romantic angle between them. The film is a romantic thriller and will release in January.
Heroine: Madhur Bhandarkar had envisioned her as his Heroine but she turned down the film due to the script and date issues. After Aishwarya Rai Bachchan's departure due to her pregnancy, UTV managed to convince Kareena to do the film for an astronomical price. Bebo had agreed to do the snorting and smoking scenes and has asked the sexual content to be toned down. The film also stars Shahana Goswami, Arjun Rampal and Arunoday Singh. We know she will be spectacular in the film that just might be her ticket to the National Awards.
He is into Scarlett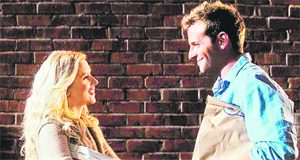 Hollywood actor Bradley Cooper was reportedly flirting with Scarlett Johansson at a party. The 36-year-old Hangover star, who was recently spotted on a dinner date with newly single Jenifer Lopez, was seen getting close to Johansson when they partied together in New York.
"Scarlett and Bradley arrived with a small group of friends, including model Cheyenne Tozzi, around 2 am. While Bradley was flirty with Cheyenne initially, after some drinks he turned his attention to Scarlett. The duo was hand in hand and more than flirty by the end of the night," a source said.
Cooper and Johansson appeared together as lovers in the 2009 film He's Just Not That Into You, and are thought to be reuniting on screen in new film Pride and Prejudice and Zombies.
They were also previously spotted with singer turned actor Justin Timberlake at a bar, in New York.
He recently split from Renee Zellweger. — PTI
New tune
Exploring different moods of a musician is the theme for upcoming movie Soundtrack. And, the band Midival Punditz are glad playing its music director. "The music is electronica - based and we are fortunate to have had chance to create for a mainstream film with much liberty," says Tapan.
Midival Punditz members Gaurav Raina, Tapan Raj and Karsh Kale made their Bolywood debut with Karthik Calling Karthik as background music composers. Their second Bollywood venture, Dum Maaro Dum got phenomenal success. "We aim to bring cutting edge production and composition to the world of film and music in the years to come," says Tapan who is basking in the glory of great music reviews for Soundtrack so far!
In the auto mode
Some commuters hailing an auto were in for a surprise when the driver ferrying them to their destination was Bollywood actor Prateik Babbar. In order to protest against the auto strike in Mumbai that had been creating problems for the residents of the city, the actor turned an auto driver and ferried few customers from Bandra station to different locations in the Bandra area.
"Prateik decided to do this to show his protest against the auto strike that has been creating problems for the people," a source said.
The 24-year-old actor called his move as "Auto ride with Pinto" on the lines of his upcoming film My Friend Pinto. Few of Prateik's friends joined his act too. — IANS
On the road to showbiz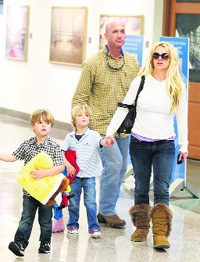 Singer Britney Spears thinks her sons will definitely be performers when they are older.
The Hold It Against Me hitmaker—who has sons Sean Preston, six, and five-year-old Jayden James with ex-husband Kevin Federline—feels both her boys love to show off what they have learned from her dancers while they accompany her on road trips.
"When I'm on the road they come with me and they love being on the road. When I was younger I was always on the road and it's always exciting," she said.
"They are in awe, they come home and copy the dancers and try to get on their heads and do spins and do all these things. They'll definitely, probably be, in the entertainment businesses," she added. — IANS
Going Gaga over Formula One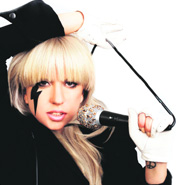 Pop diva Lady Gaga is all set to make her India debut on October 30 when she will perform during the closing ceremony of the country's first Formula One race in Greater Noida.
"It's a very big thing that Lady Gaga has agreed to perform in India. She's in the peak of her career now and I am thrilled to announce that she will come to India for the first time," said LAP restobar co-owner Arjun Rampal.
The Bollywood actor said that Gaga will come here to attend the Formula 1 event and perform at the LAP Buddh Circuit on its concluding day. "Even Lady Gaga is keen to perform here. — PTI