Master plans for 7 towns approved
Chandigarh, September 23
The Punjab Government today approved the master plans for seven towns- Rajpura, Nawanshahr, Jagraon, Roopnagar, Pathankot, Gurdaspur and Kapurthala- to ensure integrated development.


SGPC ex-member among 60 SAD workers join PPP
Jalandhar, September 23
Over 60 Shiromani Akali Dal activists based in Sultanpur Lodhi joined PPP's today in the presence of party chief Manpreet Badal. Those who switched loyalties included SGPC ex-member and president of Sultanpur Lodhi Municipal Council Jathedar Jaimal Singh, Block Samiti member Jathedar Gulzar Singh and councillor Gurpreet Raja.

No more heading ministry, so no right to write ACRs
Chandigarh, September 23
BJP Minister Laxmi Kanta Chawla's remarks recorded on the annual confidential reports (ACRs) of certain senior officials of the Health Department would be ignored, literally. A letter in this regard has been issued to the officials concerned by the Principal Secretary (Health), Punjab.
BJP to oppose assembly resolution on Bhullar

Chandigarh, September 23
The BJP today put its alliance partner (Shiromani Akali Dal) in a spot, stating it would not support the proposed assembly resolution demanding clemency for Devinderpal Singh Bhullar.
Shanta Kumar
SAD ticket for Kariha's widow likely
Jalandhar, September 23
There is a strong possibility of Chief Minister Parkash Singh Badal announcing the candidature of Satinder Kaur Kariha for the Nawashahr assembly seat that has fallen vacant after the demise of her husband JS Kariha.


Finally, rural doctors get salary after 5 months
Patiala, September 23
After a five-month long struggle by the Rural Medical Officers (RMOs) of Punjab working under Zila Parishads, the Department of Rural Development and Panchayats released the salaries of these officers yesterday. The services of these officers had been regularised in March this year by the Punjab Cabinet.
Jail inmates clash with staff in Kapurthala
Jalandhar, September 23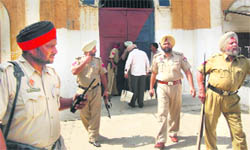 Two wardens and a prisoner were injured in a violent clash between the staff and inmates of the district jail here today. The police had to fire in the air when the rampaging inmates tried to set on fore LPG cylinders in the kitchen area.



Cops outside the Kapurthala jail. Tribune photo: Malkiat Singh
Gobindpura under police siege again
Mansa, September 23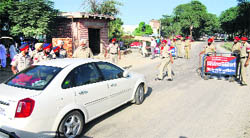 The Gobindpura village near here is virtually under police siege to thwart the tomorrow's march by farmers there following failure of their talks with Chief Minister Parkash Singh Badal on the issue of de-notification of 186 acres of fertile land that has "forcibly" been acquired for constructing a thermal power plant.
Police personnel check a car on the eve of farmers' protest in Gobindpura village of Mansa district. A Tribune photograph
Farmers pitch in to bail out cash-starved PAU
Ludhiana, September 23
Farmers, who felt that they were morally bound to help the PAU, which is facing severe financial constraints, donated generously to the university.
Fight over rare replicas of Holy Granth
Patiala, September 23
Noted Sikh scholar and former SGPC chief Kirpal Singh Badungar has assured to look into the complaint of Colonel Gurnam Singh (retd) that he was being pressurised to donate his rare replicas of Guru Granth Sahib. The police has also assured not to trouble the veteran armyman Gurnam Singh.
Owners accuse govt of usurping land, move court
Chandigarh, September 23
In what could turn out to be a major embarrassment for the State of Punjab, as many as 36 farmers have alleged that the State of Punjab and other respondents illegally, fraudulently and in a malafide manner transferred over 59 acres from the Baba Farid University of Health Sciences to the Punjab Urban Development Authority.
Villagers threaten to demolish toe wall
Patiala, September 23
Hours after news came that the Supreme Court had turned down Punjab's plea on the contentious issue of the toe wall built along the Hansi-Butana Canal, farmers and inhabitants of flood-prone villages on the Patiala-Kaithal highway staged demonstrations in the afternoon.
Punjab only state to have three-language teaching formula
Mohali, September 23
Punjab School Education Board (PSEB) Chairman Dr Dalbir Singh Dhillon said today Punjab was the only state in India which had applied three-language teaching formula at the school level and was teaching science and mathematics as compulsory subjects at the matriculation level.
Kaushik set to be new DGP


Chandigarh, September 23
Director General (Prisons) Anil Kaushik is set to become the new Director-General of Police (DGP) after incumbent PS Gill retires this month with Deputy Chief Minister Sukhbir Singh Badal, who also holds the home portfolio, clearing his case today.
Anil Kaushik
E-governance project inaugurated
Patiala, September 23
Principal Secretary of the Punjab Transport Department, Anurag Aggarwal inaugurated an e-governance project at the State College of Education here yesterday under which the college principals of the government and private colleges could issue learning licenses to the students.
Steel rolling mill sealed for violating norms
Fatehgarh Sahib, September 23
In a crackdown against those violating the air pollution norms, the Punjab Pollution Control Board (PPCB) yesterday sealed a steel rolling mill at Mandi Gobindgarh.


HC quashes clause in CMC prospectus
Chandigarh, September 23
The Punjab and Haryana High Court has quashed a part of Ludhiana-based Christian Medical College's (CMC) prospectus, requiring a Christian candidate to obtain a mandatory sponsorship letter as a pre-condition to admission.
Insurance co directed to pay Rs 17,819
Fatehgarh Sahib, September 23
The District Consumer Disputes Redressal Forum has directed Branch Manger of United India Insurance Company Ltd, Mandi Gobindgarh, to pay Rs 17,819 as car repair charges along with 9 per cent interest from the date of filing of the complaint till its realisation along with Rs 5,000 as litigation charges to complainant Sanjiv Jindal, partner, Modern Alloys Alour.