VIPs drift away from heritage route
Neeraj Bagga
Tribune News Service
Amritsar, September 27
The inaugural run of the Heritage Walk in Amritsar saw the participants missing as many as 14 heritage sites on the specified route. The dignitaries taking part in the walk followed a different route.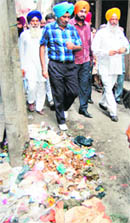 Tourism Minister Hira Singh Gabria and MP Navjot Singh Sidhu have to go through a street filled with garbage on Tuesday. Tribune Photo: Sameer Sehgal
After visiting Thakurdwara Dariana Mal on the heritage route, the participants drifted and took a different road. Hence, they could not visit Chaurasti Attari Chowk, Taksal, Radha Krishan Mandir, Crawling Street, 'Puratan Rasta' (ancient passage) and Akhara Brahm Buta. They directly moved to the Golden Temple Complex, where the walk culminated.
The lapse occurred as the official guides appointed to take the tourists on a guided tour of the route of the Heritage Walk could not show the way to the high-profile participants comprising political leaders, civil and administrative officials.
The route which Tourism Minister Hira Singh Gabria, MP Navjot Singh Sidhu and others took was dotted with piles of garbage on either side.
Though the roads on the route specified for the walk were clean and DDT powder had been sprinkled on either side, loose cables hanging covered the façade of a majority of the buildings and thus blocked the front view.
Minutes before the inauguration of the event from Town Hall, supporters of Tourism Minister Hira Singh Gabria and BJP MP Navjot Singh Sidhu were seen jostling for photo-ops at the starting point of the Walk. It prompted Principal Secretary Tourism, Geetika Kalha, to brief the group to follow the path as shown by guides with discipline. Meanwhile, the tourists were missing from the inaugural walk, which mainly witnessed the participation of political leaders, their supporters and officials. However, tourists visiting the city were ecstatic at the initiative.
A guided tour of heritage sites, an advantage
I came to visit the Golden Temple with my family. We would like to take advantage of a guided tour of the heritage sites tomorrow morning
—Rajiv Dangri, a tourist from Saharanpur
Ready to walk on Day 2
The concept of aheritage walk seems to be impressive. If only I had been aware of it, I would have taken part in the walk today. I will try to work out my schedule to be a part of the group tomorrow morning.
—Eland, A tourist from England
A chance to know the city
The heritage walk will enable tourists to learn more about the holy city. I got a brief view of the interior parts of the city while paying obeisance at the Golden Temple. With the guided tour, I will be able to do so. —Arun Gurusari, A tourist from Aurangabad (Maharashtra)