M A I N N E W S
A tribune investigation Punjab Public Transport - 4
Public losses, private profits
Punjab Bureau
Chandigarh, September 29
Transport corporations in the public sector in Punjab today face the same fate as Air India does in the aviation sector. If Air India is deep in the red after the open skies policy which saw private sector airliners mushroom, the two major Punjab state transport undertakings, Punjab Roadways and PEPSU Road Transport Corporation, PRTC, are rapidly going down the same road.
With the implentation of a liberal transport policy of encouraging the private sector ,adopted by the Parkash Singh Badal government when it came to power in 2007, public sector operators have experienced a steep fall in market share and piled up huge losses. From a market share of 48 per cent in 2004-05, the share of state transport undertakings (STU) came down to 39 per cent in 2008-09 with the accumulated losses during the period aggregating a whopping Rs 462.03 crores. Punjab Roadways alone lost as much Rs 76 crores in 2009-10.
Key indicators show how badly off the STUs are. In the the transport sector, a major indicator of performance is productivity per bus per kilometre per day. The 2009 report of the Comptroller and Auditor-General (CAG) says that productivity in kms - kilometres done per day per bus - has declined sharply in the case of Punjab Roadways. From 206 km per bus per day in 2004-05, it had come down to 105 km per day per bus. The national average is 313 kms per bus per day. The productivity of PRTC is much better mainly because it enjoys more monopoly routes than Punjab Roadways. Against 306 km per bus per day in 2004-05, it was doing 310 km per bus per day in 2009. Private transport operators in this sector do anything between 350 and 400 km per bus per day.
The losses of the state transport undertakings were primarily because major trunk and profitable routes, that had been traditionally with them have, during the past four years, gradually been overtaken by private transport operators, many of them owned by political bigwigs. Though there has been no change in the scheme that governs public transport in Punjab, which was formulated in 1990 and modified in 1997, private operators allegedly exploit the loopholes to gain more routes.
The 1997 rules state that STUs will have a monopoly on all inter-state routes. On national highways within the state, the share is in the 75:25 ratio between STUs and private operators. On all other routes falling on state highways and other roads in the state, the ratio would be 40:60 between STUs and private operators.
The policy was good when formulated as the idea was to bring in private operators to compete with STUs to improve services and connectivity, especially to neglected areas of the state. Instead, the reverse has happened. The 2009 CAG report observed critically that the scheme was not implemented in letter and spirit. It pointed out that the private operators were allotted excess routes on the National Highways and on monopoly routes in disregard to the scheme. In case of violations, the STUs are required to file petition with the State Transport Appellate Tribunal (STAT).
The CAG report said that 107 petitions filed by the STUs were still pending with the tribunal causing huge loss to the state exchequer.
The Punjab Transport Department issues a limited number of permits for every route at a price. The average is six to eight permits per route. The CAG report revealed that profitable routes operated by the state undertakings have dropped from 219 in 2005 to as few as 90 in 2009. No prizes for guessing who took over the remaining share of profitable routes.
Investigations by The Tribune revealed several methods by which many private operators exploit loopholes to gain routes and access to what should have been profitable or monopoly routes for state undertakings. Among them is that some private operators pick up permits for short distances and then manipulate the rules to get it transformed into a single permit for a larger and more profitable route.
Other private operators are accused of muscling into the time-tables to ensure that they get the best timings during peak hours. There are serious allegations that influential private operators manipulate the timings, so that they get more selling time for tickets at the counter thereby ensuring more passengers. Ordinarily, they get an average of three minutes at the counter but many operators ensure that they get six to nine minutes to book passengers usurping the counter time of STUs.
An example of how some private operators allegedly manipulate the timetable is to ensure that STUs buses are scheduled before and after it. The open secret of the trade is that the buses of the two STUs invariably fail to show up on the timings given, thus giving the private operator more time on the counter to book the passengers. Master Mohan Lal when he was Transport Minister in the Badal government not only admitted to such practices but also charged that the crew of many state-owned buses were in connivance with private operators in missing schedule timings and also carrying a low passenger load.
The CAG report said the main causes for the mounting losses of state transport undertaking was a steep fall in operating kilometres, decrease in fleet strength, overage buses and insufficient crew. These undertakings were unable to induct new buses and replace the over age buses due to their poor financial health and also due to lack of financial assistance from the state government. It also pointed out that un-remunerative sectors, including services to rural and remote areas, still remain largely with the public sector. The CAG pointed out that while state undertakings earned Rs 20.57 per km, they spent Rs 23.65 per km resulting in a loss of almost three rupees a kilometre.
PRTC chairman Ranjit Singh Ballian, a political appointee, however, does not agree that public transport is in the red because of the growing strength of private operators. He says, "Private transporters have not affected us much. It's just the financial crisis that is making things difficult for us. We have a monopoly on certain routes and this continues to exist. But we get no financial aid either from the Centre or the state government as a result of which has put our finances under considerable strain."
The government transport union workers are more critical. "PRTC is running into huge losses because the Punjab Government is making policies that are beneficial for private transporters and thus causing major losses to PRTC," charges Nirmal Singh Dhaliwal, president of PRTC Workers' Union, AITUC.
Gurdev Singh, senior vice president of the Punjab Government Transport Workers Union (PGTWU), alleges that many private operators not only evade payment of taxes but operate more than one bus on a permit and evade mandatory charges, including adda fee or parking fee inside a bus stand.
As proof, the PGTWU office-bearers cite the allegation made by former Commissioner of Patiala Division Jasbir Singh Bir, who last year decided to seek voluntary retirement from the Indian Administrative Service (IAS) because of his failure to prevent parking of buses belonging to Deputy Chief Minister Sukhbir Singh Badal's private company, Orbit, in the residential-cum-commercial area of Mohali.
As a result of the skewed transport policy, there are complaints that connectivity with rural and remote areas in Punjab has deteriorated. Public road transport system in rural areas of the Moga district for example, has collapsed in the last couple of years because of poor connectivity. As a result, students, teachers and workers suffer every day. While in some areas, the only consolation is mini-buses, in the rest passengers have to use unconventional modes of transport, including archaic three-wheelers and indigenous "rehras" pulled by diesel pumps. All this is a far cry from the transport revolution that the Badal government promised when it came to power in 2007.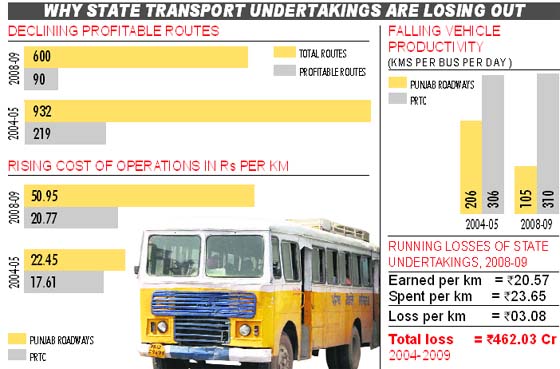 (Prabhjot Singh with inputs from Sushil Goyal, Kulwinder Sandhu, Gurdeep Mann, Megha Mann, Kulwinder Sandhu, Kusum Arora, Puneet Pal Singh Gill, Ravi Dhaliwal, Neeraj Bagga and Pawan Kumar Jaiswar).