'84 riot victims to get plots in Mohali, Ludhiana
Chandigarh, September 29
Chief Minister Parkash Singh Badal today asked PUDA to start the process of allotment of houses to all the valid red card holder victims of 1984 riots. A decision to this effect was taken by Badal at a high-level meeting here.
Prolonged rains take sheen off white gold
Fazilka, September 29
The white gold (cotton) has been hit hard this season due to prolonged monsoon with the moisture content further deteriorating the quality of cotton.The almost blooming cotton balls were damaged by incessant rain about a fortnight back.



A heap of discoloured cotton in the Fazilka grain market. A Tribune photo

Gearing up for paddy procurement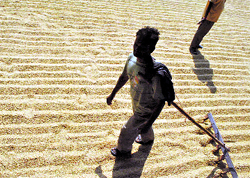 A worker busy drying paddy at the New Grain Market in Patiala on Thursday. The paddy procurement season will start in the state from October 1. Tribune photo: Rajesh Sachar

President took less than 2 weeks to reject Bhullar's mercy plea
Bathinda, September 29
The President took just 13 days to reject the mercy petition of Devinder Singh Bhullar, reveals a reply from the Rashtrapati Bhavan to an RTI application. The petition, according to this communication, was received at the Rashtrapati Bhavan on May 13, 2011 and was rejected on May 25.
Kaushik is Punjab DGP
Chandigarh, September 29
The Punjab Government today appointed Anil Kaushik, a 1975 batch IPS Officer and presently DGP (Prisons) as the Director General of Police (DGP). Kaushik would succeed Paramdeep Singh Gill after his superannuation on September 30.
If voted to power, Congress to review transport policy
Sangrur, September 29
PPCC president Capt Amarinder Singh today announced that the Congress, if voted to power, would review the transport policy of the SAD-BJP government "which has clearly been made to favour the transport companies of CM Parkash Singh Badal's family". He said the Congress Government would also review all other policies of the alliance.


Bungling In State's Public Transport
Bajwa seeks suo motu notice
Chandigarh, September 29
Congress MP from Gurdaspur Partap Singh Bajwa has urged the Chief Justice of Punjab and Haryana High Court to order an inquiry by taking suo motu notice of The Tribune investigation about the working of the public transport in Punjab.
Missing Amritsar girl found in Delhi
Chandigarh, September 29
Bringing the curtains down on the drama enacted by the Punjab police, IPS officer Kunwar Vijay Pratap Singh has cracked the missing girl's case.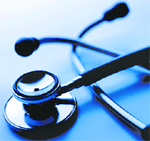 In Jalandhar, no action against 39 erring chemists despite raids
Jalandhar, September 29
Despite the tall promises by the government to curb the drug menace in the state, the drug trade is fastly spreading tentacles in small townships and villages. Unscrupulous chemists form a major part of the trade. They openly sell drugs like codeine-based cough syrups and pain killers to addicts.
'Commendation Disc' for 108 police officials
Chandigarh, September 29
Punjab DGP PS Gill today awarded 108 police officers and personnel with the 'Director General Commendation Disc' for outstanding policing achievements.
BSNL 'disconnects' pvt operators in state
New Delhi, September 29
State-run telecom operator BSNL today withdrew its Point of Interconnection (POI) in Punjab, creating major problems for lakhs of mobile phone users. The POI is provided to facilitate making and receiving calls seamlessly.The action comes within days of the BSNL taking similar action in Rajasthan and Maharashtra. The BSNL has been seeking its dues from the operators.
Government nod to higher wages for patwaris
Chandigarh, September 29
Punjab Chief Minister Parkash Singh Badal today approved a pay scale of Rs 10,300-34,800 (plus a grade of Rs 3200 grade) to revenue patwaris with effect from November 1. The patwaris were earlier placed in the pay scale of Rs 5,910-20,200.