Capt says no to Badal's 'motivated' proposal
Chandigarh, September 25
Reiterating that the death penalty to Devinderpal Singh Bhullar be commuted to life imprisonment, PPCC chief Capt Amarinder Singh today rejected the Chief Minister's proposal to the Congress that it should support a resolution in the assembly seeking mercy for him (Bhullar).
Populism On Wheels
600 schoolgirls given bicycles in Amritsar
Amritsar, September 25
With an eye on assembly elections, the state government today distributed bicycles to girl students with a predominant saffron colour and a picture of the Chief Minister on its front.
Civil plea in way of release of jailed youths
Sharjah Case: Kin of deceased, Mushtaq and Shahid, seek compensation
Chandigarh/Dubai, September 25
A civil petition seeking compensation for those injured in the Mishri Khan murder case has stallled the release of 17 Indian youths from the Sharjah jail. They were to be freed last week after a Sharjah Appeal Court waived their death sentence.
Fight Against Female Foeticide
Patiala doctor's efforts start bearing fruit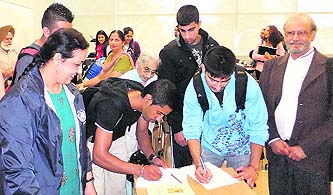 Patiala, September 25
Having focused on her aim of saving the girl child for the past 15 years now, the dedication of Patiala paediatrician Dr Harshinder Kaur has finally started bearing fruit with a large number of students both in India and abroad joining her fight against female foeticide and dowry system.
Students in Canada hold a signature campaign against female foeticide and dowry. A Tribune photograph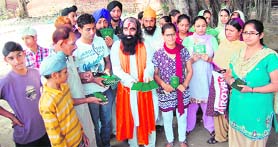 Pak Sikhs seek citizenship
Amritsar, September 25
Niranjeet Kaur and her schoolmate Satya have completed plus two from a local school but are clueless about their future prospects because they have been summoned again to their native town of Peshawar in Pakistan for visa formalities before seeking admission in a college.
Sikh families from Pakistan in Amritsar. A Tribune photo


Department for food safety soon
Chandigarh, September 25
Alarmed at the growing trend of adulteration of edible oils and other consumables, the state government has decided to set up a department for food safety. Official sources said a proposal in this regard would be submitted to the Chief Minister Parkash Singh Badal for approval.
Bittu demands setting up of drug prevention board


Mohali, September 25
Blaming the ruling Akali-BJP government for its failure to set up a drug prevention board in the state, despite the written promise made by Chief Minister Parkash Singh Badal in this regard, Member of Parliament from Anandpur Sahib Ravneet Singh Bittu said he was again going to sit on a hunger strike on the day the Punjab Assembly session was going to start to press for the board.
Mid-day meal workers hold protest
Demand salaries according to the Minimum Wages Act
Patiala, September 25
Criticising the Central and state government for ignoring the interests of mid-day meal workers, the Mid-Day Meal Workers Union, Punjab, took out a protest rally outside the residence of Minister of State for External Affairs Preneet Kaur today.
Teachers stage dharna, seek regularisation of services

Patiala, September 25
Hundreds of teachers under the banner of the "Sikhiya Karmi Adhiyapak Union" took out a protest march against the non-acceptance of their demands here today. Ajmer Singh Aulakh, president of the union, sat on an indefinite hunger strike stating that he would either die or get the demands of the employees fulfilled this time, as the government had befooled them time and again.
Members of the Sikhiya Karmi Adhiyapak Union on an indefinite fast in Patiala on Sunday. Tribune photo: Rajesh Sachar

Equipment in place at Attari to freeze polio spread
Amritsar, September 25
The Punjab Health Department has set up an ILR (ice-lined refrigerator) and a deep freezer at the Attari International Checkpost to ensure proper handling of vaccines at the newly opened polio administration booths.
Langah: Check practice of burning stubble
Patiala, September 25
The Punjab government has issued subsidies to the tune of Rs 450 crore to the farmers of the state under various schemes in order to facilitate them. Giving information in this regard, Punjab Agriculture Minister Sucha Singh Langah, who was at Rakhra village to inaugurate a "Kisan Mela" organised by the Young Farmers' Association, said the government would continue to render every possible help to the farmers to help them prosper.
62 units found violating pollution norms in Ludhiana, Jalandhar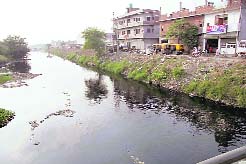 PPCB intensifies drive to make state pollution-free
Patiala, September 25
Having already taken to task several categories of industries, brick kilns, health institutes etc for violating prescribed pollution norms, the Punjab Pollution Control Board (PPCB) has decided to intensify its drive to make the state pollution-free.
A file photo of the Budda Nullah in Ludhiana.
Four-laning of National Highway 95 hits roadblock
Ferozepur, September 25
The four-laning project on the National Highway 95 from Ferozepur to Hussainiwala, which had earlier been approved by the Ministry of Road Transport and Highway in its annual plan for current year, has now been shelved in the revised plan causing disappointment to the locals.
Amarinder: Police promotions a joke
Chandigarh, September 25
Punjab Pradesh Congress Committee chief Capt Amarinder Singh today said Deputy Chief Minister Sukhbir Badal's announcement of giving mass promotions to police personnel was a cruel joke on them as they do not stand benefited in any way from these promotions. At the same time, he assured, once the Congress comes to power after elections, he will ensure that they got all the benefits that should come to them with the promotions.
5 prisoners shifted to Patiala jail for attacking wardens
Kapurthala, September 25
A day after violence in Kapurthala district jail, as many as five prisoners have been shifted to Patiala and Bathinda jails yesterday. Jail sources said the five prisoners were responsible for attacking jail wardens. Two wardens and a prisoner were wounded in the clash between them in the jail after recovery of some drugs from some inmates.
Seminar on free legal aid to SC/STs
Fatehgarh Sahib, September 25
With an aim to creating legal awareness among the people at the grass-roots level, the District Legal Services Authority organised seminars and lok adalats regarding free legal aid at Longo Majri, Buchre, Bibi Pur and Arain Majra villages of the district today.
Dr Garg honoured at international conference
Patiala, September 25
Dr Rakesh K Garg, Professor and Head, Department of Forensic Sciences, Punjabi University, here was invited to participate in the 19th International Association of Forensic Sciences, 9th World Police Medical officers(WPMO) and 5th MAFS 2011 Meeting held from September 12 to 17 in Funchal (Madeira), Portugal.
Police personnel get training for faster delivery of passports
Jalandhar, September 25
To reduce the time required to deliver passports to applicants, the Regional Passport Office (RPO) organised a training camp for the police authorities, where the officials learnt how to send and receive verification reports online.
Help pours in for war veterans
Pathankot, September 25
A two-day Army Mela concluded today. Lt-Gen AK Choudhary, GOC, 9 Corps, felicitated Honorary Lt Joginder Singh, father of Lt Navdeep Singh of Gurdaspur district, who died fighting terrorists in Jammu & Kashmir.
Bank employees hold conference
Patiala, September 25
The All-India State Bank of Patiala Employees' Federation held its 21st conference at the Polo Ground here today. More than 6,000 members of the federation took part in the conference.


SC extends bail period of ex-IAS officer
New Delhi, September 25
The Supreme Court has extended by four weeks the period of anticipatory bail granted to Swaran Singh, an ex-IAS officer charge-sheeted for alleged corruption in the centenary celebrations of Shaheed Bhagat Singh in 2008.