Government foots bill for Chautalas' security
Bathinda, September 26


The Punjab Government is paying for the security of former Haryana CM Om Prakash Singh Chautala's family. The Punjab Police has deputed an ASI and four other cops for the purpose, even as Punjabfaces a dearth of police officials for providing security to its own people.


YAD leaders accused of beating BDPO surrender
Patiala, September 26
Two Youth Akali Dal (YAD) leaders who had been accused of beating up an on-duty Block Development and Panchayat Officer last week surrendered before the court here today.
Left wants BSP to join alliance
Chandigarh, September 26
Leaders of the Left parties, the CPI and the CPM, are keen to further broaden the base of their alliance with the People's Party of Punjab (PPP). "We will like to include more like-minded groups in the alliance," said Joginder Dayal, a member of the CPI national executive.
Spell out stand on Bhullar, Capt to CM
Chandigarh, September 26
Punjab Pradesh Congress president Capt Amarinder Singh, accusing Chief Minister Parkash Singh Badal of playing politics on the issue of clemency for militant Devinder Pal Singh Bhullar, said today that if the Badal Government was sincere on the issue, it could have taken the initiative to get him transferred to a Punjab jail.


25 buildings selected for rainwater harvesting
Jalandhar, September 26
Gurdwaras, schools and panchayat ghars will now be contributing towards improving the ground water table in Nakodar, Shahkot, Lohian and Phillaur blocks of Jalandhar district with their roof-tops to be used for rainwater harvesting.
Reforms commission winds up work
Chandigarh, September 26
After a series of recommendations, the Punjab Governance reforms Commission (PGRC) concluded its two-and-a-half year term today. The Shiromani Akali Dal (SAD) - BJP alliance is expected to make the commission's recommendations a major election issue in the ensuing assembly elections.
No party can ignore reforms, says panel chief Pramod
Mohali, September 26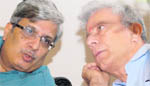 It is administrative compulsion for any state government, irrespective of the party in power, to carry out reforms for better governance, said Pramod Kumar, Chairman of the Punjab Governance Reforms Commission (PGRC) while announcing that the commission would winding up its functioning in the next three days.
Pramod Kumar, Chairman of the Punjab Governance Reforms Commission (L), in Chandigarh on Monday.

Citizen-centric policing need of the hour: Punjab DGP
Chandigarh, September 26
Punjab Director General of Police today underlined the need to change the style of working of the police to match people's expectations and said citizen-centric policing was need of the hour. Presiding over a high-level meeting of the police department at the Punjab Police headquarters here, Gill said field officers must learn to anticipate issues, which had the potential of becoming major law and order problems.
DGP PS Gill
PRTC unions to go on strike on Sept 29
Patiala, September 26
After various protests by the Punjab Road Transport Corporation pensioners and contractual workers, now the staffers have also raised their voice against the management and the state government in the wake of delay in non-acceptance of their demands.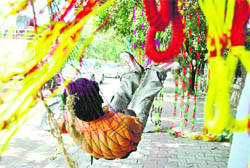 A vendor selling hammocks rests while waiting for customers in Patiala on Monday. Tribune photo: Rajesh Sachar
Veterinary pass-outs fail to find jobs
Ludhiana, September 26
The very first pass-out batch of Guru Angad Dev Veterinary and Animal Sciences University (GADVASU) is a worried lot as the state government has so far failed to advertise the posts of rural veterinary officers. And all this despite the department having 147 vacancies for veterinary officers.
Wrongly held on terror charges, man speaks up for Sehajdharis
Chandigarh, September 26
Satnam Singh Kewal has his own reasons to seek voting rights for the Sehajdhari Sikhs.
Pak refugees demand rights
Chandigarh, September 26
Hindu migrants from western Pakistan who were forced to shift base post-Partition claim they were being discriminated against in J&K and had been leading a life of "stateless citizens" since 64 years.


Apex court for expeditious disposal of Bhullar case
New Delhi, September 26
The Supreme Court today made it clear that it would not grant "unreasonable" adjournments in the case arising from the petitions filed by death row convict Devender Pal Singh Bhullar, his wife Navneet Kaur and the Delhi Sikh Gurdwara Management Committee (DSGMC).


Student dead in tempo-truck collision in Rajpura
Patiala, September 26
Tragedy struck Ghaggar Srai village in Rajpura following reports that one student from the village died and seven others suffered injuries after the tempo, in which they were travelling, collided with a stranded truck near the Sirhind Bypass, Rajpura. The students studying in Bhai Daya Singh School were returning home when the truck driver lost control and hit a stationary truck.