PUNJAB

HARYANA

JAMMU & KASHMIR

HIMACHAL

REGIONAL BRIEFS

NATION

OPINIONS

LETTERS

BUSINESS

SPORTS

WORLD


M A I N N E W S
Aakash, the world's cheapest tablet PC, is here
Aditi Tandon/TNS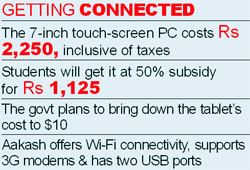 New Delhi, October 5
Last year, on July 22, when Human Resource Development Minister Kapil Sibal launched the prototype of a $35 low-cost computing device, the cheapest anywhere, critics said it would be impossible to develop.
Today, Sibal launched 'Aakash', the world's lowest priced (Rs 2,250 per unit) touch-screen computing and internet access device, which will allow people with humble means a chance to access the same set of web information which the rich access through more sophisticated devices. To start with, the device will be made available to students at 50% subsidy (Rs 1,125) and the government plans to bring down the price to $10 a unit.
For the makers of Aakash, it has been a long and tough journey. Suneet Singh Tuli, Chief Executive Officer of Datawind, the Canada-based provider of wireless web access services, which is developing the tablet for India, told The Tribune: "Every vision has detractors. People said Aakash was impossible; others felt India could never make it. We are here to tell the world that we have arrived."
Tuli and his brother Raja Singh, who hail from Punjab but immigrated to Canada years ago, are now designing, developing and manufacturing Aakash in collaboration with IIT-Rajasthan whose Director Prem Kalra was overwhelmed at the launch today. "Behind this event, there is so much life hidden that I can never tell," he said. It was Kalra's son, a BTech student at IIT-Rajasthan, whose thesis gave the government the idea to develop Aakash.
However, top industrialists cold-shouldered Sibal when he sought their help to realise the dream.
"So we chose to go it alone and asked our institutes to develop the prototype. IIT-Rajasthan was told to procure and test the device based on the specifications our team finalized," NK Sinha, in charge, National Mission on Education through Information and Communication Technology (NME-ICT), which is funding the project, said.
The biggest challenge, however, was to lower the cost. Tenders were called and closed on February 15, 2011 with Datawind emerging the lowest bidder. "We then established a production line in Hyderabad where Quad teamed up to produce the device," Tuli said. He was flanked by Raminder Singh, MD, Quad Electronics, Hyderabad, who calls Aakash "revolutionary".
For the tablet team, the next big job is to deliver the first government order of one lakh pieces. The target eventually is 10 million pieces for which the government wants a price of Rs 1,750. "We have already given a proposal at this rate. With today's launch, we intend to start a price war to bring the rates further down. From the first consignment, 3,300 pieces will go to each state," Tuli said. He is already gearing for commercial version of Aakash in late November. Called UbiSlate, it will be available for Rs 2,999 (inclusive of all taxes). "UbiSlate will have a 12- month warranty and internet access across mobile networks for just Rs 99 (2GB)," Tuli, who also has operations in Amritsar, said.
Meanwhile, the makers of Aakash have trained students to help states operate the device and return the feedback in 45 days to help improve on the pending units. The government, for its part, hopes to give Aakash to all college students. "In the 12th Plan, we will cover students from classes IX to XII," Sibal said.
As for the device, it has three-hour battery life and functions like web browsing, video conferencing, social networking, instant messaging and gaming. It is expected to bridge the digital divide between the rich and poor and is Wi-Fi enabled. With inbuilt GPRS and modem, 2 USB ports and internet access anywhere in the vicinity of a mobile tower (2G platform), Aakash will allow students to access thousands of hours of lectures by IIT professors and e-content on the National Programme on Technology Enhanced Learning (NPTEL) platform which offers web and video based courses in engineering, science and humanities.