Le Corbusier laid stress on the functionality of living spaces. The Modulor Plan that he introduced in Chandigarh, now confronts a dilemma – to adapt to the pressures of growth or, to become a living museum of architectural genius.
The Chandigarh Conundrum
George Jacob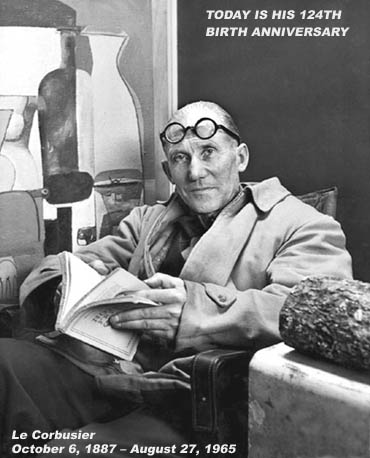 TO Change or not to Change...is the conundrum facing many an urban planner grappling with the challenges of growing population, finite bandwidth of amenities aiding civic functionality and the larger issue of nurturing the elusive soul of a potentially vibrant city— in this case the City Beautiful. Layer this prospect of its benign acceptance with its mediocre and often sub-par living conditions, taken for granted elsewhere in the world along with connotations of 'heritage' qualifiers impeding change, while bucking responsibility!
While residents, visitors, bureaucracy and investors all have strong differing views about what Chandigarh exemplifies, the common denominator is the need to adapt to changing needs of communities within a seemingly finite framework of plausible alterations to a concrete induced urban dwelling. According to the Governor`A0of`A0Punjab and Chief Administrator, Chandigarh (UT), Shivraj V. Patil, in order to meet the growing demands of development, traffic and population growth, the city would go sub-terrain instead of a tempting vertical skyscraper driven model. Maintaining Nehru's vision and Corbusier's design is vital to preserving its quality of life and aesthetic, believes Patil, who also serves as the Chair of Experts Committee on Chandigarh Heritage, and is acutely aware of seeking holistic regional solutions to the pressures of economy, jobs for youth, commercial enterprise and challenges of mass transit.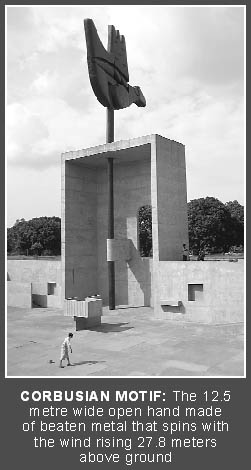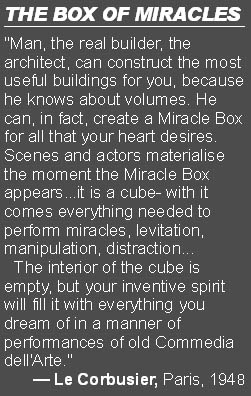 October 6th marks the 124th birth anniversary of the Swiss-born modernist architect Charles-Edouard Jeanneret-Gris, popularly known by his adopted French pseudonym Le Corbusier (1887-1965), whose work, now more than ever, has to grapple with neo-urbanism and the visible lacunae of smart-growth, amply evident in the poorly conceived cacophonous chaos of adjacent Zirakpur, Mohali, Panchkula and Mani Majra.
Caged in Concrete
Corbusier believed in reinventing ideas, concepts and spaces, even his name! His dream project was to plan a city— after receiving several refusals, which also included a plan for the city of Jerusalem, Chandigarh was his last chance to prove his genius. And he gave his best. The plan for the much celebrated Capitol complex included four 'Edifices' — the High Court, the Legislative Assembly, the Secretariat and the Museum of Knowledge and six 'Monuments', laid out in an invisible geometry of three interlocking squares marked by 'Obelisks'. The first three elements of the complex are meticulously planned with an incredible eye for detail down to the furniture, lighting fixtures, tapestry and enamel doors. While the complex offers a desolate sense of monumentality with its concrete slab-tiled vast access platforms, obtuse to the environment and the unforgiving summer temperatures and winter winds, the fourth edifice (initially Governor's Palace) of the futuristic Museum of Knowledge, is yet to be realised.
On the residential side, the oft-repeated critique to this functional city neatly divided into sectors on a grid is that it alienates people living in it. Enabling movement, circulation, locational ambivalence and seldom nudging people to engage in a collective celebration flowing into a central piazza for a melding of minds vital for sustenance of organic growth within cities.
Citing Cliché
As the first planned city post-independence based on the Master-Plan of the American architect Albert Mayer, Chandigarh does offer better infrastructure, fore-thought, relative ease of circulation and residences tinged with modernist brutalism of a machine seeking to fulfil a function in concrete. It is also statistically, the cleanest city in India.
Corbusier retained most of Mayer's organisational features but did away with its adaptation to the landscape, its allowances for unplanned growth, and its use of vernacular building practices and materials. Replacing these with a rectangular grid based on metaphor of a human body in an ode to Leonardo's Vitruvian man, he placed the Capitol Complex on top resembling the head, reflecting Nehru's conviction that government should rule a city as the head rules the body. These notions still remain largely unrealised and disconnected in the minds of the residents oblivious to this thought process.
The industrial and educational belts on either side of the city symbolised the limbs. The city centre with commercial buildings, shopping, and offices represented the heart. The 70 sq.km historic core of Phase 1 completed in 1965 was starkly separated into inward-looking self-sufficient sectors measuring 800 by 1200 meters based on dimensions taken from Paris. A seven-tiered hierarchy of road types de-linked pedestrian and vehicular traffic- from V1 for the fast-moving inter-city traffic to V7 for pedestrians within the sectors.
Le Corbusier's philosophical thrust, as outlined in Vers Une Architecture was about standards and perfection—values incorporated in design and utility. With literacy rate in the UT at 81.9 per cent, the question to be asked introspectively by the city planners, administrators and residents alike, is, whether the later sectors built in the 114 sq.km. adhered to those principles and whether those high standards are presently reflected in the shoddy neglect all around— be it the Sector 17 shopping complex strewn with junk in the upper floors, jumble of electrical wires stringing dangerously or the pervasive crumbling neglect with growing peepal trees from countless crevices, haphazard signs and billboards against the backdrop of an ever-increasing pathetic parking nightmare? The British architect Maxwell Fry who was on the core Corbusier-Jeanneret team, noted that the very construction workers, who built the City Beautiful remained "underpaid, un-housed and uncared for..." with nearly a third of its economically weak population of domestic servants, construction labour, drivers, vendors, tailors, cobblers, janitors and others, living in squalid conditions juxtaposed with gigantic mansions in affluent sectors designed ironically on socialistic notions of equality of needs.
Creativity Crises
In an alarmingly myopic brusque observation justifying disregard for Indian aesthetic sensibilities, Corbusier once questioned "...what is the relevance of Indian style today, if you accept machines, trousers and democracy?"
As harsh as Corbusier's statement may seem, one wonders why is it that a country rich with finest artists, sculptors, craftsmen and makers of stunning landmarks like the Taj Mahal, Ajanta & Ellora, Red Fort, Palitana, Konark, Jantar-Mantar, and the BahaTemple, has difficulty in creating living environments that rise above mediocrity and glide upon the wings of excellence? Why is design regarded or disregarded as a viable commercial, ergonomic and aesthetic investment? Why can't a civilisation that draws its roots from the well-planned layouts of Mohenjo Daro and Harappa, produce a single charming city that epitomises beauty, cleanliness, public amenities and culture that globe-trotting Chandigarh residents marvel at every little hamlet, town, city and metropolis in Europe and elsewhere?
There is a need to inject elements of creativity in bold and subtle ways to energise and rekindle its celebration of form and function. Rethinking its visual appeal while retaining the capital assets, is an exercise worthy of an international challenge involving urban planners, designers, sculptors and champions of change and environmental anamorphs. Improving baseline functionality, creative use of technology, integration of ergonomics, introduction of efficiency metrics in parking, commute, signage, round-abouts, sectoral markets et al needs to bristle with a flood of ingenious adaptations and reflect the ethos of a model city built in the post-independence era. With Indian minds excelling in almost all walks of life, this vacuum has many solutions waiting to flow in, once the valves open.
Cultural Connect
It is gratifying that all`A0urban and architectural development in Chandigarh continues to be regulated under the Punjab Act No. XXVII of 1952 that was formulated to preserve concepts and ideas addressed in Le Corbusier's original Master Plan. In the process of adherence and preoccupation with construction, Chandigarh, though efficient and functional by comparison to vibrant Indian cities bustling with colour, energy, economic enterprise, spontaneity, dynamic bazaars, allure and ingenuity, has remained sterile and lacking in "soul." The Corbusian motifs of the Modulor and the 12.5 meter wide open hand made of beaten metal that spins with the wind rising 27.8 meters above ground have little meaning for local inhabitants, despite sporadic attempts by those engaged in imposing a semblance of brand identity. The symbols seem to hardly resonate with what they represent symbolically and aesthetically. Corbusier's culture complex originally included a museum, a temporary exhibition pavilion, an Audio-Visual Training Centre (now Government College of Art) and a 'miracle box'.
Perhaps it is time to rekindle Corbusier's notion of the Museum of Knowledge and extend it into a lifestyle that infuses the current void with a sense of renewed resurgence and self affirmation. A much needed Miracle Box where dreams transcend to reality.
The writer is a city based museologist whose work spans several countries.