| | | |
| --- | --- | --- |
| | OPED — DEFENCE | |
Reforming to enhance productivity
The government's recent nod for 10 per cent disinvestment in Hindustan Aeronautics Limited to generate funds for modernisation has focused attention on the role and performance of Defence Public Sector Undertakings that are responsible for equipping the Armed Forces. As India remains heavily dependent on foreign vendors, fundamental and innovative reforms are required for the defence industry to achieve self reliance and also to enter the global market
Air Cmde J.S. Kalra (Retd)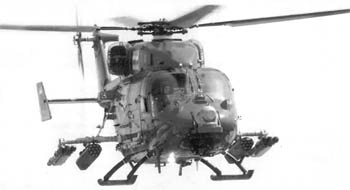 The armed version of the Dhruv Helicopter developed by HAL during flight trials. Most defence PSUs have low labour productivity levels, negligible exports and a poor R&D base. Transfer of technology through FDI or offset routes as well as an effective public-private partnership can substantially enhance productivity as well as bring in cost-effectiveness
India has established nine Defence Public Sector Undertakings (DPSUs) whose responsibility is to provide state-of-the-art equipment to the Armed Forces and enhance the country's self-reliance in defence production. However, the performance of these undertakings, controlled by the Ministry of Defence, is not up to the mark, resulting in import of arms worth billions of dollars every year. Most of them are over-dependent on external sources for their production needs, and have very low labour productivity levels, negligible exports, and a low research and development base.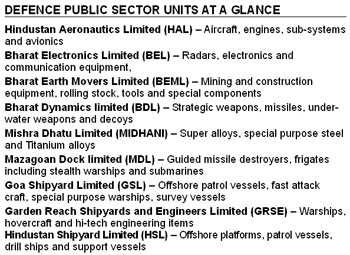 Hindustan Aeronautics Limited (HAL) is the largest DPSU, accounting for nearly half of the DPSUs' total production. It is involved in the manufacturing of Su-30MKI and Jaguar aircraft, the indigenous Light Combat Aircraft (LCA), Dornier-228, and Advanced Light Helicopter (ALH) among other high-value items.
Bharat Electronics Limited (BEL) is the premier defence electronics company, with nine production units, that has evolved high-tech radars, sonars, communication equipment, electronics warfare equipment, opto-electronics, tank electronics and many new products including electronic voting machines.
Among the four shipbuilders under the defence ministry, Mazagoan Dock Limited (MDL) is the largest in terms of product range, value of production and the number of employees. The company was just a ship repair yard when it was taken over by the government in 1960 and since then it has expanded its activities to ship building, ship repair and construction of offshore platforms.
Bharat Dynamics limited (BDL) was carved out of DRDO as a separate DPSU in 1970 and it builds strategic and tactical missiles and allied equipment, with technologies supplied by the DRDO. The company got into prominence with the launch of India's Integrated Guided Missile Programme (IGMP) in the early 1980s.
Among others, Midhani was incorporated in 1973 to achieve self-reliance in areas of special steels, super alloys and titanium alloys that form the core needs not only of defence but also of space and atomic energy programmes, while Bharat Earth Movers Limited (BEML) with its three product segments of mining and construction, defence and aggregates and railway rolling stock, caters to the core needs of the industry.
Role and Performance of DPSUs
They are largely responsible for India's poor achievements in self-reliance. The poor contribution of DPSUs are also reflected in their decreasing share in India's capital acquisition budget. India is heavily dependent on foreign suppliers, with the Russian contribution accounting for more than 70 per cent.
Three parameters -- value addition, export performance and labour productivity are relevant for assessing their performance.
The value addition (VA) of all DPSUs as a percentage of their total value of production (VoP) has, in last 10 years decreased, from high of 51 per cent to a low of 38 per cent, notwithstanding their near continuous growth in VoP. HAL's turnover has increased from Rs 1,166 crore in 1997-98 to Rs 13,489 crore in 2009-10. However, its VA as percentage of VoP has decreased significantly to just 31.6 per cent in 2009-10. The foreign exchange outgoes are mostly on account of "import of production requirements", the high dependence on external sources could be due to several factors, one being the little in-house R&D efforts.
Among the DPSUs, three - HAL, BEML and BEL have been successful in entering into defence exports. In value terms, HAL's exports have grown from Rs 104 crore in 2009-10 to Rs 205 crore in 2009-10, which is only 1.51 per cent of its volume of sales. BEL's exports have increased from Rs 48 crore in 2002-03 to Rs 208 crore. BEML has the unique distinction of exporting to more than 50 counties, including the United Kingdom, South Africa and the Middle East. BEML's exports have touched Rs 218 crore. The low export base of DPSU can be ascribed to a number of factors, such as quality of products offered and marketing strategy among others. The shipyards are way behind other DPSUs.
All government run PSUs suffer from low labour productivity – a malaise for which they have to find a lasting solution.
Need for Foreign Investment
As of now, the private sector is allowed to seek foreign direct investment (FDI) up to 26 per cent. Disinvestment has also been permitted in three defence PSUs namely BEL, BEML and now HAL to the extent of 10 per cent. A lot of controversy has been generated that this step is likely to compromise the security of the strategic defence sector.
The policy of 26 per cent cap on FDI has failed to attract any substantive FDI in the defence sector. ASSOCHAM and CII have propagated its raise to 49 per cent. The Parliamentary Standing Committee on Defence has also supported enhancing the FDI cap to 49 per cent. Most major defence manufacturing units need a transfer of technology, but no foreign major is comfortable with transferring proprietary technology to a company in which it does not own a major share. India is losing out on a number of foreign companies that would be keen on developing India as a "home market" i.e. both as a major domestic sales market and a global manufacturing hub in its supply chain.
The Ministry of Defence's position is influenced by the interests of the DPSUs. The latter were instrumental in blocking the proposal, initiated in 2006, to grant Raksha Udyog Ratna (RUR) status to select well-performing private Indian companies in defence manufacturing. The RUR status would bring private companies on par with DPSUs like HAL.
Although offsets amounting to 30 per cent for contracts exceeding Rs 300 crore have been made mandatory, they provide a poor alternative for greater FDI flow. India ostensibly does not have the industrial capacities and the know how to absorb the offsets' obligations, estimated to be about $9 billion by 2012.
The Global Overview
The defence production establishments all over the world are under going an overhaul. The UK has advocated Public Private Partnership (PPP) to address the problem of declining funds and increasing competition from the civil sector. In South Korea, defence R&D has transited to the civilian sector. In USA, especially after the cold war, spending on defence was cut down substantially. From 22 major players in defence production this sector now has only four, viz Boeing, Lockheed Martin, Raytheon and Northrop Grumman.
In India this policy reform has gained momentum after the submission of the Kelkar Committee Report, which recommends a 15-year long-term perspective plan, information sharing on the requirement of the Armed Forces with the industry, accreditation and fostering of RURs, evolving policy framework to promote participation of small and medium enterprises in defence production, providing defence research and development opportunities to both DRDO and the industry and to work out Request For Proposals (RFP) that include an offset clause for contracts valued at Rs 300 crore and above.
The complete process suffers from indifference, apathy, inefficiency and lassitude. Doing business with the defence continues to be a highly complex and daunting task for the industry. Companies are treated as adversaries. Long-term perspective plans have remained as classified documents. Centralised registration of vendors does not exist. Vendors are expected to register for product specific registration to become eligible to receive tender enquiry. Offset policy continuous to be ambiguous. Purchase preference is given to the public sector thus denying level playing field to the industry. Vendors are expected to make huge investments without assurance of defence business.
Presently, the Department of Defence Production (DDP) in the defence ministry looks after the public sector enterprises only. The private sector remains neglected. There is an urgent need to have an agency that the aspiring companies can approach to obtain clarifications and guidance. The DDP should be reorganised and could perhaps be christened the Department of Defence Industry (DDI), with a much wider mandate to integrate the private sector as well.
The Road Ahead
The DPSUs have matured enough to meet Indian defence requirements in full provided they are structurally reformed. Transfer of technology is mandatory which could be availed through the FDI and offset routes. PPP route has successfully demonstrated tremendous growth in relevant PSUs. Private sector must be given full opportunity to provide healthy competition to DPSUs and DRDO in production and R&D respectively. The economic reforms instituted in the early 90s made India globally competitive and has brought about tremendous growth in the GDP, which is still continuing in spite of the global meltdown. If similar innovative reforms are adopted in the management of our PSUs in general and DPSUs in particular, we can expect spectacular changes that can make India not only self reliant in Defence production but also a major exporter of defence supplies the world over.
The writer has commanded an IAF Base Repair Depot and also served as CEO of a Public Sector Undertaking