Immigration firm office sealed
Chandigarh October 3
The special investigation team (SIT) of the UT police, formed to crack down on illegal immigration firms, sealed the Sector 9-based office of Ms Scott Education and Immigration Service for allegedly duping two Mohali residents in the name of sending them abroad here today.
Government officials double as Ramlila artistes
Chandigarh, October 3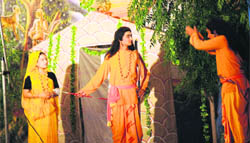 These people were not only doing paper work in government departments and helping in the smooth functioning of offices but also formed the backbone of more than 55 Ramlila committees across the tricity. These employees were not only performing the role of various characters on stage but also silently working backstage. During daytime, the employees completed their work at office and at the night, performed in the Ramlilas. During the nine-day affair of Ramlila, these artistes-cum-employees remained "cut off" from their families.
2 gangs of vehicle lifters busted
Chandigarh, October 3
The crime branch of the UT police has busted two gangs of vehicle lifters. The six gang members arrested include a mechanic and a scrap dealer. As many as 27 two-wheelers were recovered from their possession.



Members of the autolifter gang at the Sector 11 police station in Chandigarh on Monday. a tribune photograph (right) A modified rehri used by the mechanic-cum-thief for ferrying loads. a tribune photograph



MC official's absence annoys chairman
Chandigarh, October 3
Attending scheduled committee meetings chaired by councillors is apparently not a priority with municipal corporation officials. This held true today after a peon of the road wing informed the chairman of the road committee that the secretary, Yogesh Gupta, was on leave and could not attend the meeting.
Relief for CGHS beneficiaries
Chandigarh, October 3
Thousands of central government employees and pensioners of the region can finally avail of specialised healthcare facilities with the Health Ministry approving the rate list for services available at Fortis Hospital in Mohali. It has taken nine months for the permission to come through.
Telecom standoff on as 2 pvt players yet to comply
Chandigarh, October 3
Stalemate continues between cellular operators and state-owned telecom operator Bharat Sanchar Nigam Limited (BSNL) over the non-deposit of carriage charges, causing harassment to general public.
Monday turns out to be tough day for commuters in Mohali
Mohali, October 3
Commuters to and from Chandigarh faced the heat as chaos prevailed on roads leading to Mohali, with members of the Punjab Pensioners Association staging a dharna in support of their demands at the YPS chowk here today.
Phase IIIA revisited: Same old story, no change in living conditions
Mohali, October 3
Residents of Phase IIIA have lost the hope of seeing basic amenities in order. After broken roads, illegally parked 'rehris' of slum-dwellers and heaps of garbage were highlighted in these columns, nothing had changed.



Heaps of garbage in front of a row of houses; and (right) construction material scattered on a road at Phase IIIA in Mohali. tribune photos: vicky gharu

Basic Amenities give Ward Number 10 a miss
At every nook and corner of the ward, the work of developing a new green belt or park has commenced with the approval of the authorities. But, interestingly, contractors have not completed the work of a majority of the parks till date. Classic example of which is in Sector 41 where the contractor had dug up the park one year ago to lay the footpath and install underground wires for the streetlights in the park but till date work has been stalled without any scope of completion. Similar is the story of internal parks where the department had installed grills on the boundaries of the parks but rest of the area is in a shambles as wild grass and potholes of the park have not been take care of by anyone.


Conference on cardiac sciences
Mohali, October 3
The first global conference on cardiac sciences will be hosted by Fortis Hospital in Chandigarh on November 25 and 26.

Vehicles stranded in a snarl-up on the road separating Sectors 16 and 10, Chandigarh, on Monday. Tribune photo: Manoj Mahajan (right) Students of Kendriya Vidyalaya recreate a scene of a village fair at the concluding ceremony of the 42nd KVS National Sports Meet 2011 at Tau Devi Lal Stadium in Sector 3, Panchkula, on Monday. tribune photo: nitin mittal
NSS Camp: Tips on anger management
Chandigarh October 3
A galvanising workshop on "Anger Management" was organised where experts demonstrated techniques for managing anger and stress on the third day of the NSS camp organised by MCM College at Badheri village.
CBSE's nod to visually impaired-friendly scheme
Chandigarh, October 3
In a bid to facilitate and encourage visually impaired students to take science stream after class X, the Central Board of Secondary Education has decided to replace practical examination with multiple choice questions (MCQ) for hundreds of candidates across the region.
Now at DPS, boy of class VIII 'sexually harasses' class-V student
Chandigarh, October 3
In a shocking incident, a class-VIII boy of DPS School, Sector 40, was suspended by the school and eventually withdrawn by his parents following a complaint of having allegedly 'sexually harassed' a class-V girl student.
Paying fee a cumbersome task at PU
Chandigarh, October 3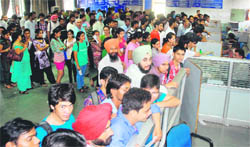 Despite tall claims, Panjab university has consistently failed to do away with long beelines at its fee counters. Today, students from far-flung areas of Punjab who came to the university campus to pay their fees had to face hours of virtual turmoil.


Crowded fee counters at the SBI branch on the Panjab University campus in Chandigarh on Monday. Tribune photo: S Chandan