High Court comes to rescue of girl shunted out of NIS
Chandigarh, October 3
In a major goof-up, the admission of an unmarried girl undergoing diploma course in weightlifting at Netaji Subhas National Institute of Sports at Patiala was cancelled after she was declared pregnant due to the mixing up of the reports
No House session today
Chandigarh, October 3
The state assembly, which met here today to make obituary references, will now meet on October 5 after Batala BJP legislator demanded the Speaker should cancel tomorrow's session in view of asthami celebrations.
Legislators' report card
Bathinda, October 3
As many as 14 MLAs, six belonging to the ruling alliance and eight to the Congress, failed to raise a single public issue on the floor of the House. Even worse, four MLAs from the SAD-BJP alliance and as many from the Opposition failed to ask a single question (starred or otherwise) in the assembly, reveals information obtained under the Right to Information Act.
Bhattal warns against complacency
Chandigarh, October 3
The Punjab Congress Legislature Party (CLP), which gathered here today to devise a strategy to put the ruling SAD-BJP alliance on the mat in the assembly, was told by CLP Leader Rajinder Kaur Bhattal that the party's popularity had gone down in the past four months.
Khaira taken into preventive detention
Kartarpur (Jalandhar), October 3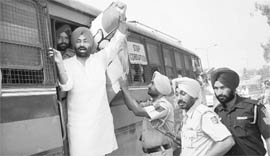 Congress MLA Sukhpal Singh Khaira and his 218 supporters were today stopped from marching towards the Jalandhar ISBT with the objective to gherao luxury buses owned by the Badal family. The police took them into preventive detention for over two hours. Carrying placards, Khaira and his men assembled at White Spot Resort here where they raised slogans against the SAD-BJP government.


Bholath MLA Sukhpal Singh Khaira in police custody.
People's Party of Punjab chief Manpreet Badal said in a statement today it was alarming that the Badal family had tweaked the transport policy for personal gains.




Lure for extra bucks sees parents pushing kids into drugs
Kotkapura (Faridkot), October 3
Ever heard about parents pushing their children into drug addiction? Eleven kids of Kotkapura, all below 13 years, were made to take synthetic drugs by their parents and some adults so that they don't face any inhibition in begging, stealing, snatching or rag-picking. It is probably the worst form of child labour.

Badals giving ads to own channel: Capt


Chandigarh, October 3
The Punjab Congress today took on CM Parkash Singh Badal and Deputy CM Sukhbir Badal with PCC chief Capt Amarinder Singh accusing them of not only owning TV channel PTC but also committing a criminal offence by giving commercial advertisements to the channel they themselves owned.
Golden Temple plaza work finally begins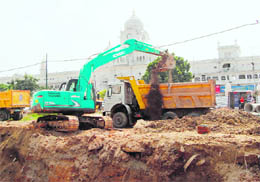 Amritsar, October 3
The construction work of the prestigious Golden Temple Entrance Plaza has finally begun and if all goes well, the project would be ready by the end of the next year. Prior to this, the pre-construction activities like shifting of underground cables and pipelines from the construction area consumed a lot of time.
Construction work on outside the Golden Temple. Photo: Vishal Kumar
Capt Amarinder examined on 2007 poll advertisements
Chandigarh, October 3
Captain Amarinder Singh, former Chief Minister of Punjab, was today examined before the Punjab and Haryana High Court on the issue of advertisements during the February 2007 assembly elections.
2 students die in road mishap
Sangrur, September 3
Two children of a private school were killed while seven others sustained injuries when the van they were in collided with a harvesting combine near Khurana village on the Sangrur-Patiala highway late last evening.
Power plants heap miseries on residents of Malwa belt
Faridkot, October 3
The high mercury content in compact fluorescent lamps (CFLs) notwithstanding, more awful for the residents in this part of Punjab is the increasing number of thermal plants. But in this "power surplus" dreamt state, the residents of south-west Malwa region will have to bear the high emission of mercury due to a huge coal stock burning.
Gursharan's ashes immersed into Sutlej
Ferozepur, October 3
The ashes of legendary playwright Gursharan Singh "Bhaaji" were immersed today in the Sutlej waters near the same place where the gallant hero of the Indian freedom struggle, Shaheed Bhagat Singh, was unceremoniously cremated by the British.
Sidhu's no to TV show Bigg Boss
Chandigarh, October 3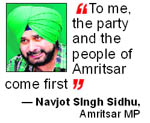 BJP's big boss Nitin Gadkari has told Amritsar MP Navjot Singh Sidhu not to take part in Bigg Boss TV reality show. Sidhu, a former international cricketer-turned-politician, was offered Rs 7 crore to participate in the show. He has reportedly declined the offer as dorected by the party top brass.
Awareness campaign to check stubble burning
Patiala, October 3
In one of the most required initiative to exhort the farmers not to burn paddy stubble, the Punjab Pollution Control Board (PPCB) will kickstart an awareness campaign against paddy stubble burning from October 4 in the entire state.
Three missing Mansa youths traced
Mansa, October 3
Three youths from the city, who were missing since Saturday, were located in the custody of Jalandhar police today. The family members of all the three youngsters alleged that their sons were wrongly implicated and unlawfully picked up by the police.
Workers' unions seek amendment to ID Act
Patiala, October 3
Amendments in the Industrial Disputes Act (ID Act) have not gone down well with the working class. Various worker unions have written a letter to Punjab Chief Minister Parkash Singh Badal, Labour and Employment Minister and Principal Secretary of the Labour and Employment Department in this regard.
Farmers block traffic, seek early paddy procurement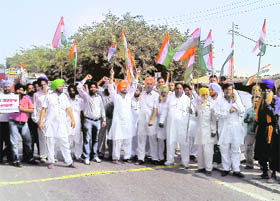 Fatehgarh Sahib, October 3
Hundreds of agitated farmers, commission agents and labourers led by Kuljeet Singh Nagra, State President, Punjab Khet Majdoor Congress, today gheraoed the office of Market Committee, Sirhind, and then blocked the traffic on the GT Road in protest against the failure of Badal Government in starting the paddy procurement process in the district.
Farmers led by Kuljeet Nagra blocking the traffic on GT Road in Sirhind. A Tribune photograph

Three held with hawala money

Patiala, October 3
Rajpura Police today claimed to have nabbed three persons along with hawala money of Rs 3.47 crores. The accused have been identified as Sanjay, Sohail and Rajkumar. All the accused are residents of Pune. Giving further information, SP Rajpura Manmohan Kumar Sharma said the accused were to handover the money to someone in Hoshiarpur.
Income Tax and police officials count hawala money seized by Rajpura Police on Monday. A Tribune photograph
2 notorious peddlers held with 400-kg poppy husk
Parmod Bharti
Nawanshahr, October 3 Under the special drive launched against drug peddlers, the CIA staff has arrested two persons after recovering 400-kg poppy husk being smuggled by them in a truck near Mehndipur village here today.