DGP Kaushik stresses on community policing
Chandigarh, September 30
Anil Kaushik, a 1975 batch IPS officer, today took over as Director General of Police of Punjab. He succeeds PS Gill, who retired today. Gill has been appointed Adviser, Home.

Amarinder calls on Sonia
Brings 'lawlessness' in state to notice of high command
New Delhi/Chandigarh, September 30
Punjab Pradesh Congress Committee president Capt Amarinder Singh met Congress president Sonia Gandhi in New Delhi today on her return from the US.




Faridkot co ducks road tax arrears running into lakhs


Faridkot, September 30
Information procured under the RTI Act reveals that no action has been initiated against a transport company blacklisted for not paying tax arrears amounting to Rs 68.85 lakh because of its owner's political connections.

State refuses to act against 'ghosts & co'
Chandigarh, September 30
A year after the department of social security began scrutiny of pensioners in the state, following directions from the Punjab & Haryana High Court, the exercise remains incomplete with information from four districts yet to come in. What is more, the Chief Minister's office has now conveyed to the department that no action needs to be taken till the exercise is completed.

Nod to wheat research institute at Ludhiana
Ludhiana, September 30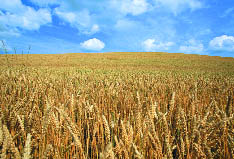 Punjab is set to get its first international research institute for wheat and maize. Named as Borlaug Institute for South Asia, the institute would come up at Ladhowal village in Ludhiana district. Mexico-based International Maize and Wheat Improvement Centre had submitted a proposal for setting up this institute.The proposal was approved by the Ministry of Agriculture, Department of Agricultural Research and Education, today. The main centre of the institute would be located at Ladhowal (Ludhiana) while two satellite centres would come up at Pusa (Bihar) and Jabalpur (Madhya Pradesh).
On verge of retirement, masters await promotions
Patiala, September 30
While many masters in the Punjab Education Department have already retired waiting for their promotions, more are on the verge of retirement without being promoted as headmasters.
Yet another hike in Verka milk rates
Mohali, September 30
Be prepared for yet another increase in the prices of milk. Verka has decided to increase the prices of packaged milk by Re 1 to Rs 2 per litre beginning tomorrow. Since January, the prices of milk have gone up by Rs 5 per litre.


Six new High Court Judges sworn in
Chandigarh, September 30
The Punjab and Haryana High Court today got six more Judges, thus taking the total strength to 48. Judge designates Paramjeet Singh, Naresh Kumar Sanghi, Rameshwar Singh Malik, Rajiv Narain Raina, Tejinder Singh Dhindsa and Gurmeet Singh Sandhawalia were administered oath as the Judges of the High Court by Acting Chief Justice MM Kumar this morning.
HC upholds govt decision declaring Fazilka a district
Chandigarh, September 30
Just more than two months after the State of Punjab issued a notification declaring border town Fazilka a district, the Punjab and Haryana High Court has upheld the government's decision.
No quota for rhythmic gymnasts in PMET
Chandigarh, September 30
The Punjab and Haryana High Court has ruled that candidates seeking admission to MBBS course in Punjab cannot take advantage of reservation for rhythmic gymnastics in the PMET- 2011.