NO LONGER RETIRED AND TIRED
An increasing number of elderly people are now socially connected, highly involved, committed to social causes and open to new experiences. They have redefined old age
Mala Kapur Shankardass
THE structure of Indian society is changing. Life expectancy at birth in India today is 66.8 years, up by about four years since the turn of this century and by 35 years since Independence. Significantly, women are doing better with life expectancy of females at 68 years compared to 66 years for men.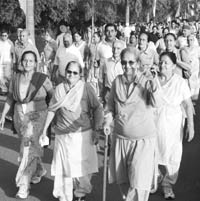 Celebrating the sunset years: October 1 is the International Day of Older Persons. Photo: Manoj Mahajan
A large number of senior citizens in different parts of the country today are living a life on their own terms. They do face problems, be it related to health, finances or relationships but there is a zest for enjoying the sunset years. Today's elderly display resilient ageing, capitalising on their long experience of living to continue to grow, learn and confront the challenges of ageing.
Many youngsters need to learn about coping with life from senior citizens who have taken to learning, new technologies, new ways of keeping themselves occupied - the rapid growth and success of senior citizen associations all over the country as forums of friendship, brotherhood, assistance, sharing, activities, and making friends on the Facebook, purchasing products through the internet, doing e-banking and overcoming their loneliness with emails, web photo albums and search engines for jokes, information and sharing thoughts.
Kamla Malhotra (82) learnt the use of computers just a few years ago. Bed-ridden for some time, she did not lose heart. She got back into form by constantly being in touch with her children settled abroad and communicating with other relatives. Her high spirits, positive thinking, quite like many of her age, are very different from a generation before. Having longer, fuller lives is part of the growing number of seniors across the country.
Asha Shankardass took to writing for children at the age of 75, with two of her books releasing in July this year in Mumbai and becoming an instant hit with primary school-goers.
'Life's journey a reward itself'
Lt. Gen T. B. Nanda (retd) chose to pen down in 2008 his passions of life spanning over 70 years. After retirement and achieving milestones in his versatile life, he heads clubs, associations, organises programmes for creating an environment conducive to growth. Encouraged by his family members, he started working on the second edition of his book, with the first edition sold out, going through a phase of losing his beloved wife, but not his spirit to excel, remain disciplined and be a role model for his children, grand-children and even colleagues, relatives and friends. As General Nanda puts it, "Life's journey is a reward, the essence lies in making a positive difference to lives of as many beings as possible.''
Making a difference in a novel way is a retired librarian, Padmanabha Vyasamoorthy is a blogger from Secunderabad. Having the profile of a knowledge management adviser, he set up in 2002 an online discussion group which was ranked 7th by Yahoo five years back as the most vibrant discussion forum for senior citizens among the 1,300 similar groups across the world. Sending out 2,000 to 4,000 messages a month he co-opts seniors to the information revolution on health, housing, finance, investment, taxation and many other ageing-related issues.
Having a gradually growing membership of educated seniors living in India and abroad, his SSS Global interactive forum has noteworthy inputs from many seniors on health, legal, social, psychology, literature, history, economic, travel, recreation, politics, environment and development aspects. Jokes, witty remarks, cheerful episodes, nostalgic anecdotes are frequently part of messages sent across. These are seniors finding time to research and exchange matters on self-enrichment, meaningful participation in families, communities and society. They are encouraging one another, providing solace in circumstances of grief and being a unique support group as part of society for serving seniors.
It is not just the educated, well-off older people in cities who are exploring avenues for celebrating their later years. Those in villages, small towns and having different income levels are also trying to give a different meaning to their ageing. Champa from a village in Uttar Pradesh now resides in Haryana with her ailing husband and is going through problems after her adult children deserted her, having a limited income, but the smile and the will to face challenges are never missing.
When things go wrong
Bahadur Chand, an agricultural land owner, aged 90, is deeply involved with farming techniques, village affairs and is respected for his modern scientific thinking. He is often sought out by youngsters for guidance. He is uncritical of others, patient and subtly shows a different path for facing the world when things go wrong.
As we celebrate the International Day of Older Persons on October 1, we need to applaud the increasing brigade of senior citizens who are socially connected, highly involved and committed to projects and causes, open to new experiences and are engaged in tapping their strengths and regenerating capacities, which help them thrive in later years. Their skills and abilities need to be valued.
The writer is an Associate Professor of Sociology, Maitreyi College, Delhi University.