Across the globe universities and art institutions are closing down courses in printmaking. With availability of digital enhancement of pictures with 100 per cent accuracy, there are few takers of this art. Yet, some efforts are on to revive it.
The Fading print!
Johny ML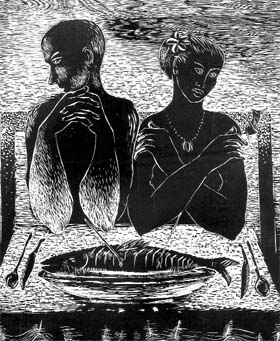 Dilemma- woodcut print- one of the earliest printmaking techniques by Mahesh Prajapati Photo courtsey: Mahesh Prajapati
Has the cutting edge technology heralded the death of a grand tradition in art-'printmaking' or 'graphic arts'? The die-hard printmakers and the collectors of graphic prints would deny it. The fact is, there have been efforts to overlook this art form, which also uses technologies from a bygone era. So, in a way, it's a war between two kinds of technologies- new and old, and the old seem to be losing ground. In the last few years when the art market was booming in India, responding to the international trends Indian galleries too started promoting the new- age art including digital art and photography. In doing so they almost pushed the graphic prints out of the scene. It was a brutal blow.
But, die-hard fans of graphics refuse to accept it. "Death of printmaking is wishful thinking," says Anandmoy Banerjee, a Delhi based printmaker. "One can reduce the visibility of certain kind of art form when other forms become dominant. But you cannot kill an art form. It remains safe in the hands of the practitioners and, as a kind of poetic justice, internationally too, printmaking is staging a coming back," says Banerjee who was instrumental in forming the Indian Printmakers Guild along with several other prominent printmakers in the country in 1990.
When Walter Benjamin talked about a work of art in the age of mechanical reproduction in the 1940s, he was hinting at the possibility of ending the grand narratives created by the singular authors. Benjamin was explicating a political theory of subversion through the metaphor of art. He argued that when a work of art becomes reproducible and multipliable, the question of authenticity and authorial diktats end there. Art becomes democratic, universal and liberal.
Battle of technologies — new and old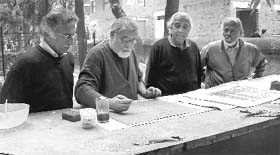 Senior printmakers reviving the art of printmaking at Garhi Studios, New Delhi
Despite the Benjaminian onslaught on authenticity and authorial presence, printmaking -as an art form could survive. This happened to maintain authenticity- the prints were limited to a certain numbers and the original surface on which the primary image was created (a block) was destroyed after a certain number of prints were made. Through the ethics of limited edition, printmaking stood the test of the times and found patrons from all over the world, though the case was different in India till 1990s. "Art, when approached as a collectible item, the collector or the buyer always looks for authenticity. He wants a unique piece, which is a fair demand. Through the control of number of editions, a sense of authenticity is imparted to the genre of printmaking," adds Banerjee.
Somehow, the idea of limited editions, which was acceptable to both the artists and the collectors, suddenly fell out of favour, thanks to the new technologies which also made prints and were cheaper. "A printmaker spends his time in preparing the surface for the respective printmaking mediums like lithography, etching, linoleum, woodcut, photo-transfer, silkscreen printing and so on. The same results could be created on software. So, how could one insist that an artist should only be working with the conventional printmaking mediums? Computer software and printing technology should also be treated as art forms !" Comments a Delhi based artist.
"Where do you locate the presence of the artist if everything could be done through the help of software and printing technology?" asks Subbanna, another veteran printmaker who works from the Garhi Studios in Delhi. For those who argue on behalf of the traditional printmaking art, artistic touch is an important element. Artist is the prime mover of things; right from the preparation of the surface to the final printing, making editions, signing and creating portfolios- artist's involvement is present. But, those who argue against this tradition ask, why the mouse holding person couldn't be as involved as an artist who works hard at the stones and conventional printing presses? With the help of a technology, anyone, who does not have any artistic talent, could also produce works of art using software.
While Benjamin may be having the last laugh on the perpetual confrontation between authenticity and reproducibility in art, Rajan Fulari, a young printmaker who takes care of the Garhi Print Making Department in New Delhi, thinks that the new age artists have developed an unnecessary cynicism towards the traditional printmaking techniques. "When I approached a few contemporary artists to make a portfolio of etchings, most of them raised reservations on printmaking and showed their appreciation for digital and computer based art." However, the scenario is not bleak. Young artists are still curious about printmaking and many of them come to Garhi studios to try their hands.
The faded glory
There was a time when artists from all genres tried their hands at printmaking. In Delhi, the printmaking movement was started in 1970s under the leadership of late Sankho Chowdhury. Artists like G.R.Santhosh, J.Swaminathan, Gogi Saroj Pal, Manjit Bawa, Tapan
Bhowmick and many others used to work in Garhi studios. During 1980s the studio got a real momentum with the arrival of artists like Anandmoy Banerjee, Subbanna, Dattatreya Apte, Kanchan Chandar, Sushant Guha, Jayant Gajera and others. The presence of a master printmaker like Devraj Dakoji also helped the Delhi printmaking scene to flourish. Kolkata, Hyderabad, Baroda and Goa also had a flourishing printmaking culture, which is currently on a path of revival.
With no considerable patronage, the survival of printmaking in India has to be seen as a miracle. "When we started off there were no takers for prints. Those who came to buy the works were basically hoteliers who wanted identical works in their rooms and lobbies. Only by the end of 1980s, Indian collectors started taking real interest in printmaking," observes Banerjee. Artists like Palaniappan, Laxma Goud, P.D.Dhumal, Hanuman Kambli and others have gained their reputation as Master printmakers and the kind of patronage they received has inspired some young artists to the art of printmaking.
Printmakers waded through the tough times by creating collective portfolios of print and selling them for cheaper prices than the prices commanded by paintings and sculptures of the time.
On the tracks of revival
"Printmaking is on a revival path," says Waswo X Waso, an American artist, printmaker, photography artist, writer and an ardent collector of graphic prints. "I have been collecting the graphic prints of Indian artists for a long time. My research proves that many serious collectors have these gems in their collections, " affirms Waswo, who has been invited as the guest editor of the Art Etc News and Views Magazine published from Kolkata, which has two consecutive issues focused on printmaking in India.
When a magazine owned by an organisation that has one of the finest art collections in India, as well as a gallery of repute focuses its energies on traditional printmaking, it should be seen as an indication of changing tides in the favour of printmaking. "It is not that the galleries don't have enough prints in their inventories, but the problem is most of us wants to go by the trend. Printmaking is no more in vogue. Sooner than later, things are going to change. There is obviously a rethinking on not only the contemporary printmaking in India but also the prints by the veterans, modernists and the pre-modern artists," observes a Delhi based gallerist. The retrospective of the late Bengali artist and printmaker, Chittoprasad at the Delhi Art Gallery, New Delhi, should be seen against this backdrop. Ashish Anand, art collector and the director of Delhi Art Gallery has been collecting the prints of Chittoprasad for some time.
The project took six years to materialize which presented two well researched volumes and reprints of three books from yester years that accompany the retrospective. Chittoprasad, who had been an activist artist during the mid-20th century, extensively documented the Bengal famine in 1943 through his etchings, wood cuts, drawings and reportage. A Communist Party of India cardholder at that time, Chittoprasad diligently worked on his prints in order to reach out to a wider public.
" Young generation does not have any clue about Chittoprasad and this show would serve as an eye opener on the relevance of printmaking. Printmaking could be as powerful or more powerful as photography or digital art," says Rajan Fulari. Others like Ashwini Pai Bahadur, director of Artspeaks Gallery, New Delhi, holds that the printmaking is on a comeback trail. "I have dealt with a lot of prints in the previous years. And this year too I am planning to have a full fledged printmaking show in my gallery. Besides, I would like to invite a master printmaker to conduct workshops for the interested artists and art collectors," says Bahadur. Besides, after a lull for ten long years, the Indian Printmakers Guild is planning a huge national exhibition of prints in Delhi.
Market boom has become a thing of the past and printmaking has demanded its rightful place in the general discourse of art and culture.
Delhi based Johny ML is a curator, translator and a free-lance art critic Why is printmaking an art?
Though printmaking is the process of making artworks by printing, it normally covers only the process of creating prints with an element of originality, rather than just being a photographic reproduction of a painting. Except in the case of monotyping, the process is capable of producing multiples of the same piece, which is called a 'print'. Printmaking (other than monotyping) is not chosen only for its ability to produce multiple copies, but rather for the unique qualities that each of the printmaking processes lends itself to. Prints are created by transferring ink from a matrix or through a prepared screen to a sheet of paper or other material. Common types of matrices include: metal plates, usually copper or zinc, or polymer plates for engraving or etching; stone, aluminium, or polymer for lithography; blocks of wood for woodcuts and wood engravings; and linoleum for linocuts. Screens made of silk or synthetic fabrics are used for the screen printing process.
Dating back to Indus Valley
Contemporary printmaking came to India in 1556, about a hundred years after Guttenberg's Bible was first printed- for the purpose of duplication of documents. There is, however, evidence that the use of the concept of mass duplication dates even further back in India, to the time of the Indus Valley Civilization. For instance, grants of land were originally recorded by engraving the information on copper plates and etchings on different surfaces like wood, bone, ivory and shells. Printmaking as a media for artistic expression, as it is recognised today, emerged in India less than eighty years ago.