Glorying in immaturity
Need for harmonious ties with Dhaka
by B.G. Verghese
The Prime Minister's historic visit to Bangladesh achieved a long-sought boundary settlement but would have accomplished more and won greater goodwill but for the immature, parochial petulance of Mamata Bannerjee. An agreement on an interim 15-year sharing of Teesta waters, until agreed hydrological data is jointly established, had been patiently negotiated. Then, suddenly, the applecart was upset by Mamata's crude "snub" to both Prime Ministers by pulling out of the Dhaka visit, though she had been kept fully in the loop until the very end.
Mamata obviously has some other political fish to fry and so got her priorities wrong. West Bengal's Teesta interest had been safeguarded. An earlier formulation was that of the discharge, 39 per cent should go to India and 36 per cent to Bangladesh, leaving 25 per cent unallocated. What was now proposed was that the unallocated 25 per cent should be equally split giving the two countries a roughly equal overall share, with Bangladesh's quota made up by regeneration and free flows between the Indian barrage at Gazaldoba and Bangladesh's Dalia barrage, 100 km downstream.
With this understanding scuttled by Mamata, an agreement on sharing Feni waters and mutual transit rights have been stayed, hopefully only temporarily. Nevertheless, the land boundary settlement that was signed has cured a huge human and political irritant and ended the daily anxieties and miseries of those hitherto condemned to live in a no-man's land. However, there has been mindless agitation by some Assamese groups and the BJP about "giving away" Indian territory. All that has been done is finally to define the actual boundary by settling the ambiguities left behind by Radcliffe's demarcation while partitioning the country in 1947. Spoilers should be given no quarter.
We need a new and more harmonious relationship with Bangladesh, which nature, culture and geo-strategic factors have joined us at the hip. The future of the Northeast is dependent on cooperation with and transit through Bangladesh which, in turn, could find a valuable market and energy source in that region. Such mutual benefits need to be exploited, not shunned.
The knee-jerk political and part-popular response to the tragic Delhi High Court bombing last week is equally disconcerting. Instead of standing united in the face of a common and constant danger, there was instant condemnation of the government and security agencies for their "failure", lack of intelligence, callousness, sloth and unpreparedness, trashing every agency, with the BJP and the media leading the charge. Read the crawlers run by two leading TV channels: Terror outsmarts cops; Is terror a step ahead? Intelligence agencies left behind; Security full of loopholes; Clueless on Terror, Who blundered on Intelligence? Have we let Pakistan off the hook? Where are the tough measures? NIA is no use.
All this from some of the same groups that had passionately pleaded for clemency to terrorists on death row just a few days earlier! Stern measures are routinely resisted — even hiking oil prices or, at a different level, arresting Anna Hazare on August 16 when he was pledged to defy the law and due process on a patently wrong plea of muzzling public protest.
Of course, concern at the series of terror strikes and our inability to catch the perpetrators in many recent cases thus far is understandable. But to compare India with the US post-9/11 is far-fetched. As the Home Minister said, the edifice of the new anti-terror architecture is being put together brick by brick. But what is ignored is strengthening the basic police force in terms of numbers, equipment, training, and autonomous command and control. But whatever has happened to police reform!
And how is policy to be discussed, consensus reached and legislation done to move forward when the BJP, with other parties, stalls the House, session after session? It revels in flamboyant platform oratory and noisy demagogy on TV channels, often choreographed by partisan and unprofessional anchors.
Now, with revived interest in the cash-for-vote scam, we have the once-again impatient would-be Prime Minister, Advani, grandiloquently boasting in the Lok Sabha of masterminding that sting operation and springing to the defence of the BJP "whistle blowers", either charged or in detention, and asking to be arrested with them. This is an admission of criminal conspiracy which, if repeated outside the House, could lead to consequences that he would assuredly protest. Heads, I win. Tails, you lose!
The fact, now established, is that the "whistle blowers", three BJP MPs, all tribals, who would never have thought of the sting on their own, Sudheendra Kulkarni, party adviser, and senior BJP mentors, were in the "market", desperately trying to buy just about anybody. They failed and the hapless "whistle blowers" finally emptied a bagful of cash on the table of the Lok Sabha in a disgraceful display of low theatre and pre-meditated corruption.
Not satisfied with accepting responsibility for the cash-for-vote farce, Advani then went on to announce another of his yatras later this year to focus on corruption and in the expectation, as he said elsewhere, of the possibility of early national elections. The BJP was caught unawares and squirmed at this attempt by the Loh Purush to assume titular leadership as the party's putative Prime Minister. Advani should know that his rath yatras, Ayodhya onwards, were divisive and provocative and left behind a trail of blood and communal mistrust, giving rise to the thought of communal revenge.
Sections of the media also betray the arrogance of immaturity in criticising official moves to examine the need for media regulation in the wake of a series of developments, including the phenomenon of paid news and private treaties. The Press Council needs comprehensive reform while an unprecedentedly unregulated broadcast media is a menace to itself and to the public. Everybody seems happy to watch successive governments destroy public service broadcasting which could have set standards. Maybe, the time has come for a truly independent commission to review the unfolding media scene, including the new media, and make appropriate recommendations.
More political and media immaturity was shown last week by the importance given to another set of WikiLeaks revelations, as perhaps nowhere else in the word. The subjective views and pithy summaries of American diplomats, some of them rather naive, are not the word of God.

Alvida, Pita Ji!
by Ashutosh Sharma
In his words, he was living on 'borrowed time' when I coincidently met him four years ago. He was 80, I was 23. Over the years the grand old man and eminent Dogri poet, Yash Sharma, became my mentor and best friend. Such was his paternal divinity that like many others he was "Pita Ji" to me too.
Quite witty and a convincing orator as he was, he had a childlike innocence and saintly demeanour. Six months ago, when he was discharged from CCU, medical staff attending on him burst into tears at the time of parting. He could easily connect with everyone.  
After my office, I used to go straight to him every evening. While massaging his feet, I would discuss literature with him for hours together. Thereafter, he would religiously say "Alvida" with a couplet of Momin as a parting note:
Tu kahaan jaayegi kuchh apanaa thikaanaa kar le,
Ham to kal khvaab-e-adam mein shab-e-hijaraan honge!
"When you meet someone, always bear it in mind that you are destined to separate one day," he would say and quote from Mahabharata: "As two pieces of wood floating on the ocean come together at one time or get separated in the same way, even such is the union of living creatures in this world."
"Who is our own, who is alien? Nobody knows with certainty. Otherwise what is my relation to you?" he would ask with a pat on the back.
He was fitted with a 'pacemaker' for more than 10 years. But he never allowed this hidden pain to become visible.  While reciting Maha Mrityunjaya Mantra, the death conquering mantra, he would add in the same breath, "I do not want to die."
 "Are you afraid of death?'' I would ask sharply.
 "Am I Bhagat Singh?'' He would laugh it off, saying, "Life is so beautiful….I have learnt it very late." 
Occasionally, he would complain poetically: "This pacemaker hurts me like a smouldering ember, like a dagger thrust in my chest."
In a letter, he wrote to me: "The mountains bathed in moonlight, a meandering river and a flight of cranes do not please human heart every time. At times black, gloomy nights also impart solace and peace to heart. Entire Mumbai is swaying to Shakira tonight but the advanced age and frail health have left my heart extinguished. The entire game called life is about state of heart."
Recently, I wrote a feature on him and showed it to him on my laptop. "You have tried to make me high priest of poetry," he said sarcastically and predicted prophetically, "Time is running out, I will not read it in the print." I was not convinced.
Almost a week before his death, he gave me a bundle of books and a letter describing it a "Tabeez" which would guide me in life. Nothing will happen to you, was my response. I was again wrong.  He breathed his last on the early morning of September 5 at his residence. "It's a pleasure to die under your own roof…I do not want to die in hospital," he used to say. He will continue to live in million hearts through his immortal songs and poems..!

Even as the forces loyal to Colonel Gaddafi are still fighting in some towns, British Prime Minister David Cameron and his French counterpart Nicolas Sarkozy visited Libya to a warm welcome. While the leaders stressed that the NATO-led intervention had nothing to do with oil, those who helped Libyan rebels do expect to reap political and commercial benefits.
Britain, France scramble to consolidate gains in Libya
Kim Sengupta
The outcome had, for a long time, been far from certain and pockets of fierce loyalist resistance still remain unvanquished. But the civil war has to all intents and purposes been won by the rebels, and David Cameron and Nicolas Sarkozy came to Libya yesterday to gather plaudits for enabling the provisional victory to take place. At the same time, however, they were keen to stress that the intervention had absolutely nothing to do with oil.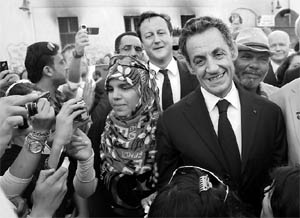 France's President Nicolas Sarkozy (R) and Britain's Prime Minister David Cameron (rear, centre) meet local people in Benghazi on September 15, 2011. Cameron said his government would look to unfreeze a further £12 billion in Libyan assets if a United Nations Security Council resolution on Libya was passed. — Reuters photo
The British Prime Minister and the French President were given a warm welcome by the public in Libya's capital for helping to deliver them from Colonel Gaddafi. Then they went on to Benghazi to bask in a similar greeting.
News of the visit had been tightly controlled but there was genuine enthusiasm from those who turned out to watch and cheer their arrival. Even as the European leaders arrived, there were reminders that Libya is not yet free of violence. Rebel fighters made another advance on the Gaddafi stronghold of Sirte, coming under rocket fire as they approached the city.
Nato said its warplanes had carried out 123 sorties over the country on Wednesday, almost 50 of them to identify and hit targets. But, vanquished though he was, Gaddafi himself was still nowhere to be found.
In Tripoli, those scenes felt distant. Instead, matters of diplomatic rivalry took precedence. The British team arrived on a C -130 military transport aircraft; the much larger French party, with a contingent of riot police, came in a civilian airliner. The cavalcade that swept into the city centre on streets cleared of traffic was a hybrid mix of governmental limousines and "technicals" — flat-bed trucks mounted with guns and carrying revolutionary fighters, some with their faces covered by bandanas, and waving Kalashnikov assault rifles. Apache helicopter gunships patrolled over the sea.
Mr Cameron and Mr Sarkozy went to meet patients and medical staff at the Central Clinic in Tripoli, which dealt with the injured and dying during the battle for the capital. There, as in other places they visited, the leaders were greeted with applause. "Let us face it, without them Gaddafi would have crushed us and many more would have been dead," said Qais Ali Abdullah, a surgeon. "We have had to pay a price. I have myself treated people injured by Nato bombs, but we are now a free country because of France and Britain."
Later, a press conference was held with senior members of the opposition's National Transitional Council (NTC) at the Corinthia Hotel — the venue where British and US officials met their Libyan counterparts seven years ago when Colonel Gaddafi was "coming in from the cold". The shoddy compromises made at the time — prisoners being sent back under rendition to be tortured, exiled opponents being spied on by British intelligence on behalf of Gaddafi's regime — were exposed in documents found in ministries.
But yesterday was not the time to delve into past embarrassments. Mustafa Abdul Jalil, head of the NTC, thanked Mr Sarkozy and Mr Cameron for their "brave position" following the uprising. "They showed us political, economic and military support which helped the rebels establish a state and we thank France and the UK for that," he said. The Prime Minister replied: "I am proud of our role. But this was your revolution, not our revolution."
However, there seemed to be unease that the West's motivations would be questioned. Mr Sarkozy, in particular, was vehement that the decision to intervene in Libya was not motivated by commercial concerns. "Some documents which have appeared in the media are lies ... They are forgeries," he said. Mr Jalil strongly denied claims circulating in the Middle East and beyond that "under the table" deals had been done for Libya's riches. There are, however, likely to be contracts worth an estimated $200bn for reconstruction. The NTC leader added: "As a faithful Muslim people ... we will appreciate these efforts and [France and Britain] will have priority within a framework of transparency."
The rebels had repeatedly threatened that those countries which did not back them would face commercial retaliation once they seized power. Britain, meanwhile, will return more than £600m of frozen Libyan assets, provide £600,000 for mine clearance, offer 50 hospital places in the UK for badly-injured Libyans, and send a small military team. Mr Sarkozy and Mr Cameron both said they saw Libya as a model for the whole region. The Prime Minister said: "This does go beyond Libya. This is a moment when the Arab Spring could become a summer and we see democracy advance in other countries, too."
The President added that he looked forward to the day when young Syrians would "be given the same opportunities as young Libyans".
However, just three weeks after Gaddafi's overthrow, there are deep fractures within Libya's revolutionary movement. Mr Jalil said victory would not be declared until three remaining Gaddafi strongholds — Sirte, Bani Walid and Sabbah — had been taken and Gaddafi and his coterie captured. However, the countdown to elections cannot begin until the NTC announces victory, and delaying this means the hierarchy remains in power.
As the British and French convoys left, a rebel officer, Saied Mohammed al-Bashti, said patience was running out. "We need to get these unelected people out. That is what most of the fighters think," he grumbled. "If this does not happen there will be another revolution." — The Independent

The following are the latest political and military developments in the Libyan crisis:
n Nicolas Sarkozy and David Cameron landed in Libya to a heroes' welcome, promising help for the new rulers who French and British air power helped install. They were told the favour may be repaid in deals on oil and reconstruction.
n At a news conference held under heavy security, interim premier Mahmoud Jibril spoke of "our thanks for this historic stance" taken by the two European leaders, whose backing for the February uprising drew a hesitant United States and some Arab governments into a war that did not always look set to end well for the rebels.
n Although he hotly denied talk of among Arabs of "under the table deals for Libya's riches", the head of the National Transitional Council (NTC), Mustafa Abdel Jalil, did say that in return for their helping end 42 years of rule by Muammar Gaddafi, key allies could expect preferential treatment in the future.
n An attack on a Libyan oil refinery this week by militia loyal to Gaddafi was an isolated incident and steps are being taken to protect oil infrastructure, the head of the National Oil Corp. (NOC) has said. Britain cleared the way on Thursday for essential travel to the capital Tripoli and a number of other Libyan towns, lifting curbs that had held back businesses seeking to win contracts to rebuild the North Africa country.
n Libya expects oil production to reach 1.6 million barrels per day by the end of next year, a central bank representative said on Thursday.
n NATO said it conducted 123 air sorties on Wednesday, 49 of them strike sorties to identify and hit targets. It said key targets hit included: one military vehicle storage facility, one command-and-control node, four radar systems, two surface-to-air missile systems in the vicinity of Sirte; two anti-aircraft guns, one radar system, two military logistic vehicles and three surface-to-air missile systems near Waddan one vehicle storage depot and two military staging areas in the vicinity of Sabha; two armed vehicles near Bani Walid, etc.
n Since NATO took command of air strikes on March 31, its aircraft have conducted 22,701 sorties including 8,520 strike sorties. NATO members participating in air strikes include France, Britain, Canada, Denmark, Belgium, Italy and the United States.
n Fourteen ships under NATO command are patrolling the central Mediterranean Sea to enforce a U.N. arms embargo. On Wednesday, 19 vessels were hailed to determine destination and cargo. Four were boarded but none diverted.
n A total of 2,638 vessels have been hailed, 285 boarded and 11 diverted since the start of the arms embargo. — Reuters