Was it the Tunisian street trader's self-immolation that changed the course of history, or is it an example of a Western instinct to personalise and, in the process, trivialise the Tunisian revolution?
How revolution turned sour in the birthplace of Arab Spring
Kim Sengupta
Not a day goes by for Manoubia Bouazizi when she does not think about her son with sorrow. "He was a dutiful boy, he had a long life ahead of him, he martyred himself for justice, for Tunisia, for his community," she declared. "People cannot forget that."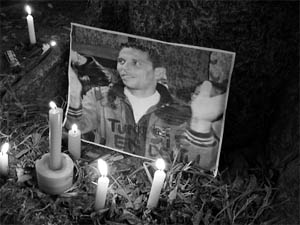 The self-immolation of Mohamed Bouaziz sparked off a revolution in Tunisia, and later, in many parts of the Arab world.
Her 26-year-old, street-trader son has been lodged in the world's memory, too, after his unhappy life and terrible death by self-immolation became the tragic symbol of a nation's suffering in the hands of a dictator's brutal and unforgiving regime. It was this act of despair, goes the narrative, which triggered the uprising in Tunisia and heralded the seismic regional shift that has become known as the Arab Spring.
When I visited Sidi Bouzid in the aftermath of the dictator Zine Al Abedine Ben Ali's flight from Tunis, I found residents exulting in their home's status as the cradle of the revolution. They chanted the name of Mohammed Bouazizi; the family home had become a place of homage with a steady stream of visitors. A female municipal official accused of slapping him — a final act of humiliation which led to him setting himself on fire — was vilified, her relations facing daily abuse.

Recognition by Nobel Peace Prize committee
The 2011 Nobel Peace Prize may recognise activists who helped unleash the revolutionary wave that swept through North Africa and the Middle East during the Arab Spring.
Wael Ghonim, an Egyptian Internet activist and Google executive, Egypt's April 6 Youth Movement, one of its founders Israa Abdel Fattah, and Tunisian blogger Lina Ben Mhenni could therefore be among those in line for the award when it is announced on Oct. 7.
"My strong sense is that this (Nobel) committee and its leader want to reflect the biggest international issues as defined by a wide definition of peace," said Jan Egeland, a former Norwegian deputy foreign minister.
"Following that logic, it will be the Arab Spring this year. Nothing comes close to that one as a defining moment of our time," he told Reuters.
A record 241 candidates, of which 53 are organisations, have been nominated for this year's award, worth 10 million crowns ($1.5 million). The five-strong prize committee will meet for the last time on Sept. 30.
Demonstrations and protests in 2011 involving hundreds of thousands of people have challenged the grip on power of autocratic rulers across the Arab world.
Zine al-Abidine Ben Ali in Tunisia, Hosni Mubarak in Egypt and Muammar Gaddafi in Libya have been removed from power while opposition movements in Syria and Yemen, among several other countries, are attempting to bring about political change.
Egeland's view was shared by Kristian Berg Harpviken, head of the Peace Research Institute Oslo. "The Arab Spring will be very high on the agenda of the committee's internal deliberations," he said. "What has been very clear from the current committee ... is that they really want to speak to current affairs. There is an eagerness to not only award a prize that has had an impact in the present but also to use the prize to impact the present."
The committee's secretary said there were "a few" candidates linked to the Arab Spring among this year's nominees, but he declined to name them. Among the known nominees this year are WikiLeaks and its leader Julian Assange, Israeli conductor Daniel Barenboim, Afghan human rights advocate Sima Samar, the European Union and former German Chancellor Helmut Kohl. The Norwegian Nobel Committee has yet to make its final decision about this year's award, its secretary said. "We have one more meeting ... We have a few candidates on the table," Geir Lundestad said.
—Reuters
Doubts about the revolution
Eight months on there are now deep doubts among many about the course of the Jasmine Revolution and the story of Mohammed Bouazizi, its iconic sacrificial hero, is enmeshed in accusations and recriminations. His family has left Sidi Bouzid amid the animosity of neighbours; a plaque put up in his name in the town has disappeared and graffiti praising him painted over. The municipal official allegedly responsible for "the slap which rang around the world", Fedya Hamdi, has claimed that the slap never happened and that she was made a scapegoat. She has since been freed from prison, with all charges dropped, to cheers from a crowd gathered outside the courtroom.
As the elections in Tunisia, the first among the newly democratic states of North Africa and the Middle East, approach next month, Bouazizi is increasingly seen as a footnote rather than the catalyst of the uprising. And Sidi Bouzid, for its part, now has new martyrs — a 14-year-old boy shot dead during a demonstration, a man killed at a police station after threatening to expose official corruption.
Things as bad as ever
Mohammed Bouazizi, however, continues to garner plaudits abroad. The EU Parliament has selected him as a nominee for this year's Sakharov Prize, awarded to those who had played a pivotal role in bringing freedom to their country. In Paris Mohammed Bouazizi Square was named in the 14th Arrondissement by the city's mayor, with his mother, Manoubia, and one of his sisters as guests of honour
But for many people in Sidi Bouzid and elsewhere in Tunisia this is seen as an example of a Western instinct to personalise and, in the process, trivialise the Tunisian revolution — only to ignore it as the focus moved on to later rebellions in countries deemed more important.
"We started the revolution which led to all the others. But all we got in return were a few pats on the head from Europe and America," said Ziad Ali Karimi, an activist during the uprising in Sidi Bouzid. "Look at all the money they spent on Libya. Why? Because of oil contracts."
"Now they are offering all kinds of help to Libya, which is already a rich country. Here, we get nothing. The economic situation just gets worse, and we wonder why we risked so much in rising up against Ben Ali and his gangsters."
Manoubia Bouazizi and her family are also in the firing line after leaving town. "Who paid for them to go? Who put them up in expensive hotels?" asked Fatima Um Mourad, whose brother, Adnan Mohammed, was arrested during a protest march. "Shouldn't the money have been spent here? The people here have got nothing. But his family, well they made a lot of money out of all this, now they live in luxury, in a big villa."
Another former neighbour, 18 year old Seif Amri, maintained: "They made their fortune and they left. But none of us have benefited, things here are as bad as ever."
Grief and bewilderment
It is true that Ms Bouazizi and her six remaining children have moved to the seaside at La Marsa, a suburb of the capital, Tunis. They now live in a medium-sized apartment, by no means lavish, for which they pay a rent of $200 a month. There is a small vegetable patch in the front and one room and the siblings share rooms and a study. "I know some people are telling lies about us," Manoubia said. She shook her head. "When he died, people came to me and said it was not just me who had lost a son, the whole village has lost a son. Now they say this. It is really bad."
"That woman [Fedya Hamdi] is free because I agreed to the prosecution ending. I wanted things to settle down. Now her family is even saying that there was no slap. Was my son lying? What about people who saw her hit him?"
Samia, 20, one of Mohammed's sisters, wanted to stress: "We have not made a fortune, that is just untrue. We had to move because the other house was too small and this is a nice area."
"I heard we were given a lot of money by Ben Ali, $15,000 some people said. They also said we sold Mohammed's vegetable cart to a movie producer. That is not true. People are angry because things are not improving fast. That is not our fault."
That anger led to fresh outbreaks of violence in Sidi Bouzid in August, during which protesters pelted soldiers with rocks and they replied with live rounds. A 14-year-old boy, Thabit Hajlaoui, was shot dead. His father, Bilghassim Hajlaoui, spoke of his grief and bewilderment. "He was not throwing anything, but why did they have to fire guns just because there were some stones thrown. They said they were sorry my son has been killed, but no one has been arrested. They are now behaving like the way they behaved in Ben Ali's time."
Corruption in RCD
The feeling that the security forces continue to be a threat to ordinary people was reinforced by what happened to 36-year-old Adel Hammami, a computer technician, who died after saying he had evidence of corruption in the RCD, the former regime's party, many of whose members will contest the coming election. Mr Hammami died seven months ago after going to a police station to answer questions. But it is only recently that questions began to be asked about the killings and four policemen were eventually arrested. The charge they faced, however, was downgraded from the equivalent of manslaughter to a public order offence.
His sister Mongia was furious. "They had plotted to kill him as soon as he started talking about corruption," she said. "He was beaten up and very badly injured by a group of people who walked into his office.
"The police told my brother that they were worried about other attacks, that his daughter, my niece would be kidnapped. He went to the police station and that is where he died. We want justice, we don't want things going back to the way they were."
But many Tunisians seem to think that is exactly the way things are going.
High unemployment
A poll carried out by the Applied Social Sciences Forum, a think tank, carried out last month found that the percentage of the population optimistic about the future has fallen to 24 per cent. Sidi Bouzid recorded the highest level of distrust in the progress of the revolution at 62.1 per cent. Nationally youth unemployment stands at 30 per cent; in the Sidi Bouzid region it is 42 per cent.
Faith in the electoral process leading to a better future has also dissipated, with less than half of those eligible to vote in the coming polls having so far registered to do so. While Western observers wonder about the emergence of Islamists as a dominant force in parliament, the crucial issue in places such as Sidi Bouzid is stark. "It is about jobs so we can at least feed our family," said Ziad Ali Karimi.
Need to stand together
For her part, Fedya Hamdi, the municipal employee accused of hitting Mr Bouazizi, considers herself yet another victim of the system. She had spent three months in jail before being found not guilty at her trial. The prosecution produced only one witness who supposedly saw the infamous slap and he was discredited under cross-examination.
"It was bad in prison, but at the time no one would listen to me," she said. "I was not responsible for what happened to him but I am very sorry that he killed himself. I am very sorry about all the others who had died. We just need to stand together now and not just keep blaming each other. Otherwise we'll never move forward, we will all suffer." —The Independent