Settling in UK could get tougher for immigrants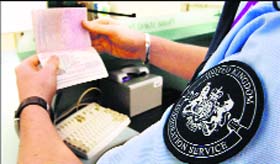 London, October 2
The government plans to introduce new rules to curb immigrants' rights to settle down permanently in the UK, a move likely to adversely impact thousands of Indians seeking to live in the country.
The Conservative Party-led coalition government will scrap a rule that gives foreign workers the right to live permanently in Britain after working here for five years and will also restrict the rights of their family members to join them, The Sunday Times newspaper said.
Theresa May, the Home Secretary, is drawing up plans for a new 'hurdle' for immigrants that would prevent most of them gaining the right to remain here indefinitely.
" Theresa May and Damian Green, the immigration minister, want to break the link between working and settling in Britain," the report quoted a government source as saying.
"It has become almost automatic for people who keep their noses clean and don't get a criminal record. They are not against people coming here to work, but that shouldn't automatically mean they get to stay in Britain for ever," the source said.
Once someone is granted indefinite leave to remain, they can apply for a British passport.
The number of immigrants taking advantage of this rules has spiralled in the past 14 years, the report said. — PTI
Stricter rules
The government will scrap a rule that gives foreign workers the right to live permanently in Britain after working for five years and will also restrict the rights of their family members to join them, said a media report