M A I N N E W S
Special to the tribune
NRIs are now heading back home in droves
Shyam Bhatia in London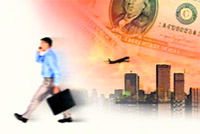 NRIs who created a successful niche for themselves abroad used to capture the attention of the public back home in India. Attention was guaranteed for Silicon Valley entrepreneurs like Gururaj Deshpande or Sabeer Bhatia, Maharishis of various descriptions, Australia's first turban-wearing policemen, or the Gujarati couple who made Prince William's wedding cake or Punjab's most famous NRI, Jalandhar-born Lord Swraj Paul with an estimated personal fortune of over £100 million.
Less familiar are stories of homesick NRIs returning homewards, even at the cost of abandoning dazzling careers and comfortable lifestyles in the West. Despite the earlier cynicism of describing NRIs as Non Returning Indians, it is now just as true that what used to be a trickle of homeward-bound NRIs is fast becoming a flood.
Whether it is sheer homesickness, better job prospects, capital appreciation, or a combination of all three motivations, many more NRIs than ever before have their eyes firmly set on returning to the welcoming embrace of 'Bharat Mata'.
To be sure, the New Delhi has played a part by relaxing economic rules for returning NRIs and by sponsoring annual get-togethers like the Pravasi Bhartiya Divas, which attracts thousands from across the globe, but the best laid plans would amount to nothing if NRIs themselves did not continue to feel the heartbeat of their motherland.
In the UK, the NRIs' homeward rush has finally caught the attention of the mainstream media with one leading daily newspaper documenting the "thousands" of NRIs taking the homeward route.
In an article entitled, "Return of the British Rajas", the Daily Mail newspaper has listed examples of returnees like Praful Patel who has created a second home for himself in the penthouse suite of the Taj Hotel in Mumbai to the likes of Fabian and Usha De Souza who sold their London residence to facilitate returning to their ancestral homeland in Goa.
Another example listed is that of Dipak and Vandana Poria who moved to Pune in 2005. Dipak's father was an illiterate mechanic who worked in a Leicester factory. His son and daughter-in-law live in a beautiful four-bedroom apartment in Pune and run a successful company that employs 60 persons.
Despite the Daily Mail's enthusiastic portrayal of the 'British Rajas', there are plenty of NRIs who refuse to see their homeland through rose tinted glasses. Many have expressed their resentment at being described as coconuts (brown on the outside…).
One popular website details what is calls 'reverse culture shock', including the crowds, lack of customer service, power cuts and other realities of living in India. "If you need a driving licence, need to get a passport or have any other need that requires going to a government office, get used to the waiting, delays and very poor customer service," says the Indian Abroad website. "Once you tell them that you are an NRI, they want to help you, but for their own monetary gain."