PPCB for complete ban on plastic bags
Patiala, October 9
Notwithstanding the fact that the Punjab Government had imposed a ban on the manufacture, disposal and usage of polythene bags in the state recently, renowned environmentalist Balbir Singh Seechewal, Executive Director of Kheti Virasat Mission Umendra Dutt and Punjab Pollution Control Board (PPCB) chairman KS Pannu have advocated a complete ban on the use of non-biodegradable plastic carry bags.
Vegetable growers to get 50 pc subsidy
Chandigarh, October 9
The government today announced a 50 per cent subsidy on vegetable farming to boost production in the state. Agriculture Minister Sucha Singh Langah said the government would provide a grant under the National Agriculture Development Scheme to farmers making net houses for growing vegetables.
Manpreet demands CBI probe into transport scam
Shahkot, October 9
Taking a dig at Chief Minister Parkash Singh Badal and his son and Deputy Chief Minister Sukhbir Badal, People's Party of Punjab chief Manpreet Singh Badal today sought a CBI probe into the alleged public transport scam in the state to ferret out the truth.
Anna must check credentials of SAD, BJP leaders: Capt


Hoshiarpur, October 9
The PCC chief today asked Team Anna to make it clear as to which candidate they were supporting in the Hisar parliamentary bypoll. Capt Amarinder Singh was here to interact with farmers and members of civil society. He visited the citrus farm of horticulturist Khushwant Singh. Amarinder Singh said Anna Hazare should verify the credentials of SAD (Badal) and BJP leaders before his proposed visit to Punjab.
Ensure sale of hygienic eatables, health officials told
Chandigarh, October 9
Punjab Health and Family Welfare Minister Satpal Gosain said today that all the Civil Surgeons and District Health Officials had been directed to ensure sale of only clean and hygienic eatables in their districts in view of the coming festivals.
Suspected ISI spy in police net
Faridkot, October 9
Two persons including a plumber in the Military Engineering Service (MES) wing of Faridkot cantonment were rounded up by the police yesterday for their alleged links with Pakistan's Inter-service Intelligence (ISI).
Staff shortage ails Fatehgarh Sahib Civil Hospital
Fatehgarh Sahib, October 9
The Civil Hospital, Fatehgarh Sahib, is "sick" and needs urgent attention of the government. All healthcare services are crippled as it is facing shortage of at least 13 Medical Officers, 45 members of paramedical staff, eight members in the administrative staff, 10 in the operation theatres and nine in the blood bank.

Suvidha centres to be made operational from October 17
Samrala October 9
Punjab Anil Kaushik has said all the 506 suvidha centres set up at the district and block levels will be made operational from October 17 and these will be made online also.



Anil Kaushik, DGP Punjab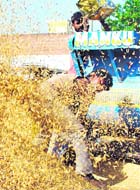 Paddy procurement gains momentum
Rajpura/Patiala, October 9
After an initial delay following internal differences between the government agencies, paddy procurement has started picking up. The five major state government agencies, Pungrain, Markfed, Punsup, Warehouse and Punjab Agro, apart from private millers, have procured 65,621 MT of paddy in Patiala.





GRAIN RAIN: A view of the paddy stock at the new grain market, Rajpura, on Sunday. Photo: JS Virdi

Scientists: Reform pharmacy education
Moga, October 9
Pharmaceutical scientists have stressed upon the need to strengthen and upgrade pharmacy education for producing competent workforce of pharmacists to meet the growing demands of the industry.
Health Dept raids nursing home, seizes blood bags
Sangrur, October 9
Health Department officials during a raid seized two bags of blood kept illegally by a nursing home in Dirba area here yesterday. Civil Surgeon Dr HS Bali said the raid was conducted following a tip-off. He said the Health Department officials were assisted by the police and anti-narcotics department staff.
Soon, public library in almost every village
Jalandhar, October 9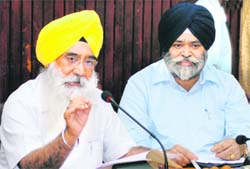 In an effort to revive people's reading habits, the Punjab Government plans to set up 12,603 public libraries in almost all villages of the state. These libraries will be established in a phased manner.





Education Minister SS Sekhwan in Jalandhar. A Tribune photo

Batala NRI's murder case
Victim's mother threatens suicide
Batala, October 9
The mother of Canada-based NRI Gurinder Singh, who was gunned down in broad daylight just 50 yards away from the SSP's residence here recently, has threatened to commit self-immolation if the police failed to arrest accused Deep Raj Singh and Yadvinder Singh Bhullar within 10 days.
Glow of faith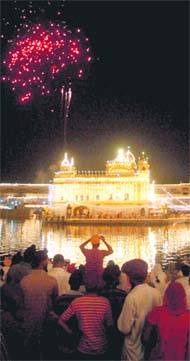 Devotees watch fire crackers over illuminated Golden Temple on the occasion of the birth anniversary of Guru Ram Dass, the fourth Sikh guru who founded Amritsar city, in Amritsar on Sunday. — PTI
CM, Capt condole death of ex-MLA
Chandigarh, October 9
Chief Minister Parkash Singh Badal today expressed profound grief and sorrow over the demise of former legislator Devinder Singh, father of Justice Mahtab Singh Gill, after a prolonged illness. He was 90. He is survived by four daughters and a son.
Indian youths refuse to pay relief to injured Pak nationals
Chandigarh, October 9
Seventeen Indian youths who had their death sentence waived by the Sharjah Appeal Court last month, today refused to pay compensation to two Pakistanis who claimed they had suffered serious injuries in the clash in which their colleague Mishri Khan was murdered in 2009.
Sikh soldiers serving in British Army to be honoured
London, October 9
Sikh soldiers who fought alongside British troops in conflicts around the world would be honoured in the UK by showcasing the 'khanda', a symbol revered by the Sikh community.
Govt simplifies rules for disability certificate
Chandigarh, October 9
The Punjab government today simplified and decentralised the process for the issuance of disability certificate by allowing them to be issued by a single doctor. A spokesman said earlier the certificates were issued by the medical board comprising at least three members. He said under the new procedure, a disabilities certificate could be issued by a single doctor in case of permanent paralysis of limbs and blindness.
Power firm starts work at Gobindpura project site amid protests
Bathinda, October 9
Poena Power Development Ltd (PPDL) workers today started levelling the controversial piece of agricultural land for setting up the 1,320 MW thermal plant at Gobindpura in Mansa district amidst protest by farmers and heavy police protection.
Armed forces turn to state cos for spares
Amritsar, October 9
The draining out of large volumes of foreign exchange, drying up of supplies from overseas and the arduous process of importing goods have forced defence forces to look to industrialists in Punjab to arrange spare parts for equipment being used in the Army and the Air Force.