Docs oppose Punjab's policy on recruitments
Patiala, October 8
Representatives of the Doctors Federation of India have expressed resentment over the decision of the Department of Health and Family Welfare, Punjab, to recruit as many as 1,400 doctors without following the constitutional provision of getting the recruitments of the gazetted officers done through the Punjab Public Service Commission (PPSC).
Body of Hoshiarpur boy killed in Paris to arrive on Oct 11


Jalandhar, October 8
The body of the 27-year-old Punjabi immigrant Rajinder Singh, who had got electrocuted on the tracks of Paris metro while trying to save a French woman from a pickpocket, is likely to reach here on October 11. The incident had occurred on September 29. A resident of Dumana village in Hoshiarpur, Rajinder, had left for France seven years ago and was working as a home delivery boy at a restaurant.

Assembly passes 10 Bills, withdraws three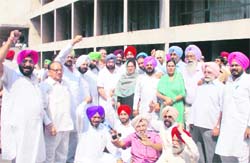 Chandigarh, October 8
Punjab Vidhan Sabha today passed 10 Bills amid sloganeering by the Opposition Congress legislators even as two controversial bills on the formation of a special security group and damage to property were withdrawn. The legislators also increased their own allowances as well as those of the Speaker and the Deputy Speaker.

up in arms: Congress legislators raise slogans outside the Punjab Vidhan Sabha in Chandigarh on Saturday. A Tribune photo



bills passed
Opposition doesn't give Badal a chance to speak in House
Chandigarh, October 8
Even though the Opposition did not allow Chief Minister Parkash Singh Badal to make a statement in the state assembly today, his announcement that the Centre had approved the establishment of a National Service Selection Centre for Armed Forces at Ropar has been included in the House record.
SAD ex-MLA Devinder Singh passes away
Chandigarh, October 8
SAD's former MLA Devinder Singh Charik (90) passed away this evening following an illness. He leaves behind four daughters and a son, Justice Mehtab Singh Gill, a former Judge of the Punjab and Haryana HC. He was also a member of the working committee and the Punjab senate.
For Ferozepur officials, new Fazilka dist is added burden
Ferozepur, October 8
The acute shortage of officers at the district headquarters is adversely affecting the functioning of various key government departments in this border district that is already reeling under illiteracy, lack of infrastructural growth and wretched economy.
Safai karamchari strike raises a stink around Golden Temple
Amritsar, October 8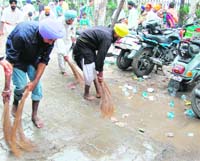 While the stage is set to celebrate the 477th birth anniversary of Guru Ram Das, the founder of the city, tomorrow, the vicinity of the Golden Temple complex is dotted with heaps of garbage due to the ongoing strike by safai karamcharis. Even the route of the nagar kirtan, which was taken out today to mark the occasion, was littered with garbage and was cleaned by volunteers accompanying the procession.


Volunteers clean the route of the nagar kirtan in Amritsar on Saturday. Photo: Vishal Kumar

'Illegal mining in Nangal has cost state Rs 4,000 cr in revenue'
Chandigarh, October 8
Punjab Pradesh Media Committee Chairman Surinder Singla today claimed that the state exchequer had lost nearly Rs 4,000 crore in revenue due to illegal mining of sand and gravel during the past four-and-a-half years in the Nangal area alone.
Foundation stone of 101st Akal Academy laid
Fatehgarh Sahib, October 7
Kalgidhar Trust Baru Sahib has brought a revolution in the field of rural education in the state by setting a target of opening 150 English medium schools in rural areas to bridge the gap between the urban and rural students by providing quality education at their doorsteps.
'Jan Aandolan' against contract system from Nov 14
Ludhiana, October 8
To spread awareness against the contract system prevalent in various jobs of the state and centre level, National Commission for Scheduled Caste has decided to start "Jan Aandolan" from November 14 in the country.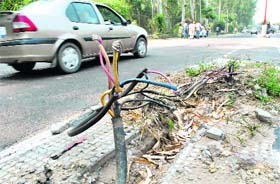 Uncovered electricity wires on road divider in front of Mini-Secretariat in Patiala. Tribune photo: Rajesh Sachar
79th Air Force Day celebrated
Bathinda, October 8
The 79th Air Force Day was today celebrated with enthusiasm and gaiety here at the Bhisiana IAF station where Air Commodore Vishwas Gaur, Air Officer Commanding (AOC), administered oath to all the station personnel.
DC issues instructions for sale, storage of crackers
Patiala, October 8
Patiala Deputy Commissioner Vikas Garg has given specific instructions pertaining to storage of crackers without any license and their sale. Issuing strict instructions, Garg said the authorities would ensure that crackers with high decibel noise level were not be allowed.
Villagers protest against police inaction
Patiala, October 8
Residents of Baran village yesterday held a dharna against the police administration claiming that the cops had failed to arrest the accused who first hit a village resident with their vehicle and later carried his body on the pretext of admitting him to a nearby hospital but threw the same in a nearby water canal.
State opposes MCI plan for common entrance test
Moga, October 8
Punjab Government has opposed the proposal of the Medical Council of India for having a common entrance test for the MBBS and post-graduate medicine courses in the country. Dr SS Gill, Vice-chancellor of the Baba Farid University of Health Sciences, Faridkot, revealed this while talking to the TNS here, today.
Two dowry deaths in Moga villages
Moga, October 8
Two women allegedly committed suicide after being harassed by their in-laws over dowry in two separate incidents during the past 24 hours in Moga district. According to the police, Rupinder Kaur (35), a resident of Raonta village in Nihal Singh Wala sub-division, hung herself from a ceiling fan in her room yesterday.