Despite opposition, FCI begins direct payment to farmers
Gurdaspur, October 6
Despite stiff opposition from commission agents, the FCI has successfully begun the purchase of paddy in the district's 15 mandis, crediting payments to farmers' bank accounts.
Centre has pushed economy to brink of disaster: Badal
Ludhiana, October 6


Charging the Congress-led UPA government at the Centre with an anti-farmer stance and apathetic attitude towards Punjab, Chief Minister Parkash Singh Badal said today that despite numerous requests made by the state government at different forums, the Centre had neither bothered to speed up the movement of food grain stocked in godowns to create storage for the new paddy crop, nor did it allow the state to construct more godowns to generate additional storage capacity.
Parkash Singh Badal, Chief Minister, Punjab


Evil Dead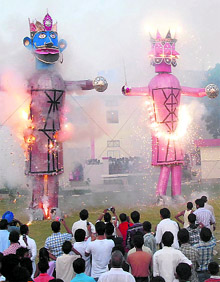 Effigies of Ravana and Kumbhkarna set on fire at MSD Senior Secondary School in Bathinda on Thursday. Tribune photo: Pawan Sharma

Finally, 842 masters get promotion letters
Patiala, October 6
The festival season has brought cheer to the Punjab Education Department faculty with masters, awaiting promotions as headmasters for several years, finally being promoted. The Education Department promoted 842 masters as headmasters yesterday.
Teachers seek release of arrears
Patiala, October 6
In the wake of delay in the release of 40 per cent of arrears to teachers working in government colleges of the state, president of the Government College Teachers' Association Jai Pal Singh, has written a letter to Chief Minister Parkash Singh Badal requesting him to release the amount at the earliest. He said teachers working in government colleges of the state were the only category of the state government employees, who were denied the first instalment of 40 per cent of arrears, which has been paid to other employees in May 2011.

Moga man running finance co in Philippines shot dead
Moga, October 6
A 55-year-old man hailing from Moga district was shot dead at Manila in the Philippines yesterday. Identified as Gurdial Singh Sangha (55), a resident of Dosanj village, he was running his business of finance. Identified as Gurdial Singh Sangha (55), a resident of Dosanj village, he was running his business of finance. Gurdial Singh
Fire tragedy averted in Abohar
Abohar, October 6
A major tragedy was averted by taking timely action as the fire that broke out in a garbage dump engulfed a luxury car parked near it in the office complex of a leading private transport company on the Sadar Thana road here, yesterday.
PSEB to install CCTV cameras at exam centres
Mohali, October 6
The Punjab School Education Board (PSEB) has decided to install CCTV cameras at certain examination centres to check copying and also get the videography done of the examination process.
Arms Worship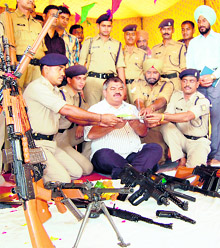 CRPF personnel in Amritsar worship their weapons on the occasion of Dasehra. Photo: Vishal Kumar

Govt harassing IG Gakhar: Khaira
Chandigarh, October 6
Congress legislator from Bholath Sukhpal Khaira said today that the Punjab Government was pressurising Shamlal Gakhar, IG, Lokpal, into submitting a "favourable report" on the alleged misuse of the transport policy by the Badal family.
Contractual SSA staff to go on strike today
Patiala, October 6
After sikhiya karmis who have already been protesting against the Punjab Government for over 10 days in the wake of delay in regularisation of their services, now the contractual staff members under the Sarv Sikhiya Abhiyaan (SSA), including data operators, assistant block officers, accountants and assistant project coordinators (General and Finance) will go on a pen-down strike from tomorrow onwards.
Panel on Hondh-Chillar killings a damp squib, says Dal Khalsa
Amritsar, October 6
Firing a salvo against Haryana Chief Minister Bhupinder Singh Hooda for misleading the Sikhs, the Dal Khalsa said today that the commission constituted by his government on March 5 to probe into the alleged killings of 32 Sikhs at Hondh-Chillar village in Haryana has turned out to be a damp squib.
Cancer fear grips Amargarh residents
Amargarh (Sangrur), October 6
Grappling with the increasing number of cancer patients, the Nagar Panchayat has decided to write to the government to ascertain the reasons for the spread of the disease in the area. There have been more than 40 cancer deaths in Amargarh town.
Gunman's rifle goes off, youth killed, another hurt
Ferozepur, October 6
A youth was killed and another injured when they were hit by a bullet accidentally fired from the rifle of the gunman of an Akali leader.