Shopping time for women on Karva Chauth eve
Mehndiwalas do brisk business as they charge between Rs 50 and Rs 2,000 per hand
Aparna Banerji
Tribune News Service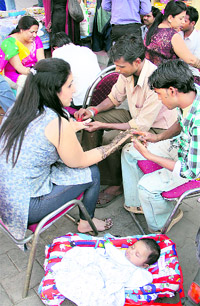 A woman gets mehndi applied on her hands as her child sleeps peacefully at a roadside stall on the eve of Karva Chauth in Jalandhar on Friday. Tribune photos: Sarabjit Singh

Jalandhar, October 14
With Karva Chauth tomorrow, it was a busy day for women. As the city bazaars remained flooded with well-dressed women exuding the enthusiasm of the upcoming festivities of their loved festival of Karva Chauth, the markets were full of mehndi stalls and the sidewalks smelled of henna.
Women were busy decorating hands with the traditional mehndi and as many as 16 mehndi stalls had been put up at the Model Town market alone, while there were said to be hundreds across the city.
The jewellery shops were full of bright and beautiful Karva Chauth specialities.
Rajiv, a shopkeeper at Model Town, said, "This season, purple, magenta and green glass bangles are a rage with women. Silver metal bangles, studded with colourful stones, are also much in demand. But above all most women buy the combination bangles which look like the wedding chura from a distance."
Even as most of the women fast, there are some who don't and yet others who do, but without a reason. The Tribune takes a look at some classical cases:
The rational type:
Amrit Bajaj, an English lecturer at a local college, is among the women who never fast. She says, "I don't believe in fasting. My husband also believes in rationality and was never for traditions like these, so it was easier. When it comes to a marriage, the key lies in adjustments and to a certain extent, destiny. Fasting or not fasting doesn't change things. We have had a happy married life without the fasts and I am happy about the decisions we made."
The for-the-love-of-Karwa-Chauth type:
With yet-to-be-married Stuti and her four cousins Karva Chauth is a must-fast day. "I have been keeping the fast since I was in the sixth standard. It's the same with four of my cousins. Its not like we keep it for someone. We just love the Karva Chauth shopping and the mehndi. Of course the spirit of the festival is incomplete without the fast. So we have been observing it religiously since we were kids."
The till-death-do-us-apart types:
Vishal and Anjana Thatai, both homoeopathic doctors, got married in 2001. While Anjana had been fasting all through, Vishal started fasting quietly, sweetly, without even telling his wife, six years ago.
"When I saw her fasting for some years, I thought why just the wife, a husband should fast too. For the first three years I fasted quietly because I was apprehensive of my friends making fun of me. I didn't tell her either. But gradually, the secret was out and we are at home with it now."
Anjana is away to Hyderabad this year, both of them will fast again. "But when the moon comes out she will be on a flight, so we will break the fast on a phone call," he laughs.
Ruchika and Chandan got married this January. While they never fasted earlier, they plan to fast together from this year on. Chandan is currently at Brisbane, but both of them will observe the fast at their respective locations. Ruchika says, "We plan to break the fast during online chat."
Lovepreet and his girlfriend are not married but they have been fasting for each other for the past two years. Lovepreet says, "This is our way of showing love for each other."
Mehndi watch
While the mehndi artists and women both say the Arabic mehndi is not available this season, it is the Rajasthani mehndi that is being most used this time. Various artists in Model Town had employed up to 10-25 workers.
Price of applying mehndi per hand ranged from Rs 50 to Rs 2,000 depending on the intricacy of design.
Most mehndi artists said they got at least 100 customers a day (since yesterday). By evening, the numbers had even risen to 400 on some stalls.
Prices of the Karva Chauth "Suhaag" kit ranged from Rs 100 to Rs 500.