In TUNE with times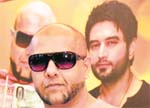 For someone whose success is spelt in caps and for someone who's a part of a multi-talented Bollywood musician duo, he has an opinion on everything. Right from the ever-echoing item numbers that they make to the live coverage of rescue operations (The public interest litigation filed by him a case in point). If there's one query that Vishal-Shekhar go mum on being asked…it is how they come up with their kind of music! So while Shekhar is "resting his throat" and hence cannot interact with the media, Vishal enters in a hurry, listens with patience, more than makes up for Shekhar's absence and fumbles with the answer, "I cannot answer this question.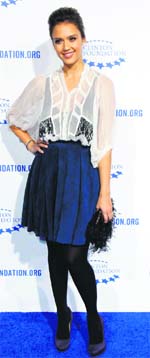 Making a difference

: Actress Jessica Alba arrives at The Clinton Foundation Gala in celebration of the organisation's Decade of Difference in Los Angeles.— Reuters
The quest for happiness
He came to India in 1985 and signed a movie with big stars, including Dharmendra, Zeenat Aman and Chandra Barot, but the project failed. Yet again in 1988 he merged with a script writer Prakash Kathori; luck did not favour him again.
Adorable vampire
Kristen Stewart has claimed that her character Bella Swan is the best person in The Twilight Saga films because she has the most interesting journey in the film.
Artistic affair
A majestic wood sculpture of Balaji, an embroidered scenery that gives the impression of poster colours, a tad patra painting that charts the story of Banasur - all costing above a few lakhs - are some of the masterpieces at the ongoing third Chandigarh National Crafts Mela being held by Chandigarh Administration and NZCC at Kalagram, Mani Majra.
Sculpting magic
Ye shayer hain Ilahi, ya mussavir pesha hain koi, naye naqshe, niraali soortein izaad karte hein…" The couplet by poet Aatish immediately comes to mind on viewing the sculptures done by versatile artist Kumud Mohinder from New Delhi.
Go purple
Scientists have found that just a couple servings of potatoes a day reduces blood pressure almost as much as oatmeal without causing weight gain. R Researchers used purple potatoes, they believe that redskin potatoes and white potatoes may have similar effects.
Route to roots
In an age when everyone is looking for shortcuts, there is one singer who has taken all the pain to go back, trace the roots, follow the routes and document original dance forms from region.
Visual ode
Good words help to create great art," is the thought that lingers on as you walk out of this exhibition. Working on a graphic novel on the life of Guru Nanak Dev, 27-year-old George Emmanual has his research in place. A final student of Masters in Fine Arts at the Government College of Art-10, George who has lived his life with Guru Nanak Dev's teaching is trying to translate them into art.
Pack for a new life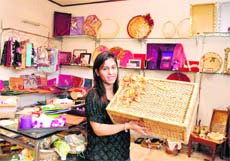 Come the wedding season, normal life goes for a toss - all the banter on the exchange of gifts, narrowing down the guest list, the shopping, jewellery and packing everything to move into a new life! 'Packing' - yes it is important. After all you don't want your new family to open your pretty suitcase and find cosmetics all over the place.



Nomida Trehan

Upwardly mobile
Bollywood actress Katrina Kaif has been named the most searched celebrity on mobile videos in a new survey. She has beaten international stars Britney Spears and Linday Lohan who are on second and third spot, respectively.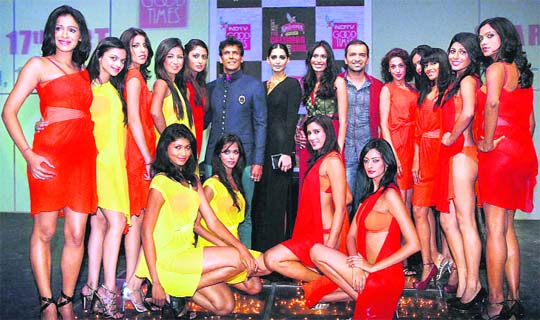 Bold and beautiful

: (Middle from left) Bollywood actor Milind Soman, actress Sonam Kapoor, model Ujjwala Raut and photographer Atul Kasbekar with other models during the launch of Kingfisher Calendar Girl 2011 contest in Mumbai. —PTI