Disaster management policy on the anvil
Tribune Reporters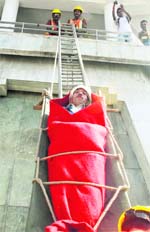 Fire fighters perform a mock drill at the Ridge in Shimla. Photo: Amit Kanwar
Shimla, October 15
Chief Minister Prem Kumar Dhumal said recently that the HP State Disaster Management Policy would be notified soon, which would help in giving an impetus to proactive disaster management in the state.
He was speaking at a function here organised to mark the International Day for Disaster Reduction. The function was organised by the State Disaster Management Authority and the District Disaster Management Authority.
He said in the next four years, the state would spend Rs 20 crore for training and capacity building in disaster response.
Dhumal said a mass awareness campaign on disaster risk reduction, Samarth 2011, was being launched in the state to mark global celebrations of the day.
He said youth were being involved in the campaign to create awareness about disaster management right up to every household in the state.
The Chief Minister said the government had taken measures for disaster reduction and a hazard risk and vulnerability assessment (HRVA) of the state had been proposed so that appropriate mitigation and preparedness measures could be taken.
He added that Rs 90 lakh had been released to districts to purchase search and rescue equipment for the disaster management. Besides, the National School Safety Programme was being implemented in 200 schools each in Kangra and Kullu districts.
Meanwhile, Dhumal flagged off a rally of schoolchildren, NSS volunteers, SSB, police and civil defence personnel from Oak Over on the occasion.
He also launched the HPSDMA website - www.hpsmda.nic.in that would ensure better access to disaster-related information in the state.
Role of media discussed
HAMIRPUR: A workshop on the role of the media in disaster management was held on the International Day for Disaster Reduction here recently.
The role of the media in disaster management before, during and after any natural calamity was discussed in detail through a presentation at the workshop.
Speaking at this workshop, DC Rajinder Singh Thakur said the district administration had taken steps for disaster management and organised mock drills at many places.
The DC said Nehru Yuvak Kendra had been asked to prepare lists of volunteers who could be engaged in disaster management, besides identifying buildings which could be used for shelter during any eventuality.
Mock exercise performed
KULLU: A mock exercise was performed here on Friday to deal with disasters like earthquakes, floods and other natural calamities. A team from the National Disaster Response Force (NDRF), Bathinda, administrative departments, police, Home Guards, fire service officers, traders and general public were involved in the exercise held at the mini secretariat here.
Brigadier Khanna addressed the participants and said he had done more than 430 such mock drills in the country with the NDRF. He termed the Friday's exercise as one of the best and called upon the district administration to keep repeating such drills. District Disaster Management Committee Nodal Officer and Additional District Magistrate RK Paruthi said new skills had been added in disaster management.