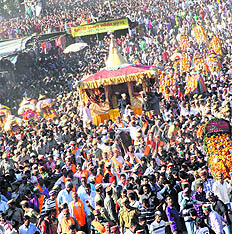 Animal sacrifices mark end of Kullu Dasehra
Kullu, October 12
Undeterred by anti-animal sacrifice activists, the week-long international Kullu Dasehra festival came to an end today after the Lord Raghunath yatra converged on the venue near the Beas, sacrificing five creatures, including a buffalo, to placate Goddess Hidimba during the concluding Lanka Dahan ceremony.
Sea of devotion: The rath of Lord Raghunath being pulled by devotees during the Lanka Dahan ceremony, which marked the end of the week-long Kullu Dasehra on Wednesday. Photo: Kuldeep Chauhan

3 more bus stands to come up on BOT basis
Shimla, October 12
With the first bus stand in the public-private partnership mode becoming operational here, the Himachal Bus Stands Management and Development Authority has awarded three more projects on a build, operate and transfer (BOT) basis.
Cong misleading public on development front: CM
Kullu, October 12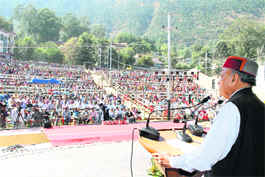 Unfazed by Union Minister Virbhadra Singh's charges of turning the CM's office as a "real estate sale office" ahead of the upcoming state Assembly poll, Chief Minister Prem Kumar Dhumal today attacked Virbhadra on the Dasehra stage on development issues and claimed that schemes worth Rs 15 crore inaugurated here today by him were started during his tenure only.
Chief Minister PK Dhumal addresses a public meeting in Kullu on Wednesday. Photo: Jai Kumar

NIT MTech courses get AICTE accreditation
Hamirpur, October 12
The MTech courses being run by the National Institute of Technology (NIT), Hamirpur, have been accredited by the All-India Council of Technical Education (AICTE), providing all-India validation to these courses.
45,000 got jobs in industries in past over 3 years: CM
Shimla, October 12
Chief Minister PK Dhumal has said that over 45,000 Himachali youth had been provided employment in 165 industrial units, in the past three-and-a-half years since the BJP assumed power in the state. He said it was being ensured that the industrial units coming up in the state engaged local youth.
State to appoint specialist docs at their place of choice
Palampur, October 12
The state government has decided to appoint specialist doctors at their place of choice with immediate effect. This decision was taken keeping in view of the shortage of postgraduate doctors in the state.
Self-immolation Cases in Tibet
Tibetan govt-in-exile seeks UN intervention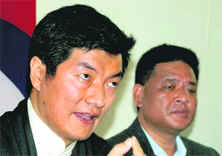 Dharamsala, October 12
Under criticism from Tibetan NGOs for not adopting a tough stance against self-immolation by Tibetans in Tibet, the Tibetan government-in-exile and the Central Tibetan Administration has announced a worldwide programme of protests over the issue.
Lobsang Sangay, PM of the Tibetan government-in-exile, addresses mediapersons at McLeodganj in Dharamsala on Wednesday. Photo: Kamaljeet

Husband, in-laws booked in dowry death case
Nurpur, October 12
Following a complaint of Sanjiv Kumar of Bhaleta village, the local police today registered a dowry death case against Mahinder Singh, husband, and three members of the in-laws of deceased Dimple. A case under Sections 498, 304 (B) and 34, IPC, has been lodged against the husband, mother-in-law, sister-in-law and brother-in-law of the deceased who had married one year ago at Kathal village. The complainant had also acted as marriage mediator and held compromise meetings between both parties.
40 cases of scrub typhus reported from Kasauli
Solan, October 12
With as many as 40 cases of scrub typhus being reported from Kasauli, the disease appears to have spread its tentacles in this cantonment town in the past one month.

Youth Cong Poll
State chief to seek second term
Shimla, October 12
State Youth Congress president Man Mohan Katoch will seek a second term in office for which the election process will commence tomorrow. Katoch announced here today that he would file nomination tomorrow, undeterred by the reports that Union Minister Virbhadra Singh's son Vikramaditya would be entering the fray.
Irregularities found in wholesale store
Shimla, October 12
A team headed by the District Controller Food and Civil Supplies today inspected a wholesale godown at Theog and detected irregularities. The inspection of the store was carried out on the direction of Food and Civil Supplies Minister Ramesh Dhawala, who had made a surprise visit to the godown yesterday.
Awareness rally begins at Naina Devi
Bilaspur, October 12
Activists of various political parties, barring the BJP and the Congress, led by former MLA Krishan Kumar Kaushal, started their "Jan Jagaran Yatra" from the pilgrim town of Naina Devi, 95 km from here, last evening.