Dhumal to lay stone of Dasehra Sadan today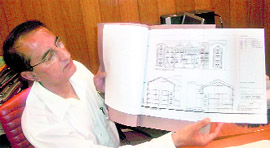 Kullu, October 11
Chief Minister Prem Kumar Dhumal will lay the foundation stone of a Rs 10-crore multipurpose Dasehra Sadan in this tourist town tomorrow. The sadan will be built from funds generated by the Dasehra committee and from local area development funds allocated by power companies.

Deputy Commissioner BM Nanta shows the design of Dasehra Sadan to be built in Kullu. Photo: Kuldeep Chauhan

Baddi area sans blood bank
Solan, October 11
Even as the Baddi-Barotiwala-Nalagarh (BBN) industrial area houses a workforce of nearly 1.5 lakh, the absence of a blood bank is forcing medical practitioners to refer serious patients to Chandigarh.
Property worth Rs1 lakh destroyed in fire
Bilasour, October 11
Property worth Rs 1 lakh is said to have been destroyed in a devastating fire which broke out in Madan Lal's house at Oel village on Sunday night. Reports said the family was going to sleep when it saw smoke billowing out of one part of house. All members of the family fled out of it for their life.
Raid-de-Himalaya hits green tax roadblock
Manali, October 11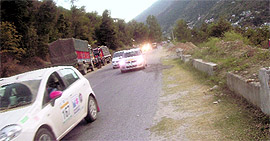 After getting a lukewarm response from pollution-wearied local residents, hoteliers and eco-friendly adventure sports promoters, the high-profiled 13th Raid-de- Himalaya motor rally today hit a major green tax roadblock as organisers of the event had not paid the green tax imposed by the high court on vehicles carrying non-Himachal numbers entering this tourist town.
Raid-de-Himalaya participants enter Manali on Tuesday. Photo by writer

Directorate denies purchase scam
Shimla, October 11
The state government is learnt to have filed an affidavit before the high court denying allegations levelled by the Himachal Pradesh Ayurvedic Medicine Manufacturers Association against the Director, Ayurveda.
300 sportspersons given jobs: CM
Sundernagar, October 11
Chief Minister Prem Kumar Dhumal has said the government has given 3 per cent reservation to sportspersons in government jobs and as a result of this 300 sportspersons were given jobs in various departments during his tenure.
'BJP govt has created network of roads in state'
Sundernagar, October 11
Dile Ram, senior BJP leader and Chairman, Finance Commission, said every village of the Nachan Assembly segment had been connected with roads as the present BJP government had created a network of roads across the state so that every village remained connected with road.
Congress indulging in false propaganda: BJP
Shimla, October 11
The BJP has alleged that the Opposition Congress was indulging in false propaganda on the issue of granting permissions under Section 118 of the Land Reforms and Tenancy Act and the Himachal Pradesh Apartment and Property Regulation Act to malign the Dhumal government.
ADB okays first tranche of loan
Shimla, October 11
The implementation of the Rs 4,667-crore Intra-State Transmission Master Plan for evacuation of power will finally get under way with Asian Development Bank (ADB) granting approval for the release of the first tranche of $148.8 million to the State Power Transmission Corporation.
Man gets 1-year RI for smuggling charas
Kullu, October 11
Baldev Singh, District and Session Judge, here sentenced Puran Chand of Chaouk village in this district to one-year rigorous imprisonment (RI) in a case of charas smuggling under the Narcotics Drugs and Psychotropic Substances Act.
One held for threatening minister on phone
Dharamsala, October 11
The district police has arrested Jai Singh of Malan village in the Nagrota Bagwan area of Kangra for allegedly abusing Food and Civil Supplies Minister Ramesh Dhawala on the phone.
Victim dies of injuries caused by stray bull
Bilaspur, October 11
Vinod Chandel (19) of Badgaaon village, near Barthin, became the seventh victim of the stray cattle menace in the district in the past two years, when he was suddenly struck by a stray bull near Barthin bazar and was injured seriously a couple of days ago.
Ragging case: Varsity, police at loggerheads
Dharamsala, October 11
Infighting among students of Sai University, a private university that has come up in the Palampur area, has brought the varsity management and the police at loggerheads.