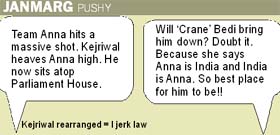 Sacred Heart girl commits suicide
Chandigarh, October 11
Two girls, one of them a teenager, committed suicide in separate incidents in the city in the past 24 hours. In the first incident, a 16-year-old student of Sacred Heart School, Sector 26, allegedly committed suicide by consuming a poisonous substance.
Speeding biker killed in accident
Chandigarh, October 11
A 23-year-old youth riding a motorcycle was crushed to death in an accident at the railway lights here this morning. The victim, Sandeep Kumar, was reportedly speeding and jumped the red light before crashing into a car coming from the other side.
BSNL standoff hits the elderly hardest
Chandigarh, October 11
Senior citizens in the tricity are among the worst sufferers in view of the standoff between BSNL and some private operators over the non-payment of carriage charges.


Devotion all around in city to mark Valmiki Jayanti


Devotees queue up at the Valmiki temple; and (right) a poster being selected on Valmiki Jayanti at Sector 24 in Chandigarh on Tuesday. tribune photos: s chandan
Looking for adventure? Check this out
Mohali, October 11
As Punjab Deputy Chief Minister Sukhbir Singh Badal is scheduled to lay a foundation stone of a series of development projects (worth crore of rupees) that are already half way through, potholed and battered roads in Mohali will play host to the visiting dignitary.


Hundreds of drivers go through a harrowing time while commuting on potholed roads in Mohali; and (right) footpaths being removed for widening roads. Tribune photos: Parvesh Chauhan

Sec-17 site a multi-level headache
Chandigarh, October 11
The 12,000-square-foot site for the much-hyped first multi-level parking of the municipal corporation (MC), located in the heart of Sector 17 here, has turned into a nuisance for motorists.

A view of the vacant multi-level parking site at Sector 17 in Chandigarh. Tribune photo: Manoj Mahajan



Home Secy's post loses sheen; incumbent given insignificant depts
Chandigarh, October 11
The distribution of departments held by the outgoing Home Secretary, Ram Niwas, among five senior bureaucrats has taken sheen out of the key post with Satya Gopal, chairman of the Chandigarh Housing Board (CHB) and the second senior-most officer in the UT Administration, who is given the charge of the Home Secretary, getting insignificant departments.
Panel on garbage? No idea!
Chandigarh, October 11
The UT Administration seems unmoved by the plight of residents of the city due to the stench from garbage and health and hygiene issues related to it. More than a fortnight ago, a committee was constituted by UT Adviser KK Sharma to suggest a solution to the foul smell and technical problems faced by the garbage-processing plant at Dadu Majra.
MC to shoot off letter to Punjab govt
Zirakpur, October 11
Acting on a presentation submitted by land owners, the Zirakpur municipal council (MC) is writing to the Punjab government seeking permission for undertaking construction work on uncultivable land in Sukhna choe where the free flow of river water is not affected.
Ex-councillor issues notice to civic body
Mohali, October 11
Apart from issuing a notice to the municipal corporation, a former municipal councillor has threatened to go on a hunger strike if the civic body failed to start the development work in the Sector 70 market.


Mumbai star bats for protesters
Chandigarh, October 11
The municipal corporation (MC) has failed miserably in handling garbage properly, as is evident from the all-pervasive smell in the city. This was stated by BJP national executive member Kirron Kher, who today visited residents staging a round-the-clock protest fast against the stench emanating from the plant at Dadu Majra here.

Star protester gives fillip:

Actor Kirron Kher and BJP supporters with Dadu Majra residents protesting against the garbage-processing plant in Chandigarh on Tuesday. Tribune photo: Vinay Malik

'I used to emulate Jeeti's singing style'
Chandigarh, October 11
"Chitthi naa koi sandes, jaane woh kaun sa des, kahan tum chale gaye…..", whenever I listen to the emotional content of the song, it touches my soul making me gloomy, but still I love to hear it, shares Inderjit Kaur, younger sister of ghazal king Jagjit Singh.
Inderjeet Kaur, sister of the late ghazal maestro Jagjit Singh, with her husband in Chandigarh on Tuesday. Tribune photo: S Chandan


booth scam
Admn to split report into 3
Chandigarh, October 11
Adopting a professional approach, the Chandigarh Administration has decided to divide the Capt PS Shergill report on the booth scam into three parts. Talking on the issue, a senior official with the Administration said the first part would contain serious lapses, supported by documentary proof, adding that those found guilty of serious lapses would be dealt with sternly.
Student-friendly website launched
Chandigarh, October 11
Five students of bachelors of computers application (BCA) Khalsa College, Sector 26, launched their social networking website named Stucee.com that will provide a platform for students of Panjab University (PU) and its affiliated college to share notes, buy and sell books.