Secure heritage at Naggar art gallery, govt urged
Shimla, October 10
Alarmed at the theft of Nicholas Roerichs' paintings from the Agriculture Research Institute, Delhi, former IAS officer and life trustee of the International Roerich Memorial Trust (IRMT) Shakti Singh Chandel has urged the state government to take immediate steps to ensure security.
High import duty a bottleneck for motor sports
Shimla, October 10
While the arrival of Formula One Grand Prix Event is expected to provide the much-needed fillip to motor sports in the country, those associated with the sport are not very enthusiastic.
Woman's Death After Delivery
Kin allege negligence by hospital staff
Hamirpur, October 10
Residents of Bajdehda village have demanded an inquiry into the alleged "negligence by the staff" of the regional hospital, Hamirpur, while treating a woman who died after delivering a child. Relatives of the deceased, Reeta Devi (28), have alleged negligence on the part of the medical staff for her death.
Police to prepare photo database of offenders
Shimla, October 10
With indications of international drug smugglers being engaged in the illegal activity in the Kullu-Manali area, the Himachal police has finally decided to prepare a photo database of all offenders booked under the Narcotic Drugs and Psychotropic Substances (NDPS) Act.
Dengue cases reported from Baddi area
Solan, October 10
With almost 28 to 30 per cent of the patients suffering from low platelet count and three cases of dengue emerging in the Baddi-Barotiwala-Nalagarh (BBN) industrial belt in the past one month at the Employees' State Insurance Corporation (ESIC) hospital, the state health authorities have been alerted about this alarming revelation.
Inculcate spiritual values, nurses told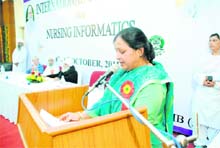 Barru Sahib, October 10
A two-day International Conference on Nursing Informatics was inaugurated today by Dr Jaya Shree, Director, Research and Medical Education, Himachal, at the Akal College of Nursing, Eternal University, Barru Sahib.



Dr Jaya Shree, Director, Research and Medical Education, Himachal, at a conference in Barru Sahib on Monday.

Farmers seek Virbhadra's intervention for resolving issue
Kangra, October 10
Enraged farmers of 15 panchayats, who had been agitating against the government decision to allot 943 kanals of government land located in the Tika Bohe Moza Charri in Shahpur tehsil for the establishment of the Border Security Force (BSF) Battalion camp, today called on Union Minister Virbhadra Singh and sought his immediate intervention for resolving the issue as the BSF authorities had pitched tents on the controversial land.
Gearing up for battling fires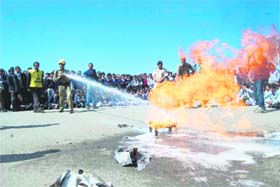 Firefighters take part in mock drill, organised by the disaster management authority, at the Ridge in Shimla on Monday. Photo: Amit Kanwar
Man held for killing wife
Nurpur, October 10
The Jawali police on Monday arrested Jaram Singh of Haar village for allegedly murdering his wife Raj Dulari (60) with a sharp-edged weapon. According to information, Jagdeep Singh, up pradhan, Haar gram panchayat, intimated the police about the murder on Sunday night.
Kanshi Ram worked for the uplift of poor: BSP
Bilaspur, October 10
Kanshi Ram, founder of the Bahujan Samaj Party (BSP), spent his whole life devotedly in trying to uplift the Scheduled Castes and Scheduled Tribes and weaker sections of society and after Baba Saheb Dr Bhim Rao Ambedkar it was he who fought for the rights of these sections to give them a better place in the conventional Indian society.
World Mental Health Day observed
Kangra, October 10
The Department of Psychiatry of Dr Rajendra Prasad Government Medical College Tanda, observed World Mental Health Day-2011 today and held a free mental health camp on the occasion.
HPU to collaborate with US varsities
Shimla, October 10
Upbeat over the possibility of an academic exchange programme with US universities, Himachal Pradesh University has constituted a five-member committee to chalk out the modalities for academic collaboration with three universities in the USA.
Rs 1 lakh for Little Champ finalist Nitin
Shimla, October 10
Chief Minister Prem Kumar Dhumal today announced a reward of Rs 1 lakh for Nitin Kumar of Mubarakpur village in Una district, who had made it to the top three positions of the Little Champs music programme organised on a television channel.