Dengue fever grips Bathinda
Bathinda, October 10
There is panic in the city with hundreds of patients testing positive for dengue fever at the local Civil Hospital. The total number of confirmed dengue cases in the district has risen to 241, with 202 from Bathinda city alone.The Talwandi Sabo block has reported 25 cases, the Goniana block six cases, the Sangat block four cases and the Nathana and Bhagta blocks two cases each.

Ban on burning stubble goes up in flames
A farmer put to fire paddy stubble at a Jalandhar village. Though the act is illegal, no action is generally taken against farmers. Tribune photo: Malkiat Singh
Yet another Indian faces death sentence in UAE
Chandigarh, October 10
Reviewing the verdict announced by the lower Sharjah court, the UAE Supreme Court today converted to death sentence the life term of another convict, 13 in all, who were found guilty of killing two expatriate co-workers.
SGPC's US projects fail to take off
Amritsar, October 10
The SGPC's plan to set up a Sikh Mission and printing facility for Guru Granth Sahib in the US seem to have hit the roadblock.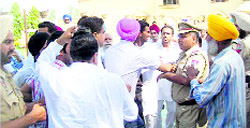 SAD gen secy joins Cong
Kotli Surat Malhi (Gurdaspur), October 10
In a big jolt to the ruling SAD, the general secretary of the party, Gulzar Masih Gill, joined the Congress at a function here today. The Punjab Pradesh Congress Committee president, Capt Amarinder Singh, welcomed Gill into the party fold.

Police tries to control the situation after a scuffle broke out between two Congress factions in Gurdaspur. Tribune photo
Govt hikes scales of teaching employees
Chandigarh, October 10
The Punjab Government today announced Diwali bonanza for teaching employees by substantially enhancing their pay scales.
National seminar on pharmacy
Ban sale of drugs by doctors to patients, demand pharmacists
Moga, October 10
Pharmacy scientists have demanded that the Union Government should ban the doctors from dispensing and distributing medicines directly to patients contending that the pharmacists "better knew" the therapeutic use of drugs for good results.
Bathinda centre gives a ray of hope to AIDS patients
Bathinda October 10
"When I was diagnosed as HIV positive, I first thought of committing suicide. I looked around and saw my three children, who all are under the age of 15 years and have a lot to do in future. Then, I decided to get myself treated as earlier as possible," said Mukhtiar (name changed), a cab driver by profession.
Govt docs to stage protest in Patiala on October 17
Patiala, October 10
Protesting against the non-acceptance of their long-pending demands, Punjab Civil Medical Service (PCMS) doctors and members of the medical faculty from across the Punjab will be staging a massive demonstration outside Government Rajindra Hospital, Patiala, on October 17.
Capt Amarinder demands bonus on paddy
Chandigarh, October 10
Punjab Pradesh Congress Committee President Capt Amarinder Singh has demanded bonus on paddy since the Minimum Support Price (MSP) on the crop was not sufficient due to the rise in the input costs.
Sukhbir hits out at Centre over inflation
Ludhiana, October 10
Finding a political support in the shape of team Anna's campaign against the Congress at the Hisar byelection, Deputy Chief Minister Sukhbir Badal has said he will also launch a similar anti-Congress tirade to jeopardise the aspirations of the Congress of staging a comeback in the state.
Australia is new address of sham marriages
Chandigarh, October 10
After the US and Canada, Australia is the new address of sham marriages. In their pursuit of the dollar dream, young men and women are using the IELTS (International English Language Testing System) way to enter Australia.
Councillors to get more
Chandigarh, October 10
The state government today increased the honorarium and allowances of the members of all municipal councils with effect from October 1.
Chopping dog's tail can land you behind bars
Patiala, October 10
Dog lovers have a reason to be careful following a recent notification that prohibits them from chopping off their pet's tail or shaping its ear in the name of beautification as any such move is punishable with a fine or an imprisonment.
INTACH to restore maharaja's kothi
Chandigarh, October 10
Punjab Chief Minister Parkash Singh Badal today approved to engage the services of the Indian National Trust for Art and Cultural Heritage (INTACH) for restoration work of Bassian Kothi at a cost of Rs 2.65 crore to develop it as a memorial in the remembrance of late Maharaja Dalip Singh.
Right to Service Act comes into force in Punjab
Ludhiana, October 10
The Right to Service Act ensuring time-bound delivery of public services to the people as a matter of right came into force in Punjab today.
Raise state quota in armed forces: Badal
Mohali, October 10
Chief Minister Parkash Singh Badal today said the Centre should do away with the criterion of population-based recruitment in the armed forces so that the valiant Punjabis could get more chance to serve the nation.
Aggarwal is new AG
Chandigarh, October 10
The Badal Government today appointed Ashok Aggarwal as the new Advocate-General after Baldev Singh resigned from the post yesterday, alleging that his authority was being undermined by the government.


Court rejects Ankhi's plea against ouster
Amritsar, October 10
A local court today rejected the petition of ousted honorary secretary of the Chief Khalsa Diwan, Bhag Singh Ankhi, challenging his removal from the primary membership of the organisation.


Combine operators harvesting paddy at night to be booked
Patiala, October 10
Warning farmers and combine owners who reap their harvest between 7 pm and 8 am, the Patiala Divisional Commissioner has said the defaulters will be booked.