Produced by Bharat Shah, the horror film, Ghost, is directed by Puja Jatinder Bedi. The lead actors are Shiney Ahuja, Sayali Bhagat and Julia with Tej Sapru, Deepraj Rana, Sukhwinder Chahal and Bijayta Pradhan.
Music is given by Sharib and Toshi. The film's digital intermediate, computer graphics and final mix are underway.
This will be Shiney's film, which has been shot after he was released on bail and hence it is his latest production. Ghost is due for release this winter.
Director's hat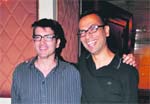 What next: Akshat Varma (R)
Akshat Varma, writer of Delhi Belly has shocked the audience by his bold script already and now the writer is turning into a director. He has been signed by UTV Motion Pictures to write and direct a comic thriller.
Emerging superstar
Bollywood heartthrob Ranbir Kapoor knows that he is the next superstar, but still wants to grow more as an actor. "I've been hearing that I am the next superstar, but I want to be more creative. I want to be more involved as a producer or director. However, I still want to explore my acting and want to do something different. When I heard the story of Rockstar, I knew that I had to do it because it was something different," he says.
Assisting talent
As I was born in the Kapoor family, everyone assumed that I would become an actor. However, I was more interested in production and direction so I assisted Sanjay sir (Leela Bansali). I worked with him as an AD and learnt a lot from him. I've learnt that as an actor you can do so much with your character.
Youth appeal
I still have a young face, which is why I've been given youth-oriented roles. I have also done grown-up roles like Rajneeti. However, it's a great responsibility when you're labeled a youth icon. Indians love their Bollywood films and they want to be like their actors. So as an actor, it is my responsibility to show them the right path. So, I try and do the right thing.
Inspiration
It has definitely been my father and uncles, but I also look up to Shah Rukh Khan. I remember watching him in a soft drink commercial and wanted to be like him. I wanted to be an actor who endorses products. SRK has been an inspiration. He has a lot of energy that has excited and inspired me.
On endorsements
I cannot endorse each and every product that I am offered. Advertising is important, so I do not endorse something that I do not believe in. I am an actor first and then a brand ambassador. I drink Pepsi so I endorse it. I watch television on my Panasonic, so I endorse it. I endorse John Players because I love the clothing line. I drive my Nissan and use a Tata Docomo.
Friends, indeed!
Yash Raj Films' romantic thriller, Ek Tha Tiger, which was scheduled for a 1st June release will now release in theatres worldwide on Eid 2012. Since Aamir Khan wanted to release his next film, directed by Reema Kagti, on 1st June, he requested Salman Khan and Aditya Chopra to shift Ek tha Tiger to accommodate this release. Given the close relationship, both Adi and Salman were happy to oblige and shift the release to Eid. — HRM
Humble heart
Amitabh Bachchan is having a super time once again. KBC season 5 is doing fabulously well and he is busy shooting important films. He is also going to become a grandfather. The 69-year-old talks about family, birthdays, family additions, and Diwali.
Birthday bumps
Birthday means nothing but with each passing year I get shocked and surprised to see the crowd gathered outside my home. I think it's the audience's love which is keeping me well and I am very happy and blessed with Twitter and it warms my heart to see that kind of love.
Granddad feel
(Laughs) I don't have any plans but I am excited. This has been a dream for me and soon I will be seeing Abhishek's kids which is a good thing. I am taking care of Aishwarya as Abhishek is busy shooting and he doesn't get much time to stay in Mumbai these days. So Jaya and I are making sure that Ash is in good hands. And we are already proud grandparents so I know the happiness and the excitement but apart from us I can see the nation is also very excited which is a blessing to the child.
Diwali time
During Diwali we all are at home; we spend time together and do Laxmi Puja too. Diwali is one of the best festivals which spreads love. This year we will be at home only to celebrate Diwali. I don't like crackers as it makes too much noise so I will suggest everyone to avoid fire crackers as much as possible, we can celebrate Diwali by meeting and greeting our loved ones and eating good food.
Losing legends
This year has been a very sad year for Bollywood as we have lost many big faces and legends in Bollywood like Shammi Kapoor, Jagmohan Mundra, Gautam Rajadhyaksha, Jagjit Singh and many other talented people. Some were not even that old. They will be missed.
Next in line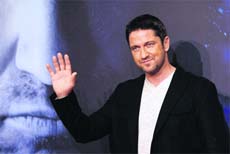 Killer looks: Gerard Butler
Scottish actor Gerard Butler is in talks to star along with Avatar actor Sam Worthington in the upcoming film Hunter Killer. The 41-year-old actor has been approached to appear in the film - which is based on a novel, Firing Point, written by George Wallace and Don Keith.
The movie follows a rogue Russian general who kidnaps his country's president, who is pursued by an untested submarine captain - the role Butler is in negotiations for - and Worthington is to play the naval commander. It is not yet known who would play the general or the Russian president. Antoine Fuqua will direct the movie. — PTI
Talking the talk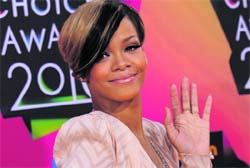 Anytime anywhere:Rihanna
R &B star Rihanna is reportedly recording her new album at hotels around the globe using a portable studio. The 23-year-old Umbrella hit maker is currently on a tour in Europe and is juggling her live shows with work. Her producer Kuk Harrell reveals they are recording songs at their accommodation along the way, a publication reported.
"In addition to touring, we are recording Rihanna's new album. We have a portable studio that we set up at the different hotels that we are staying at. We set up shop anywhere in the hotel... Before we went on the European leg of Rihanna's Loud tour, we started recording the album in Los Angeles. Rihanna likes to work late hours, so she would come into the studio at nine pm and work until 6 in the morning," Harrell said. Rihanna's new album Talk That Talk is due for November release. — PTI
Back on track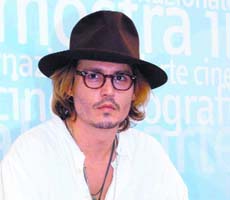 Lone ranger: Johnny Depp
Johnny Depp's axed movie The Lone Ranger is back on the track after Disney bosses made adjustments to the massive budget. The 48-year-old Pirates of the Caribbean star was slated to play Tonto opposite Armie Hammer's Lone Ranger in the Disney adaptation of the classic TV show, a publication reported.
Depp says he expected studio executives to take their time agreeing the deal, and he is glad the project is finally moving forward. "We knew that the budget was going to be huge initially, and we also knew that it was going to be shut down for a while, and it was like we patiently wait - we shave a little bit here, we do a little bit there, (and) they fix it," he said.
Few months back Disney chiefs axed their involvement in the film following alleged disagreements with director and producer over finances. — PTI
Through thick and thin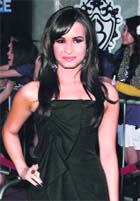 Sister act:Demi Lovato
Singer Demi Lovato has praised Selena Gomez for standing by her when she entered rehab last November for three months.
The Disney stars, both 19, have been close friends since meeting at an audition for children's TV show Barney and Friends and Lovato, said that Gomez kept in constant touch throughout her treatment, reported a publication. "I think I was out of tears at that point [Selena] called me and she was crying," Lovato said.
Lovato was treated for an eating disorder. over that now, Loato says, "Life is beautiful and I can't complain," she said. —PTI