PUNJAB

HARYANA

JAMMU & KASHMIR

HIMACHAL

REGIONAL BRIEFS

NATION

OPINIONS

LETTERS

BUSINESS

SPORTS

WORLD


Karnal registers highest cases of illegal sale of liquor
Chandigarh, October 20
Smuggling and illegal sale of liquor has become a lucrative business enjoying political and police patronage at many places in Haryana after the prohibition was introduced by the Bansi Lal government in the mid-90s. Though the prohibition was lifted by Bansi Lal within two years, liquor smuggling continues to attract antisocial elements.
New variety of wheat for manufacturing beer
Karnal, October 20
Farm scientists at the Directorate of Wheat Research (DWR), Karnal, claim to have developed a new variety of wheat, which is best suitable for manufacturing beer with high malt content.


rush hour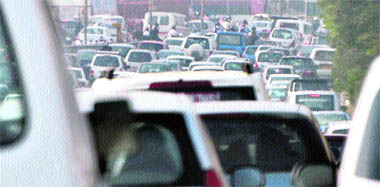 A traffic jam on the Delhi-Jaipur National Highway near Gurgaon. Tribune photo: Sayeed Ahmed
Ambala fire station ill-equipped
October 18, 2011
Survey duty turns lucrative
October 11, 2011
Official data 'expose' market fee evasion
October 4, 2011
Historical cities' tourism potential untapped
September 30, 2011
State to have more permanent lok adalats
September 27, 2011
Life's a suffering in Sirsa
September 23, 2011
HAU develops high-yielding pulse varieties
September 20, 2011
Power nigam to go hi-tech
September 13, 2011
State to make living better in villages
September 9, 2011
KMP Expressway: Many deadlines gone, work still incomplete
September 6, 2011
146 officers join CRPF ranks
September 2, 2011
Powerloom units face tough time
August 30, 2011