Trends
Russians see room for moon base in lunar lava caves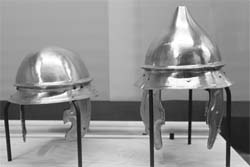 Helmets displayed at the Museum of Science and Industry in Paris, as part of the exhibition about the Gauls, entitled "Gaulois : une expo renversante" (Gauls, an Astounding Exhibit"). — Reuters photo
STAR CITY, Russia: The United States may have put the first man on the moon, but Russian scientists and space explorers are now gazing at a new goal-setting up a colony on the moon. The discovery of volcanic tunnels on the moon could provide a natural shelter for the first lunar colony, cosmonauts and scientists said on Tuesday.
More Facebook friends linked to bigger brain areas
LONDON: Scientists have found a direct link between the number of "friends" a person has on Facebook and the size of certain brain regions, raising the possibility that using online social networks might change our brains. The four brain areas involved are known to play a role in memory, emotional responses and social interactions.
Malaria scientist celebrates success after 24 years
SEATTLE: For Joe Cohen, a GlaxoSmithKline research scientist who has spent 24 years trying to create the world's first malaria vaccine, Tuesday, October 18, 2011 goes down as a fabulous day. "There were many ups and downs, and moments over the years when we thought 'Can we do it? Should we continue? Or is it really just too tough?" he said, as data showing the success of his vaccine were unveiled at an international conference.
Oldest Sumatran orangutan in US dies at age
SACRAMENTO, Calif: Ginger, the oldest known Sumatran orangutan in the United States, was euthanised on Tuesday at the Sacramento Zoo to prevent further suffering from various age-related ailments. She was 56. Born on the western Indonesian island of Sumatra in 1955, Ginger arrived in California's capital in 1984 after previous stints at zoos in St. Paul, Minnesota, and Chicago, the Sacramento Zoo said.
Turning wood into oil, in two simple steps
ORONO, Maine: Efficiency and simplicity have long eluded renewable-fuel researchers, but a Maine scientist has developed a two-step process he says can make oil from the cellulose in wood fibre. This process, far less complex than competing methods, creates an oil that can be refined into gasoline, jet fuel or diesel and removes nearly all oxygen- the enemy of fuel efficiency.
Soyuz set for first French Guiana launch
PARIS: A Russian Soyuz rocket will blast off from French Guiana on Thursday in a new East-West partnership designed to redraw commercial competition in space. The scheduled lift-off is the first time that Soyuz, which first flew in 1966 and traces its roots back even further to the earliest Cold War intercontinental ballistic missiles, has been launched from outside its former Soviet bases.
— Reuters