Corporate rising
People don't always like that you advice, even if it is for free! The same doesn't hold true for gifts though; whether there is an occasion or not, gifts are always expected to be around the corner. A smile, a sad moment, a heart-break, a new job, salary hike, Father's Day…any day has to be embellished with a gift! Now, if they are so important in the existing scenario, how important would gifts be in the corporate sector? From big boss to the colleagues, from colleagues to the big boss and from big boss to other bosses, there is no substitute to the rotation of corporate gifts. This Diwali, we check out the hot bargains in this section. As we move on with the list, neither the 'dear-expensive-dry fruits' have made it to the list, nor the 'could-be-adulterated' mithais.

Art of gifting
Come Diwali and it's time to think about lights, sweets and of course the most important of them— gifts. The custom of exchanging gifts had lost popularity earlier, but this year the sentiment seem to be returning and we can see Ludhianvis making a bee-line in the gift shops. "Utility is the key word when it comes to Diwali gifting," says socialite and cookery expert Veenu Dhanda who likes to gift from the heart. "I feel bed linens make for a good gift too," she says.


Shall we dance?
Once a singer, always a singer. This may also be interpreted as this—once you have started your career as a singer, then you better stick to it, come what may, whether it is doing you good or bad. Jokes apart, Punjabi singer Daljit Singh likes to stick to this ideology.


If music be the food of life…..
It takes just a bit of tacky music to drown the ambience, the crowd and the flavours of the food in its din. The lone live band belting out yesteryears' tracks has been long replaced by local rock bands, live gigs, jam sessions, celebrated singers, especially flown in. Music's spinning at breakneck speed and deafening noise!

melodious treat: DJ Aryan
Af-FAIR with the best
There are very few places where you can find a host of things under one roof. Thanks to a few big brands that have taken over the city, the possibility of finding everything at one place is becoming remote. It is perhaps because of this very reason that the 16th edition of CII's Chandigarh Fair has brought a range of products - consumer, fashion and food - under a single roof.


Revolutionary thought
"The most intelligent species on earth poisons its own food before eating it. We've almost destroyed our own habitat. Evidently we've landed ourselves in a soup. It's like we started from one end of the earth, relentlessly destroying it, and have come a full circle. There's no more earth left," comes a rather startling statement from Rishi Miranhshah.

Pen drive: Rishi Miranhshah

Trendsetter
Simply fashionable
Being stylish is about being individualistic and not over the top. Rishabh Syal, pursuing masters in International business and Finance, is one such person who knows how to make a statement through his signature style.

Right attitude: Rishabh Syal Photo: Vinay Malik



it's rocking
Rahman does it again
The song for this week has already become a youth anthem. After a very long time, a track has been accepted by youth. The Sadda Haq T-shirts are already a rage. AR Rahman has once again produced some music that will stay with music lovers for a long time. Sadda Haq goes well with the theme of the movie, Rockstar. Music lovers tell why the song is a chart buster.
Promoting Punjabi
It is strange, but this man from South India has not only learned Punjabi but has also been working on books in Punjabi. Pandit Rao C Dharennavar's Punjabi translation on Maha Gynai Sarvagna was released by S P Singh Oberoi in Chandigarh recently.
Problem of plenty
While a lot of people around us at the workplace may be invariably heard cribbing for weekly offs or on not getting the wished number of holidays, scientists say even too much time off could prove stressful.
Costume drama
Enough has been written about SRK's electrifying (literally) and heavy outfit. Arjun (as Ra.One) has a similar one in red (G.One is blue). Kareena plays a young and happening mother and Manish Malhotra has designed her look in the film. Her red saree in Chhammak Challo and sexy white dress in Criminal are much talked about. She looks fabulous!
Miles to go…
Amitabh Bachchan is happy these days. Despite his age, he is one of the busiest actors in the industry. The way he speaks, the way he walks, the way he dresses - everything is just admirable. What can be more exciting that at this age, he will be making his debut in a Hollywood film, The Great Gatsby.
Cool, classy fragrance by Nicole
After jewellery, accessories and a clothing line, designer Nicole Richie is set to break into the scent industry by launching her first fragrance with the TPR company. "(Nicole) has a wide breadth of creative talents being an author, a jewellery designer, a fashion designer and an aspirational figure.
Tasting success
After a jumpstart, Star Plus' prime-time show, Iss Pyaar Ko Kya Naam Doon?, has rocked the number one spot at the 8 pm time slot beating other shows. Moreover, the show completes 100 episodes and looks forward to more. The show's USP is the cute chemistry between Arnav and Khushi. We spoke to Arnav Raizada aka Barun Sobti about the success of the show.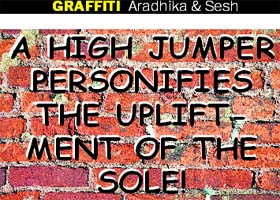 CHATTER BOX