Find reincarnations of Mao, Deng: Dalai Lama to China


Dharamsala, October 30
Taking a jibe at the Chinese government, the Dalai Lama has said instead of questioning Tibetan traditions, it should think of finding reincarnations of its leaders Mao Zedong and Deng Xiaoping. "The Communist government does not believe in religion. But they want to conduct finding of the Dalai Lama's reincarnation. The Dalai Lama is not political now. If they really care, first they should believe in religion. It will be better if they think of finding the reincarnations of Mao and Deng Xiaoping," the Nobel Peace Prize winner told reporters on reaching Japan yesterday, according to a post on the Dalai Lama's official website.
Paonta Sahib-based pharma units issued show-cause notices
Solan, October 30
The Drug Licensing Authority (DLA) issued show-cause notices to Paonta Sahib-based Accurate Pharmaceutical and M Sea Pharmaceutical for violating Schedule M of the Drugs and Cosmetics Act, which pertains to lack of hygiene in the manufacturing area.
Bilaspur mourns a major accident every day
Bilaspur, October 30
The Zila Parishad here has expressed grief over the bus accident involving 28 deaths on the Bilaspur-Bandla route two days before Diwali and demanded that one ward of each bereaved family be provided employment as those families had lost bread earners.
Commuters' woes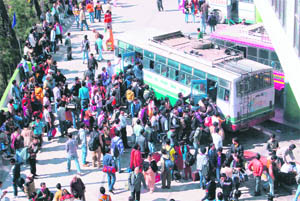 Passengers rush to a bus at the New ISBT in Shimla on Sunday as the number of buses is limited. Photo: Amit Kanwar
Staff demands probe into destruction of trees
Bilaspur, October 30
The Himachal Pradesh State Employees Federation has urged Chief Minister PK Dhumal to order immediately a high-level inquiry into "highly objectionable destruction of thousands of trees and plants" growing at the roadside, which are not posing any obstruction to traffic at Kothipura near here.
Accused arrested in Bihar
Shimla, October 30
The Shimla police today arrested Aman Chaudhary who had escaped after allegedly murdering 96-year-old retired officer Amba Dutt in Sanjauli Colony here last week from Mangheli village of Katihar district in Bihar.
Sat Mahajan to head Cong disciplinary committee
Shimla, October 30
Veteran leader Sat Mahajan has been appointed chairperson of the five-member disciplinary committee of the state Congress by national party president Sonia Gandhi. Other members of the committee are Harsh Wardhan, Shiv Lal, AN Vidyarthi and NK Singh.
RSS takes notice of factional war in state BJP
Shimla, October 30
The Rashtriya Swayamsewak Sangh (RSS) has taken notice of the ongoing factional war between the rival Dhumal and Shanta camps in the BJP, which came in the open after the Kangra district unit of the party passed resolutions against the Irrigation and Public Health Minister.
Sujanpur school to celebrate raising day on Nov 2
Hamirpur, October 30
Sainik School, Sujanpur, Tihra, will host diverse activities on November 2 on the school premises to commemorate the 34th raising day and annual day celebrations.
Smooth roads in state from today: PWD Minister
Hamirpur, October 30
Public Works Department (PWD) and Revenue Minister Gulab Singh Thakur said patch work and tarring on the roads of the state would be completed by tomorrow.
'Value-based education synthesised with scientific education needed'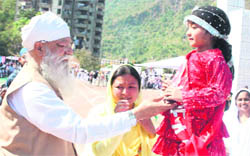 Baru Sahib, October 30
Akal Academy, the flagship school of the Akal Academy, Baru Sahib, celebrated its 24th annual day today where students presented an array of programmes highlighting various problems prevalent in society.


HS Hanspal, member, Minority Commission, Delhi, gives a prize to a student at Baru Sahib on Sunday.
Man held for bid to rape college girl
Nurpur, October 30
The local police today arrested Naryan (34) of Talara village for allegedly attempting to rape a college girl (21) on Saturday evening. According to the police, the girl was returning home from college when the accused overpowered her in the Dhamal forest between Dhamal and Kolahan.