on the LAC Part 1
India lags far behind Chinese preparedness
Despite surface calm, Delhi can't afford to lower its guard
Ajay Banerjee writes from Demchok in Ladakh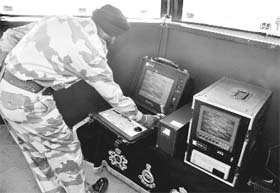 A soldier operates an equipment to look across the LAC. Tribune photo: Mukesh Aggarwal
The bluish-green waters of the Indus flow sluggishly as it cuts a wide swath over the plateau of Ladakh. The river divides India and China. Unlike the volatile Indo-Pak border, the tension between the two countries is not visible here. There are no barbed wire fences or gun-toting soldiers patrolling with a finger on the trigger.
Amidst craggy mountains, the two edgy neighbours keep a hawk eye on each other. The entire operation from the Indian side is largely invisible with the emphasis more on keeping an eye. Faced with an aggressive China across the Himalayas, India has been steadily ramping up its defences along the eastern fringes of the Ladakh plateau that forms the contentious Line of Actual Control (LAC) with its neighbour.
Recent efforts by India include creation of roads and airfields besides setting up top-of-the-line surveillance equipment like radars, unmanned aerial vehicles (UAVs) and long-range observation and reconnaissance systems (LORROS). There are hundreds of trained Army personnel - serving and retired - deployed to watch any suspicious movement. One of the concerns is transgression by the Chinese into Ladakh on account of "differing perceptions" of the LAC.
New Delhi's efforts are, however, languid when compared with Beijing's blistering pace. China started setting up its military posts along this segment of the LAC in 2008 and has marched ahead. It has built metalled roads right till the LAC on its side, created six new airfields in Xinjiang and western Tibet coupled with massive accommodations for its Army's comfort. From Demchok, the Chinese fortifications, including a glass and concrete watchtower, are an impressive sight.
On the other hand, India struggles with road clearances typical of a democracy. Important approaches to LAC on the Indian-side are dirt tracks. One of its new airfields at Nyoma is just coming up while another at Kargil will be expanded. There are only two full-fledged airbases at Leh and Thoise. Accommodation for its forces has only started changing in small pockets. General Officer Commanding (GoC) of the Leh-based 14 crops Lt-Gen Ravi Dastane says, "We are watching their capability as it develops." Intentions can change very fast, he added in a subdued tone that conveyed extreme caution.
Of late, though, India has been making an effort to counter any possible Chinese threat or adventure. Indian manpower is backed by latest sophisticated gadgetry. Placed on mountain tops on the Indian side of the LAC is equipment that relays real-time data and pictures to commanders at three separate places. Vital posts atop mountains overlooking China operate the LORROS. This is an electronic visual aid that provides pictures and videos of approaching threats and movement up to 15 km across the LAC. At one of such posts located at 16,000 feet, movement of Chinese vehicles in the valley down below is clearly visible on the computer screen of the machine. This has been fitted with a hand-held thermal imager that allows capturing of data and images at night.
The Army also has specialised Unmanned Ariel Vehicles (UAVs) that look behind each and every nook and cranny in this tree-less expanse. On its side, India has also set up radars on possible ingress routes. These capture any intrusions made by the Chinese through the air, however, the standard procedure remains "no shooting" even at UAVs.
The last of the efforts is thousands of human eyes. Besides the Army and the ITBP, a large part of the information network comprises retired soldiers of the Ladakh scouts. Hony Capt Cherring Stobdan, a gallantry awardee of 1999, says, "All former soldiers keep in regular touch with local Army units and inform them of any unusual activity across the border." Indian soldiers from crack divisions like the para-commandos regularly practise in the area to get a feel of the terrain and to keep themselves acclimatised for these altitudes. Yet it is apparent that India needs to do much more if it needs to feel secure against China on this sensitive border.