M A I N N E W S
Ex-MPs sit cozy in govt houses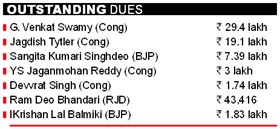 New Delhi, October 30
Despite losing their entitlement, eight former MPs, including Jagdish Tytler and Ajay Singh Chautala, continue to occupy posh government accommodation, a Right to Information (RTI) reply has revealed.
YSR Congress chief YS Jaganmohan Reddy also figures in the list as it covers the period he quit as a Congress MP and was re-elected. The response was from the directorate of estates of the ministry of urban development to the RTI application by activist Subhash Chandra Agrawal. The rest of the defaulting MPs are Ram Deo Bhandari, Gireesh Kumar Sanghi, Sangita Kumari Singhdeo, G Venkat Swamy, Devvrat Singh and late Krishan Lal Balmiki.
Valmiki's family continues to stay in the house allotted to him. "The government should take stringent steps against unauthorised occupants of government accommodations. Any person occupying government accommodation unauthorisedly or defaulting on government dues should not be allowed to contest elections," Agrawal said.
Former Lok Sabha member of Indian National Lok Dal Chautala and former Congress MP Sanghi, do not have any dues against them. — IANS